Small group travel is all that we do. And it's all we've ever done, from the beginning. It is built into the very foundation of our company, of our mission, and of every tour that we offer. How do we do it? We create and operate our own tours then offer them directly to you – so no middlemen add to the cost along the way. We work closely with our accommodation, and other travel partners to secure the lowest rates possible. Then we put those rates to good use by offering our adventure tours at an excellent value – not necessarily the lowest price, but the best ratio of price to experiences, quality, and service.
The Experience
We design our escorted Ireland Adventure tours specifically for smaller groups, which allows us to move about more flexibly and efficiently; enjoy more spontaneous encounters, and experience a degree of freedom and independence simply not available to travelers on conventional group tours of Ireland.
Traveling on your own you'd see the major sights, but chances are you'd stick close to the traditional tourist routes. Our goal is to show you the major sights and take you where you'd like to go on your own but don't have the access or opportunity to plan yourself: behind the scenes, into private homes and traditional Irish villages, to local schools and neighborhood restaurants, off the beaten path. And this is all in the company of experienced adventure tour guides who share their countries – and their lives – with you, bringing Irish destinations alive in a truly personal and meaningful way.
Not only do these opportunities enhance your travels, but someone else makes the arrangements and manages all the details – leaving you to enjoy Ireland to the fullest!
The Benefits of Our Tours
Mentally Check Out
You can mentally check out from real life and let yourself be taken on an adventure without a care in the world. You let your guide look after all the logistical headaches and let yourself focus on enjoying your trip.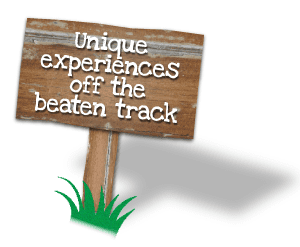 Freedom to Explore
We let you have more freedom to explore the countryside off the beaten track, check into the best local accommodation hotspots and eat in the best restaurants in every nook and cranny of Ireland.
Individual Attention
Tour guides can give you individual attention, answer all your questions and try and fix any issues you may have along the way. You will feel looked after and know that someone is always looking out for you on your tour of Ireland.
Make New Friends
You really get to know your fellow travelers on the tour. We find that many of our guests make life long friends along the way. This is a great excuse to visit them in their country when you plan your next trip!
Finding The Right Balance
We find that we can strike a perfect balance between activities and downtime for our customers. We pride ourselves on being flexible and judging our guest's needs along the way. Our motto is that it is your trip and you should have the freedom to enjoy it exactly the way you want to!
Value for Money
Our guides will always find the best deals for you, bring you to the best restaurants at reasonable prices and steer you clear of the usual tourist traps around. This personal touch will leave you with a few extra Euro to indulge in treats for yourself or to buy a couple of mementos to bring back home with you.
Pre-Booking Available
Pre-booking an adventure trip with a reputable company such as Overland Ireland can complexly change an experience of a place people can sometimes be tempted to book locally and, whilst there are reputable tour providers there are also a bunch of 'cowboy' operators which do not operate ethical Irish adventure tours, and using below par equipment thus totally marring what should be a momentous achievement for you.
Benefits of Smaller Groups
All members of the Overland Ireland team have a passion for travelling around the world and have done so extensively. Within the team, we have had many discussions about the ultimate group size. Would we go big or go home or keep our groups small? What are the benefits for you as your guest? Smaller group tours for us are the only way forward. Here are the reasons why:
It's a Road Trip
They create a more flexible tour, where we can off the beaten track to discover that secluded beach or hidden rock formations. We can find places that you simply cannot get to with a big tour bus. One of the best examples is the Slea Head Drive on the Dingle peninsula. Big coaches are not allowed to drive on these roads and it's one of the most beautiful drives in the world.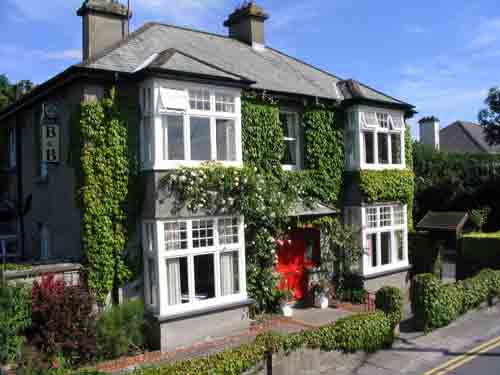 Hand-picked locally owned Accommodation
At Overland Ireland, we are really proud of the accommodation on offer. At each location, we have picked the best accommodation on offer so you can get a good night sleep after a full day of adventure. Our criteria is really simple. The location needs to be central so you can have a great night out in town, it needs to be clean, very comfortable and of course the breakfast needs to be incredibly delicious so you have a perfect start to the day. Some of the best guest houses are only suitable for smaller groups of people.
More time for fun stuff
We focus on what`s important for your holiday. Less driving means more time for activities and more time to spend in our beautiful little towns. Our vans are quicker, fewer people means that fewer people are late, fewer people need to use the bathroom and everything just moves along that little faster. No one likes to wait on holiday. We keep moving so you have the ultimate holiday experience with us.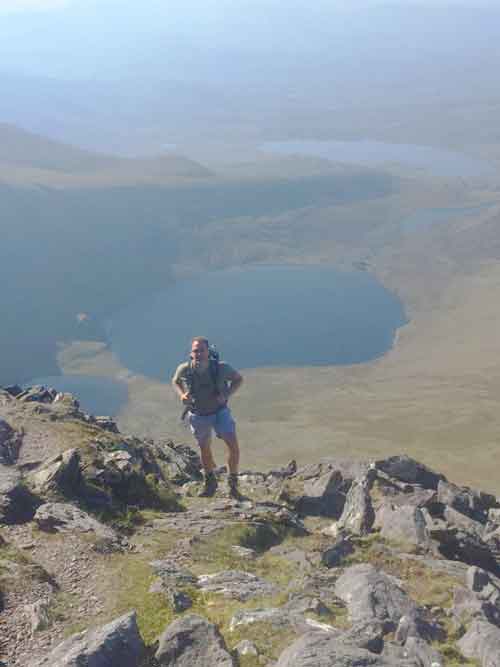 Better personal service
Your personal tour guide during your tour will be devoted to the group for your trip. You will get individual attention for a better holiday experience. Your guide will adjust the trip to suit your needs and create the feeling that you are the only one. During your trip of a lifetime, you will want to get the best service on offer and we feel this is only possible if our group sizes are small. Size does matters after all!
Ireland Facts
Our guests have brought many fascinating facts about Ireland to our attention and our guides keep expanding their wisdom about Ireland and in this blog, we thought it would be nice to share some of these little facts. Don't worry though, during our travels around Ireland, you will gain much more knowledge about our beautiful country.
Halloween
Halloween traces it`s origins back to the Gaelic festival of Samhain. This harvest festival was held at the end of October to mark the end of summer. It became associated with All Saints from the early Middle Ages and the two festivals merged over time, creating Halloween. Some of the members of the Overland Ireland crew have a real sweet tooth and Halloween one of their favourite days of the year.
Dracula
The world famous story about Count Dracula was written by Bram Stoker, who was born in Dublin. The real-life inspiration for the character was of his friend, Sir Henry Irving.
Snakes
You hopefully won't encounter any snakes. Legend has it that Saint Patrick banned all the snakes from Ireland. A more logical and likely explanation is that because of Irelands remote location the snakes, and many other animals never got here.
Lynching
The Lynch family was one of the most important families in the city of Galway in the 15th century. Mayor James Lunch found out that his son killed a Spanish merchant. Mayor Lynch was very strict and ordered his son to be hung in public. The person in charge of hanging people had so much respect for the Lynch family and refused to hang the son. So the father took it upon himself to complete the hanging and through his son on a rope out of the window.
The Irish Abroad
It's estimated that over 80 million people of Irish descent live abroad. Many live in the United Kingdom, United States, Australia, Canada and many more counties all across our globe. It's strange to think that that is 14 times more than the current population of Ireland.
Oldest Mountain in Europe
The Slieve Bloom mountains in central Ireland are the oldest mountains in Europe. Once they were high as well with about 3700 meters. Weathering reduced them to 527 meters which makes it more a hill now than a mountain.
Truly Irish Experiences
Your Adventure tour of Ireland can often provide a classic example of group versus independent travel. People try to pack in too much and cover huge distances in limited time when they organise their travel themselves. There is also the endless red tape, the queuing, the 'way of doing things' that 'tourists' simply don't understand. It can all prove exhausting. Your adventure tour leader takes on the hassle of organising your accommodation and travel, negotiating on transfer rates and so on, allowing you to actually enjoy Ireland!
Frequently Asked Questions
We always get a few questions that are very interesting and similar. Our guides are always really stoked to share their great wisdom. We asked them to let us know what questions they received most often and if they could formulate answers to the questions. Our guides always get tested over and over on their knowledge of Ireland and although they don't know everything on the spot they will always get back to as soon as they know.
"Why is Ireland so green?"
There are several reasons why Ireland is so green and called the Emerald Isle. The combinations of these factors make Ireland really green, even from space you can notice this as you can see by the photo provided by Nasa. We won't get up that high during our tours of Ireland .but you get to see all the shades of green possible.
Ireland`s location is paramount, it sits between 51.5 and 55.5 degrees North Latitude which is fairly similar to Newfoundland. However, while Newfoundland can have extreme cold weather Ireland benefits from a milder climate due to the North Atlantic Drift. This extends the warm waters of the Gulf Stream and provides Ireland with a mild climate. This is also called a temperate climate which means that temperatures rarely go below 7 degrees Celsius. Most grass and plants grow at 7 degrees or above and if you combine our precipitation, which averages about 78 centimes, you can imagine that the grass is always greener in Ireland. This brings us the next question:
"Why has Ireland so few forests?"
There was a time that our beautiful country was filled with trees and had forests in abundance. But like in most countries humans cut most of the trees away. In Ireland, there were two stages that made a significant impact on our forests.
The first one was during the Industrial Revolution where loads of the English planters used wood from the forests for barrel making, Ironworks, furniture, houses, and boats. Another era where loads of trees were cut was during our famine period. At that stage, our starving population was way bigger and needed heat from wood.
This, however, doesn`t mean that we don't have beautiful forests. Killarney National Park is a prime example of one of the most beautiful forests in Europe. We actually stop at this location during our small group tours of Ireland. New forests are also planted these days and Irelands forestry is a thriving business sector.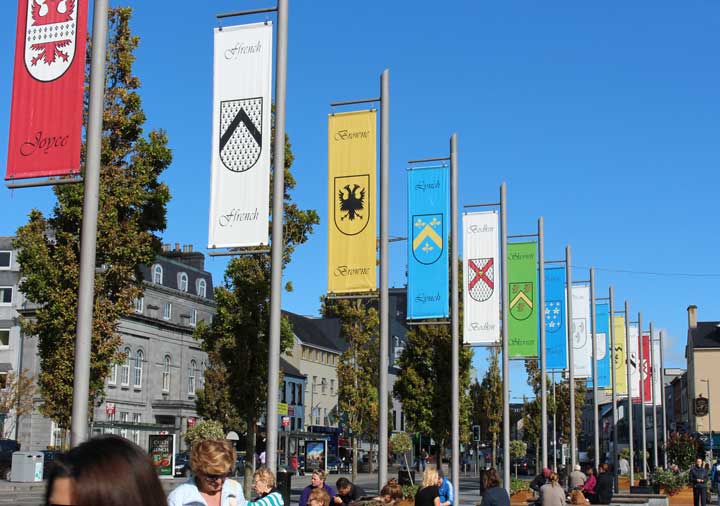 "Why is Galway called the city of the Tribes?"
For thousands of years, tribes were ruling Ireland. During the time of the Celts Ireland was divided into Kingdoms which were ruled by alliances of tribes. With the introduction of Christianity, this changed somewhat and even further with the influence from outside Ireland with the invasion from the Norse, Scots and the English.
However, with Galway, the name refers to the 14 most much and powerful families that used to run the city from the 13th to the 19th century. The 14 families came from Norway, France, England, and Wales and distanced themselves from the natives by building a big wall around the city. The natives lived outside the city walls in the Claddagh. All of our small group tours of Ireland stop in this beautiful little city. It's also the HQ of Overland Ireland. During your visit to Galway, you can still see many references to the tribes like the flags of each of the tribes on Eyre square or Lynches Castle in Shop Street.
"What do people do for a living in rural areas?"
We avoid the big cities and keep to the epic little windy roads. Here and there you can see houses spread out all over the countryside. The question we get asked most at that stage is what people do who live in these rural communities. Although the guide cannot know for certain we discussed this during our last teambuilding weekend. The rural communities are often a little older on average so you would find a good few people not working but enjoying their pension. These communities are often surrounded by farmland so a good few people would work on the farms as well. Ireland is not a very big country so the nearest city is never far away. People love to live in the countryside so they often commute a little further. Within these small communities, you need schools, post offices, police offices, and medical clinics so that would be another part of what people do.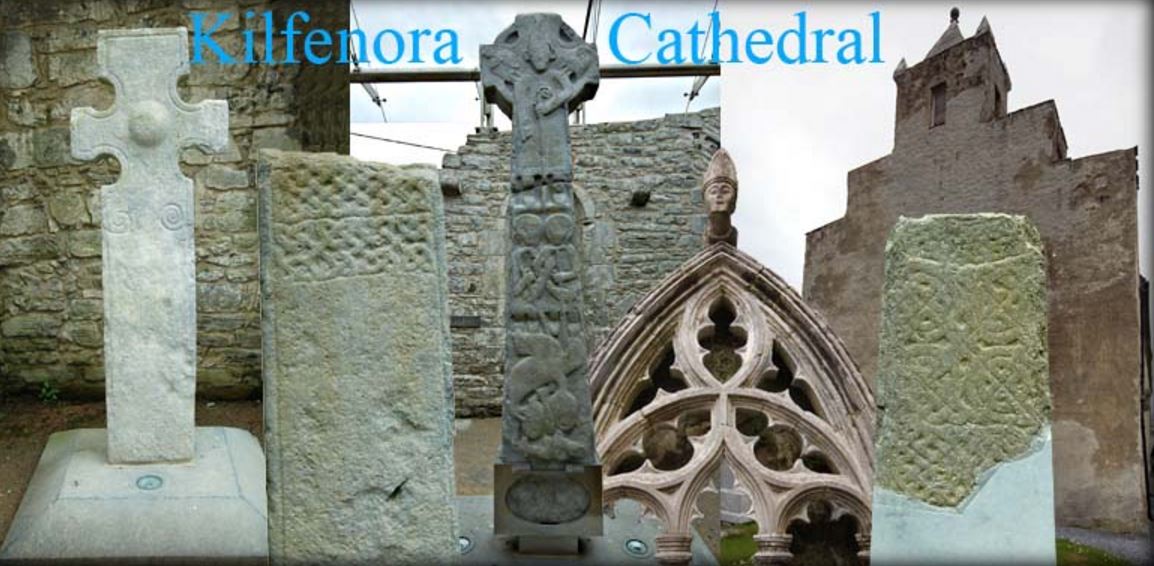 "What are Celtic crosses?"
Celtic crosses were found all over Ireland on old monastic sites. They are one of our biggest contributions to Western Art from the middle ages. The first ones were from wood and stone and the ones that survived best are carved from stone. Most of them were used as meeting points or to were used to mark boundaries. With Christianity coming to Ireland and most people could not read or write pictures were carved on them with messages corresponding to the bible. It was a way of the church to convert people from Pagan believes to Christianity. Many people think actually that these crosses are a perfect combination of Pagan and Christianly, with the circle reflecting the worship of the sun and the cross the worship of Jesus Christ. During our tour, we visit always some of the best Celtic crosses in Ireland in Kilfenora. There were originally 7 crosses at the cathedral but one was removed to Killaloe. The remaining six crosses three are complete, these include the most famous of all, the Doorty Cross and also the West Cross.
If you have any questions or if you would like to know more about our small group tours of Ireland, you can email us, go to our chat function on our website or just give us a shout by phone.
Planning on visiting Ireland soon? Get our free guides! We answer your Ireland Travel FAQs + offer local tips for visiting Dublin.
---