Do you want to explore Ireland's cultural and natural heritage on your upcoming trip to the Emerald Isle?
When it comes to visiting a country's most valuable landmarks or areas, UNESCO World Heritage Sites are the gold standard.
Whether you're a nature lover, a history buff, or a traveller looking for a unique experience, Ireland's UNESCO World Heritage Sites are always rewarding to visit.
As a leader in tours of Ireland, we love showcasing everything our special country has to offer — and that includes the spots that have made it onto this prestigious list.
If you have any questions about our Ireland tours, please feel free to get in touch.
For now, though, let's focus on Ireland's UNESCO World Heritage Sites.
What is a UNESCO World Heritage Site?
UNESCO (the United Nations Educational, Scientific, and Cultural Organization) legally protects areas and landmarks by administering international conventions.
To qualify for this status, an area or landmark must have historical, cultural, scientific or another form of significance that has outstanding value to humanity.
How Many UNESCO World Heritage Sites are There in Ireland?
The island of Ireland has three World Heritage Sites — two in Southern Ireland and one in Northern Ireland — all of which we explore below.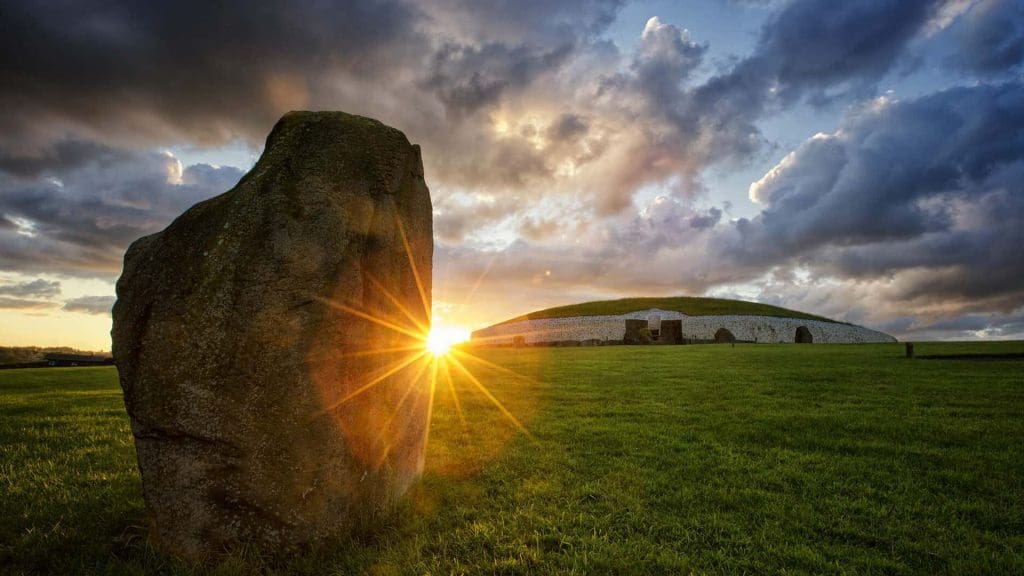 Brú na Bóinne: Travel Back in Time to Prehistoric Ireland
Our first stop on this UNESCO journey is the Brú na Bóinne, located in County Meath.
This ancient site is home to the prehistoric monuments of Newgrange, Knowth, and Dowth, all of which were constructed over 5,000 years ago.
As such, these structures are older than the pyramids of Giza and Stonehenge, making them an impressive feat of engineering and architecture.
Newgrange, in particular, is a must-see. This massive circular mound measures over 85 meters in diameter and is surrounded by 97 large stones known as kerbstones.
But you'll find the real magic inside the tomb. Here, you'll discover a passage leading to a central chamber that is illuminated by a beam of sunlight during the winter solstice.
It's an unforgettable experience that will leave you in awe of the people who built this incredible structure.
To jump back in time to ancient Ireland, consider our Ultimate Ireland 10-Day Tour Package or Wild West and North Ireland 6-Day Tour, both of which include trips to Newgrange.
Knowth and Dowth are also fascinating sites to explore. Knowth features over 200 decorated stones, including some of the most impressive megalithic art in Europe.
Dowth, on the other hand, has a unique design that includes a circular chamber surrounded by standing stones.
Each site has its own unique charm and history, so be sure to visit all three to fully appreciate the wonders of Brú na Bóinne.
Skellig Michael: A Journey to an Ancient Monastery
Our next stop takes us off the coast of County Kerry to Skellig Michael.
This remote island is home to an early Christian monastery founded in the sixth century.
The island is a stunning sight, with steep cliffs rising from the Atlantic Ocean and a diverse array of seabirds nesting along its rocky shores.
But the real highlight of Skellig Michael is the monastery itself. The monks who lived here were true pioneers, braving the harsh conditions of the island to create a thriving community.
The monastery features several stone structures, including beehive huts, oratories, and a cemetery.
It's a testament to the perseverance and creativity of these early Christians, who left behind an enduring legacy.
The journey to Skellig Michael is an adventure in itself. Visitors must take a boat trip from Portmagee, and the sea can be rough at times.
But the reward for making the journey is one-of-a-kind memories that you'll never forget.
This is why the Skellig Michael experience is such a popular highlight of our Ireland to Island 7-Day Tour.
Giant's Causeway: A Natural Wonder of the World
Our final stop on this UNESCO tour takes us to the north coast of County Antrim, where we'll discover the wonders of the Giant's Causeway and Causeway Coast.
This natural formation consists of over 40,000 hexagonal basalt columns which volcanic activity created around 60 million years ago.
The columns are interlocked like an intricate puzzle, creating a stunning visual effect.
When you see it in person, you'll soon understand why the Giant's Causeway has captured people's imaginations for centuries.
According to Irish folklore, the columns were built by the giant Finn MacCool as a path to reach his Scottish rival.
Whether or not you believe in the legend, there's no denying the magic of this amazing site.
Visitors can explore the columns on foot, taking in the unique geological formations up close.
Are you putting Giant's Causeway and the Causeway Coast on your Ireland bucket list?
With Overland Ireland, you can visit this awe-inspiring area with an expert guide on our Ultimate Ireland 10-Day Tour Package or Wild West and North Ireland 6-Day Tour.
Get the Authentic Irish Experience with Our Tours of Ireland
We hope this guide has inspired you to explore Ireland's UNESCO World Heritage Sites. They are iconic gateways into our country's natural, historical, and cultural wonders.
Start browsing our range of tours in Ireland to find out about the adventures waiting for you on the Emerald Isle.
Do you have any questions about our Ireland tours? Please don't hesitate to get in touch for any extra information you may need.