The world is your oyster with our custom tours of Ireland! Well Ireland certainly is anyway! Over the Easter holidays we have been invited to try out the coolest new activities on offer along the Wild Atlantic Way and beyond!
When choosing a custom tour of Ireland we provide you with activity options and must see off the beaten track locations. You can pick and choose to suit your groups needs.
Below we have reviewed adventure activities perfect for the whole family and small group tours. We cannot wait to bring you on these adventures on your Irish tour and let you experience the fun for yourself.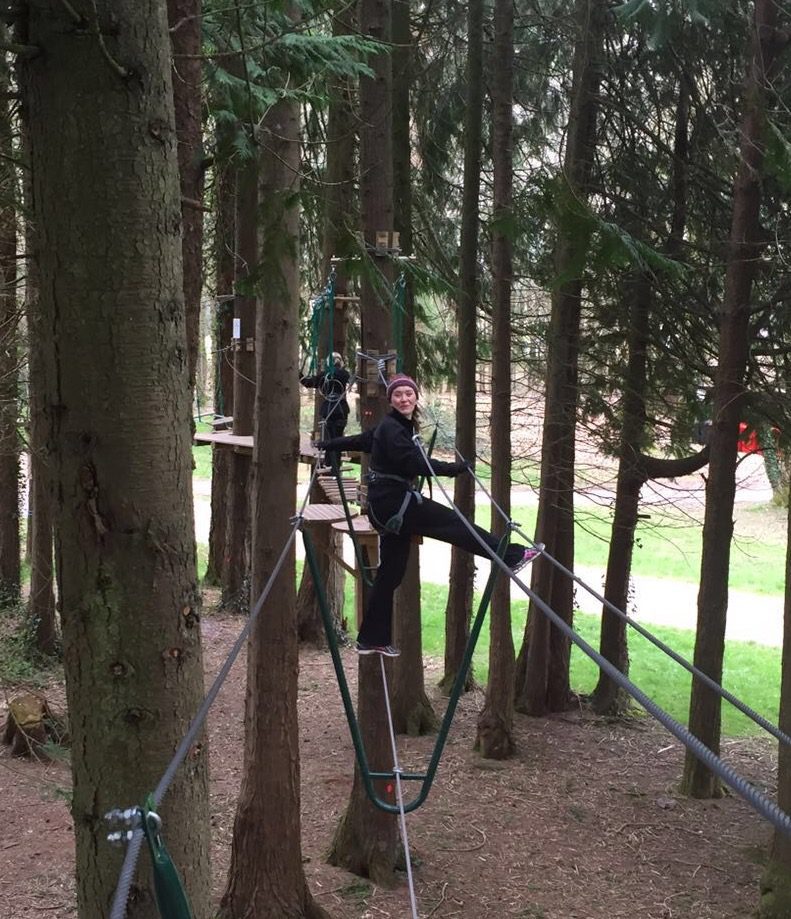 Zip Lining Forest Adventures
What an unforgettable experience. Our team set off for a day in Farran Forest Adventure last week. We experienced adrenaline pumping highs and lows throughout the day. We were challenged at every step from the baby course right up to the RED route. This is an activity for all ages and although not for our scheduled tours, its an option for our custom tours of Ireland.
We encountered zip lines, high ropes, moving swings, snowboarding from tree to tree, 50ft climbing walls, a cycle across a plank suspended 20ft above ground and above all else a satisfying sense of achievement after taking THE LEAP OF FAITH challenge on the last mission.
Zipit forest trails around Ireland are built to cater for all ages and agilities. At all times guests are kept safe with their two phase locking system. Instructors were available everywhere in the forest to give us helpful tips to master a route and to conquer our fears!
This is a half day activity during your tour of Ireland and will leave guests feeling like they can take on the world!
Stand Up Paddling with Yoga
Hats off to our friends at Summer SUP School in Westport and Cork. After a successful first year in business running fantastic Stand Up Paddle tours of Old Head coastline in Westport they have opened a new school in West Cork. We wish them all the luck in the world.
This Easter they have launched their SUP/Yoga courses! They have jumped on the fastest growing water sport craze and have provided yoga lessons while balancing on a Stand Up Paddle Board!!
If you think you have mastered 'Downward Dog' or 'The Tree Pose' then think again. The wonderful instructors will have you roaring laughing as you slip and slide off the board during your yoga session. What a workout! You don't even notice you are doing exercise because it is so much fun! We hope to catch a few of these courses during the summer and challenge our guests to a headstand on the board!! Summer SUP School will provide lessons for our guests on the Ultimate and custom tours of Ireland. With custom tours of Ireland you can choose all your activities.
Bunratty Castle and Folk Park
Bunratty Castle is often on our guest's bucket list for their tour of Ireland and we agree that it is a must see!
On a recent trip to Bunratty Folk Park we had the opportunity to fill our bellies with fresh bread baked and creamery butter and see how the people lived. They have recreated a fantastic folk park on the grounds of the castle for visitors to experience life as it was. Guests can walk through the village homes, schools, shops and pubs at the turn of the century. All social classes and their daily life is on display here.
MacNamara and Sons Bar is fully licenced and you can enjoy a pint after your tour of the village. 26 acres of touring is thirsty work!!
The Castle itself is spectacular. Guests can treat themselves to a Medieval Banquet nightly during the summer season!
Alternatively there is an Irish Night in the Corn Barn with plenty of singing, dancing and entertainment.
For the keen shoppers, like me, there are plenty of nice craft shops to browse.
Durty Nelly's pub is also near by. They have been serving food and drink to the residents of Bunratty for 400 years. It is definitely worth a look and they might let you play a tune on their piano in the Snug Bar.
Planning on visiting Ireland soon? Get our free guides! We answer your Ireland Travel FAQs + offer local tips for visiting Dublin.
---