Ireland more than deserves its reputation as a wild, green land full of sensational scenery, majestic mountains, and beautiful beaches. All of this makes Ireland an adventurer's dream, and it's why Overland's Zest Tours of Ireland are packed with adventure activities — mixed in with cultural experiences as well.
Young or old there's no specific kind of person that tends to come on our Zest Tours; the only thing they all have in common is a thirst for adventure! It's also worth noting that any zest tour can be personalized or made exclusive to your group with our Ireland Private Guided Tours.
This travel guide isn't a comprehensive list of all the places adventurous travellers should visit in Ireland. That list would be hundreds of pages long! Instead, it's Overland's pared-down, totally achievable bucket list of our favourite spots and things to do.
We hope this Ireland adventure bucket list inspires you to add one or two of the activities and locations below to your next trip!
1. Cycle Around Killarney National Park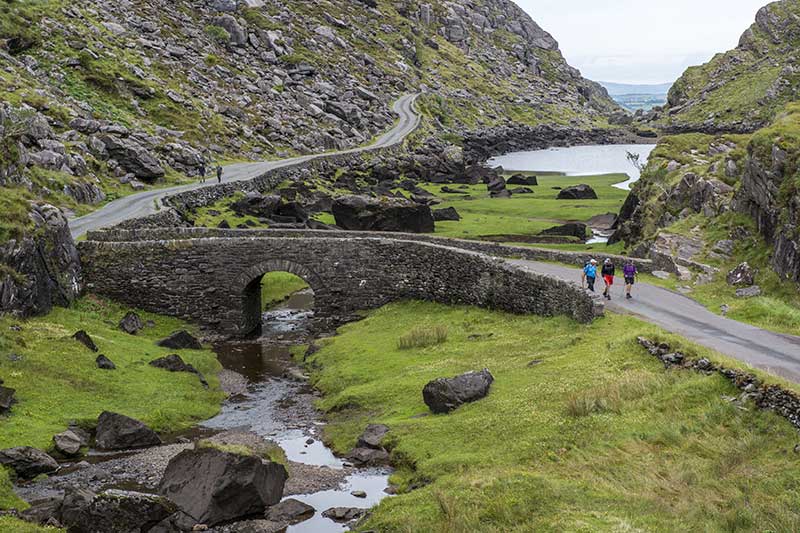 Killarney National Park is one of Ireland's most impressive green spaces. As Ireland's first-ever national park, Killarney is considered one of Ireland's greatest natural treasures. With 25,425 acres of rich, biodiverse wilderness to explore, this is the best place in Ireland for people who want to experience Ireland's wilder side.
Killarney National Park boasts 141 different bird species and Ireland's only herd population of red deer (around 900 of the beautiful creatures). It is ideal for nature enthusiasts who want to discover what Ireland is like once you get away from the streetlights, the museums, and the pubs.
Hiking is a great way to explore Killarney National Park. But cycling the park's paths opens up so much more! It really allows you to get a feel for the park's space, changing landscapes, and animal life.
2. Climb Ireland's Holiest Mountain: Croagh Patrick
It's a source of pride for Irish people that our patron saint is celebrated on St Patrick's day in countries all around the world. Whether you're religious or not, it is absolutely worth climbing the mountain named after Patrick himself: Croagh Patrick.
You don't have to be Catholic to see the appeal of climbing Ireland's holiest mountain. Also referred to as 'Reek,' this 764m mountain in County Mayo is no Mt Everest — in fact, it's only about three quarters as tall as Ireland's highest mountain, Carrauntoohil (more on that below!).
This mountain is considered holy because, back in 441AD, St Patrick was believed to have spent 40 days up at its peak — much like Moses at Mount Sinai.
Climbing Croagh Patrick could be considered a pilgrimage at any time of year. But it becomes a hub of excitement on Reek Sunday — the last Sunday of July. That's when many Irish climb the mountain to honour Saint Patrick…and many do it barefoot!
You don't need to climb Croagh Patrick on Reek Sunday, and we'd recommend against doing it in bare feet! But it really is worth it, if just for the views alone.
3. Climb the Steps of Skellig Michael
Skellig Michael is the larger of the two Skellig Islands — the other is called 'Little Skellig'. These islands are miniature mountains that jut abruptly out of the sea, with jagged cliffs and steep inclines reaching their summits.
Skellig Michael is so difficult to get to that it's only accessible during the summer months. Additionally, there are a limited number of boats that have permission to take guests there.
Once on the island, you can climb the ancient steps built by Christian monks in the 6th century. The ruins of the monastery are found at the top of the steps. From here you can look out over the breath-taking ocean views for miles around.
You sail to Skellig Michael from Port Magee in Kerry. If you'd like us to organise everything for you, Skellig Michael is part of our 7-day Ireland to Island Tour.
4. Walk the Cliffs of Moher
While Skellig Michael is off the beaten path, visiting the Cliffs of Moher more than earn their acclaim as the most popular tourist attraction in Ireland. But believe us when we say that these epic sea cliffs are popular for a reason!
You'll find the Cliffs of Moher on the coast of the Burren, in County Clare. They feature on several of our tours, including our ever-popular 10-Day Ireland Tour. The cliffs carve their way along the coastline for roughly 14 km (9 miles), and they reach a staggering maximum height of 214 metres (702 ft).
It's always a brilliant experience to hike along the Cliffs of Moher, taking in the sights. You should also look out for the Twelve Pins (mountains) and the Aran Islands. They are all visible from this almost unparalleled vantage point.
5. Go Sea Kayaking in Dingle Bay
The Dingle Peninsula is outstandingly beautiful and should be on everyone's to-do list. Unfortunately, many people who visit this area of outstanding natural beauty fail to make time to get out on the water.
This, in our opinion, is a big mistake! You can enjoy Dingle Bay from a completely different perspective while also getting in touch with nature.
Dingle Bay is one of the most special parts of Ireland's world-famous coastline. Nestled in between the Dingle Peninsula and the Iveragh Peninsula, the waters are often as calm as the Atlantic Ocean is likely to get, making it perfect for sea kayaking!
There's nothing like floating out on the ocean, listening to the waves lap against your kayak, smelling the salty sea air. You can go kayaking in Dingle Bay on several of our tours, including our Ultimate Ireland 10-Day Tour.
And if you're very lucky, you might even see the most famous local resident in the water: Fungie the dolphin!
6. Go Surfing on Inch Beach in Dingle Bay
Surfing is another great thing to do in Dingle Bay! Ireland has some of the best surfing in Europe, and the surf at Inch Beach is perfect. This blue flag beach is framed by the stunning Kerry Mountains, making for a dramatic setting to get your surf on!
At different points over the years, Inch Beach has been voted the best beach in Ireland by TripAdvisor's users. So you can trust us when we say that it's gorgeous. The waves are consistently good here, but roughly a dozen times a year you'll find epic waves that can carry you for 300m!
Your Overland surf instructor will give you any help you need, regardless of your surfing level.
7. Walk The Giant's Causeway
Moving all the way up to County Antrim in Northern Ireland, we have the famous Giant's Causeway. A source of amazement and inspiration for geologists around the world, this fascinating rock formation was created between 50 and 60 million years ago when molten-hot magma met the frigid waters of the Atlantic Ocean.
The cold temperature caused the magma to cool rapidly. That created bizarre hexagonal columns that appear so uniform and perfectly formed that they look like they were built or carved by people, or… giants.
The myths around the Giant's Causeway are perhaps even more fascinating than the geological explanation. And it's great to keep both stories of this startling and strange place in your mind as you hike around the area.
8. Brave the Carrick-a-Rede Rope Bridge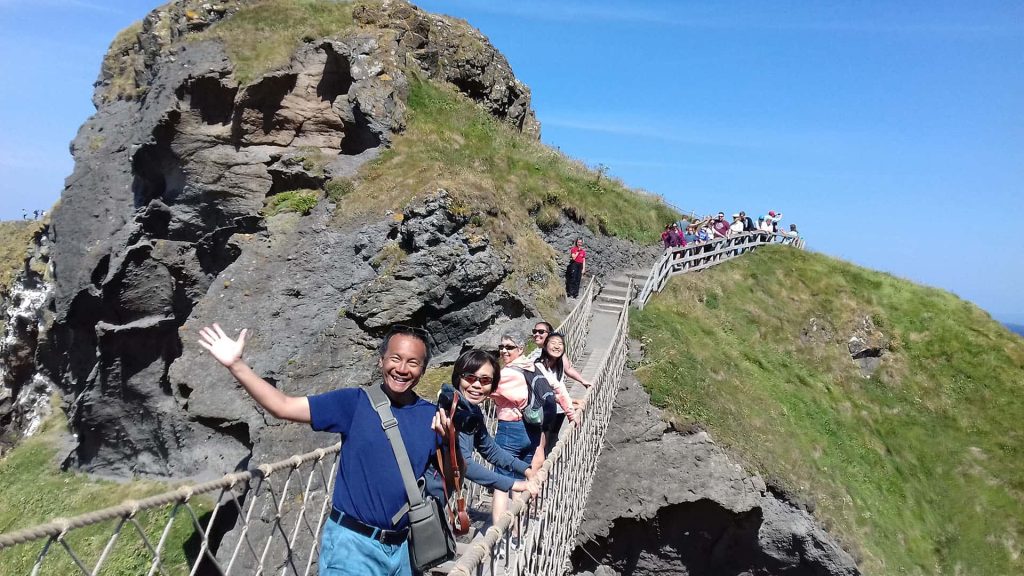 The Carrick-a-Rede Rope Bridge is very close to the Giant's Causeway. It is very much an Irish adventure bucket-list item for guests — so make sure you take a little time out to walk this old rope bridge.
Thousands of people cross this bridge every year (proving it is very safe). But only the bravest souls can boast that they did not feel a single twinge of fear as they crossed this rickety rope bridge that wobbles and sways in the wind…
If you want to be an intolerable show-off, you can even try to walk the rope bridge without grabbing onto the sides! Both the Giant's Causeway and the Carrick-a-Rede Rope Bridge are part of our Wild West and North Ireland 6-day Tour.
9. Walk Mizen Head Bridge to Ireland's Southernmost Point
On the topic of crossing bridges, let's throw the Mizen Head Bridge into the mix, too. This striking bridge isn't as wild as Carrick-a-rede Rope Bridge, but it is visually striking. It's also on the way to the most southerly point in Ireland.
If walking to the southernmost point in Ireland isn't worth sticking on your adventure bucket list, we don't know what is!
10. Climb Carrauntoohil – Ireland's Highest Mountain
For adventurous travellers, the ultimate bucket-list destination in Ireland is to climb its tallest mountain. At 1,038.6 metres (3,407 ft 6"), Carrauntoohil just about beats out Cnoc na Péiste to the top spot as the official roof of Ireland.
Found in southwest Ireland, on the Iveragh Peninsula, this mountain is in the centre of the MacGillycuddy's Reeks mountain range. The ascent and descent can both be done in a day, which negates the logistical aspect of camping and all of the equipment that comes along with this.
The most popular route up the mountain is known as 'The Devil's Ladder' because the Irish can never resist adding a touch of drama… This route is the shortest and quickest way up the mountain, but it's also the steepest gradient.
Is your bucket list prepped for an Ireland adventure?!
Ireland is one of the best countries in the world for people who like to travel off the beaten path. We don't have Mount Everest and we don't have the Amazon rainforest, but Ireland does have an incredible array of wild spaces that are perfect for tourists looking for adventure.
Ireland more than deserves its green reputation, with lush green fields, rolling hills, and deep, verdant valleys. The landscapes of Ireland have inspired some of history's greatest poets and novelists. They continue to inspire adventurous travellers to get out into the great Irish wilderness.
This guide contains many of the best spots in Ireland to explore. We just hope it will serve as a bucket list for adventure lovers. If anything here inspires you to stop dreaming and start actively planning, check out our small-group tours of Ireland and our self-drive tours of Ireland to get started.
Lots of the activities on this Irish bucket list are included as part of our Great Atlantic Adventure 7-Day Tour. It's our zestiest Zest Tour and we have tonnes of happy adventurers to prove it! If you're interested in booking this tour, or if you have any questions for us whatsoever, please don't hesitate to get in touch. We're always up for a chat, and we're even happy to teach you a little Irish before you visit!
---
This article was originally published in December 2020 and updated with even more Irish adventure bucket list items in November 2021.
Planning on visiting Ireland soon? Get our free guides! We answer your Ireland Travel FAQs + offer local tips for visiting Dublin.
---