The Irish Pub is an institution – a place where stories are told, music is played and friendships are made. It never rains inside a pub so Irish people can experience a little bit of sunshine inside these four walls. The pub is more than just having a drink. Like the church, it has played a central role in bringing communities together for centuries. In the pub plans are hatched, deals are made and the future of the country is shaped. Tour Ireland listed a few of our favourite watering holes along the Wild Atlantic Way. You will definitely visit some if not all of them on your adventure with tour Ireland.
Neachtains – Galway City
You will be first taken in by the inviting blue and yellow exterior of Neachtains. This coupled with the cosy snugs and great choices of beer and wine will win you over. Neachtains has a great outdoor seating area on the busy bohemian streets of Galway. Talented buskers are never too far away so you can relax, enjoy a pint, listen to some music and watch the world go by.
The Oslo – Salthill Galway
For all you craft beer enthusiasts this is the pub for you. It is located in Salthill, meters away from the Promenade on Galway Bay. The Oslo is home to the Galway Bay Brewing Company. They also have a vast selection of craft beers from around the world. What they don't have is not worth drinking! They bar staff are all beer enthusiasts. You can while away an afternoon tasting the offerings and indulge your inner beer snob!
Tigh Joe Watty – Aran Islands
This is one of the oldest pubs on Inishmore – The Aran Islands. They serve fantastic seafood straight from the Atlantic. Try the mussels after cycling from Dún Aenghus. It is the obvious stop before turning in for the night. Their motto is: When you drink at Tigh Wattys you drink with the locals. Guests have been known to pick up a word or two of Gaelic at this watering hole and one guest has even fallen in love with a Galway Girl!
The Cronin's Sheebeen – Westport Quay
After a challenging climb on Croagh Patrick The Ole Sheebeen pub on Westport Quay is one of the most inviting watering holes. The staff and the delicious food is what makes this place special. Visit the Sheebeen once and you will not be forgotten. This is a great spot to strike up a conversation with the locals and learn a bit more about Westport and its surroundings.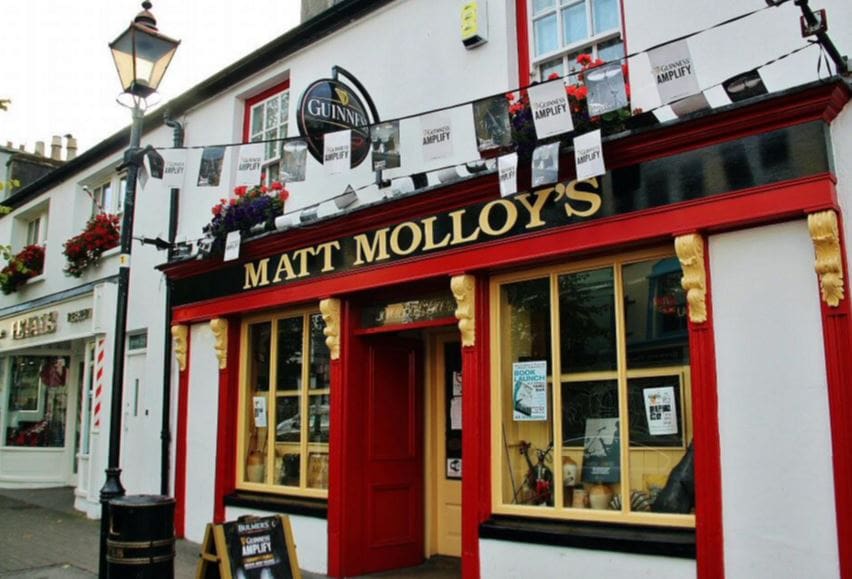 Matt Molloys – Westport Town
Staying in Westport we cannot leave Matt Molloys pub off our list. Come for a pint and stay for the craic. Matt Molloy's is a great spot for attracting locals and tourists alike. With live traditional music playing every night it is not surprising that they always have a full house.
The pub is located right in the middle of Westport Town. It would be a sin not to enjoy a tune and a drink during your stay with Tour Ireland.
For more info give our team a shout.
Planning on visiting Ireland soon? Get our free guides! We answer your Ireland Travel FAQs + offer local tips for visiting Dublin.
---