While many people visit Ireland for its culture, its beautiful scenery, and its friendly people, it's often Ireland's history that leaves the most lasting impression. And one thing we've noticed here at Overland Ireland is that people visiting from North America are especially impressed by our castles. Given that there are over 30,000 castles and castle ruins on our fair island, it's easy to see why guests often talk about the castles as one of their main highlights. For anyone planning a trip, consider one of our small group tours of Ireland, we thought we'd write a quick rundown of some of our favourite Irish castles. We'll throw in some fan favourites and some hidden gems and we hope we can inspire one or two readers to add some castles to their next Irish adventure!
Kylemore Castle
This huge castle was built on the foot of Druchruach Mountain by Mitchell Henry in 1871 as the most over-the-top present in history for his wife. While this castle isn't nearly as old or as historically significant as the others on this list, it looks like a Disney palace and there is also a cathedral and mausoleum to explore. Gorgeous castle views? Check. Gothic cathedral? Check. Fascinating Victorian mausoleum? Check!
The Rock of Cashel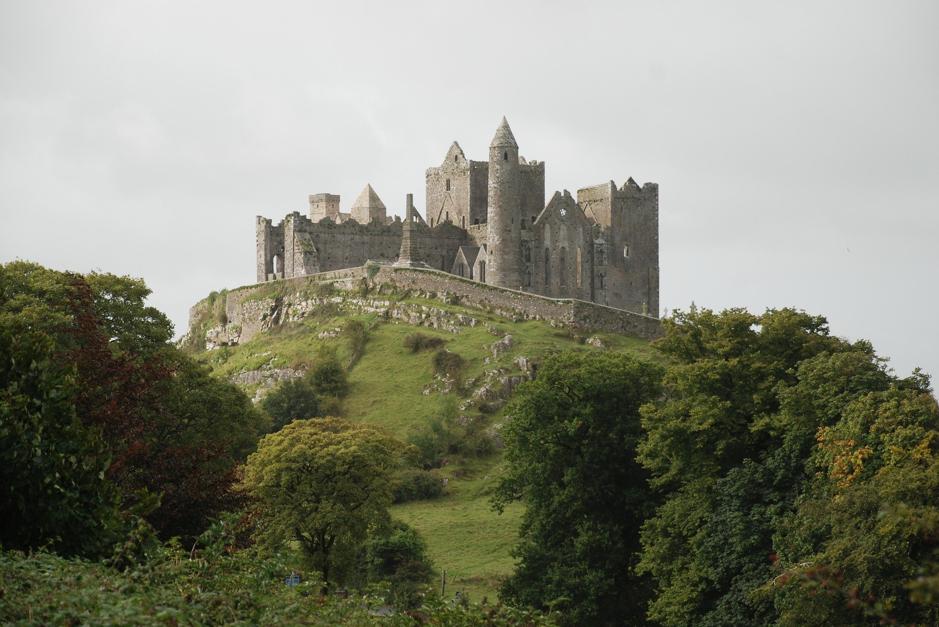 The Rock of Cashel is in county Tipperary and it's a must-see that you'll find on many people's Ireland bucket lists. This is not one of those instances where a big attraction is overrated; it absolutely is worth a visit. Legend states that the castle was built on the spot where St Patrick converted the King of Munster to Christianity in the 5th century. However, the castle wasn't built until the 12th century. Given how long ago the castle and the surrounding buildings were built, the Rock of Cashel is in remarkable condition. There's so much to see and learn about here, but we'll leave most of it for your tour. If you definitely want to see this ancient castle, you may like to book our Ultimate Ireland Tour as the Rock of Cashel is one of the stops!
Dunluce Castle
This medieval castle ruin can wow even the most seasoned traveller. Dunluce sits on the Antrim Coast, on the northern coast of Northern Ireland, and there is a free guided tour that takes place every day. While Dunluce Castle has clearly seen better days, it was built back in the 1200s, so overall, it is in good condition. This ruin was featured as the House Greyjoy's castle in Game of Thrones and it inspired C.S. Lewis when he wrote the Chronicles of Narnia.
Blarney Castle
This is perhaps the most famous castle in Ireland, and there is good reason for this: the myths and legends surrounding the Blarney Stone capture the imagination of all who hear them. The fact is that this beautiful castle would be worth visiting even if it didn't have a mythical stone that grants visitors the gift of eloquence and flattery. The castle looks especially impressive as it rises above the trees and lush green landscape surrounding it. And, given that it was built in 1446, it is in fantastic condition. You can visit Blarney Castle on our Emerald Explorer 7-day Ireland Tour.
Dunguaire Castle
Another somewhat hidden gem, Dunguaire Castle can be found in Co. Galway, right on Galway Bay. This fortified tower is visible from miles around due to the water and a sparse number of trees. The tower cuts an imposing, impressive silhouette on the landscape and it's even more striking when you see it up close. Dunguaire Castle was built in the early 16th Century, but it is in remarkable condition due to a faithful restoration carried out between the 1920s and the 50s.
Bunratty Castle
You'll find Bunratty Castle in Co. Clare, and we think it more than earns its place on our list! Just look at it! While Bunratty Castle was built in the 15th Century, a lot of time, work, and money went into restoring it in the 1960s. This is why it is the most intact and visually impressive structure on our list. It's important to remember that while it was restored in the 60s, a lot of care was taken to ensure that it looks and feels just like it would have in the 15th and 16th centuries. So, if you want to experience what it would have been like to walk through a castle 500-600 years ago, then Bunratty Castle should be at the top of your list.
If any (or all) of the castles on this list have grabbed your attention and you'd like our help exploring them, you can ask Overland Ireland's experts to design a tailor-made Ireland tour for you. By choosing this option, you can tell us exactly what you want to see and we will work out the details. Alternatively, you can simply tell us the kinds of things you like and trust us to create the ultimate Irish itinerary. If you have any questions about our tours or about the Irish castles on this list, please feel free to get in touch. Well, what are you waiting for? Start planning your once-in-a-lifetime Ireland tour!
Planning on visiting Ireland soon? Get our free guides! We answer your Ireland Travel FAQs + offer local tips for visiting Dublin.
---