Several of Overland Ireland's small-group tours of Ireland and private guided tours of Ireland visit Northern Ireland and our guests always have an amazing time. Nothing but good things can be expected from a trip to Northern Ireland! It is a cultural enigma draped in natural beauty and a history like no other. Its phenomenal scenery has been the set to many big motion pictures and it has been the epicenter of much of Ireland's most fascinating history in recent years.
Food & Drink in Northern Ireland
When vacationing, food is always top of our list. A great day out should always end with a great dining experience and Northern Ireland has this in abundance.
The Crown Liquor Saloon (pictured above) stands tall on Belfast's Victoria St. and was allegedly designed to pull in the posh clientele of the Grand Opera house nearby. This building is quintessentially Victorian and we love it! While you wait for your Guinness to settle count the mosaic tiles, decipher the designs in the ornate timber work and admire the sun reflecting through the stained-glass windows of this old-time saloon.
Eating and drinking is an occasion for all the senses and The Crown Liquor saloon packs a punch in this regard. This lovingly restored saloon contains all of its original features and combines it with a modern dining experience.
The owners claim this place to be a sea-foodie's paradise, but the selection goes much further than our fishy friends. Enjoy a Guinness stew, the soft-shell crab burger or just sample the selection of craft beers.
As we travel further north-west, through the glens of Antrim, we arrive at the city of Derry. The famed walled city is not without its fair share of eateries and comes hot on the heels of Belfast. An Overland favorite is the Walled City Brewery.
Did someone say "brew your own beer"? The Walled City Brewery prides itself on its beer knowledge and people on our tours often attend an optional masterclass (pairing their craft beer with artisan food) or even learning how to brew their own beer! This is experience-based dining at its best and we recommend checking this place out.
Unimaginably Scenic Drives
Photo Cred: Gareth Wray (Flckr.com)
Like the rest of Ireland, Northern Ireland is not without its fair share of raw beauty. The beauty of a drive through Northern Ireland is that there is something for everyone – whether it's a grand old castle or a rugged coastline.
One of my favorite scenes from a road trip to Northern Ireland is the sight of Mussenden Temple teetering over the edge of the cliff face. This landmark was once built as a beach side study for the residents of a local manor but has now become the back drop to many a wedding ceremony.
We continue through Northern Ireland and take a swing by the thrilling Giant's Causeway, admiring the strange hexagonal walkway as it disappears into the sea at the North Channel separating Ireland and Scotland.
A scenic drive to the causeway brings you within a stone's throw of the Carrick-a-Rede Rope Bridge. This rope bridge connects the mainland to the island of Carrick-a-Rede and is not for the faint hearted. The bridge is only single file in width and spans 20 meters(66ft) between the mainland and the island. Made of nothing but timber footings and a rope, crossing the bridge can be fairly daunting for those with a fear of heights. So we say do it! Conquer that fear!
Northern Ireland is a Top Filming Location for Movies and TV Shows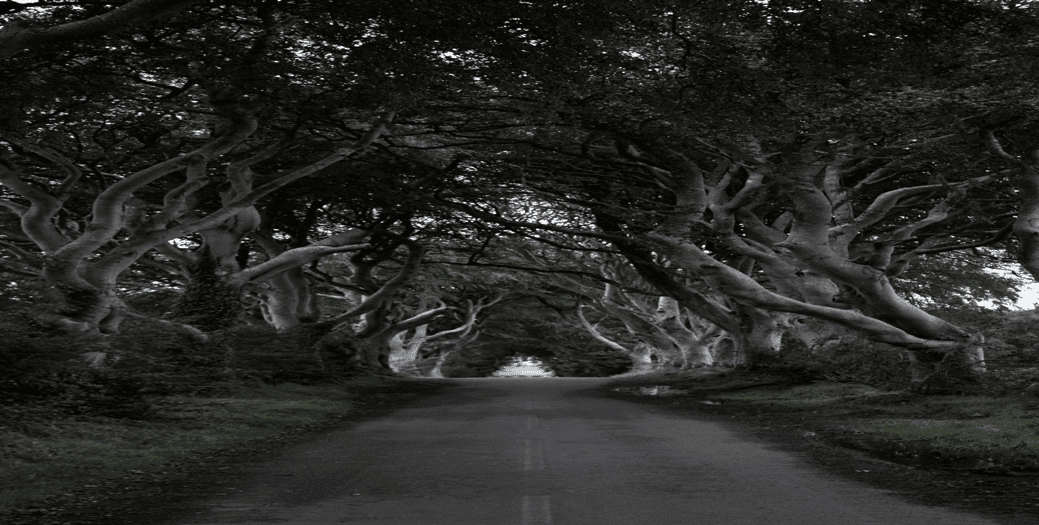 So, we are all suckers for a great TV show or movie. Northern Ireland is for famous movie scenes what L.A is for celebrity spotting.
Everything from Jackie Chan (The Foreigner) to movies on the birth of the Titanic have been shot here. The popular UK TV series Line of Duty is Northern Ireland's latest claim to fame.
Most importantly, the HBO TV series Game of Thrones filmed a lot of its footage in Northern Ireland. The North (as we call it below the border) has really embraced the Game of Thrones fandom, creating a variety of tours and attractions to help geeks geek out to their heart's content. So, while you're in Northern Ireland, why not try and spot Arya Stark riding under the Dark Hedges in Co. Antrim, or take an archery class at Winterfell, or walk where Stanis Baratheon rejected the Lord of Light at Downhill Beach, Derry.
The History of Northern Ireland
Northern Ireland is steeped in fascinating history. Northern Ireland is its own independent country and separate from the Republic of Ireland. Under the Government of Ireland Act 1920, 6 counties in Northern Ireland stayed as a member of the United Kingdom, while the remaining 26 became an independent nation known as the Republic of Ireland.
From this divide, you can expect to learn so much about the famous "Troubles" that ravaged the state in the years to follow, and about the Good Friday Agreement – an agreement that has brought peace to the state, allowing it to prosper and become a safe place to visit.
On a trip to Belfast, you will see relics and signs of the city's troubled history, and on a black cab tour the locals will bring you around the city displaying the once torn areas and showcase the now flourishing city.
Belfast is also famous as the home of the Titanic. The legendary ship was built in Belfast by the ship makers Harland & Wolff . Remember the grand staircase? Well get your photo op on the recreated staircase and learn about the build from start to finish at the Titanic Experience, Belfast.
Let's take a trip back further, into Celtic mythology. Looking into the legends behind the Giant's Causeway? The story goes that the Irish giant Fionn mac Cumhaill (Finn McCool) laid a hexagonal path from Northern Ireland to Scotland in order to battle his enemy, Benadonner (the bigger Scottish giant). When Fionn saw how much bigger Benadonner was, he disguised himself as his own baby fooling the Scottish giant into thinking that the father of such a huge baby must be truly gargantuan. The Scottish giant tore down the causeway between Ireland Scotland so that Fionn could never reach him. The remains of the causeway can be seen in both Ireland and Scotland to this day!
Okay… I admit it… we know now that these hexagonal basalt columns were created by a volcanic fissure explosion hitting the cold Atlantic waters, but the mythology surrounding this causeway is much more fun! It's the stuff of fairytales and kids' bedtime stories. It is a must-see attraction when visiting Northern Ireland!
So What Should I Expect From a Trip to Northern Ireland?
While most of us in Overland Ireland are based in the south, we love Northern Ireland as much as we love the accents up there. It actually sounds like music!
With a trip to Northern Ireland, you can expect jaw-dropping beauty, a lesson in history, mythology, and a new experience around every corner, with some incredible dining options along the way. Northern Ireland a must-see on your trip to Ireland! If we've convinced you, check out our Ultimate Ireland Tour and our Wild West & North Ireland Tour. And please get in touch if you have any questions.
Well? What are you waiting for? Start planning you next great Northern Irish Adventure with Overland Ireland!
Planning on visiting Ireland soon? Get our free guides! We answer your Ireland Travel FAQs + offer local tips for visiting Dublin.
---