When you think of Ireland, what comes to mind? Is it the lush green landscapes and the wild, rugged coastlines? Is it the friendly people, the shamrock, or even a pint of Guinness?
Or perhaps it's Ireland's patron saint, St Patrick? Of all the things that have come to symbolise the Emerald Isle over the years, St Patrick's is arguably the most important.
In fact, many visitors come to our country intent on exploring the history and significance of St Patrick in Ireland.
At Overland Ireland, we offer a range of Ireland tours that showcase everything this incredible island has to offer, including famous sites associated with St Patrick's.
Read on to find out how you can follow in St Patrick's footsteps on a journey through Ireland.
If you have any questions about our tours in Ireland, please don't hesitate to get in touch.
The St Patrick Experience: Visiting Historical Sites and Landmarks Associated with St Patrick
St Patrick had a transformative effect on Ireland, so it's only fitting that the places associated with him are spread across the country.
Let's start at the beginning!
Slemish, County Antrim
Before Patrick returned to Ireland to spread the Christian faith, he was enslaved in the country for six years.
According to the legend, St Patrick worked on the slopes of Slemish as a herdsman.
This time was formative in Patrick's life. He became familiar with the Irish language and customs.
He also came to appreciate the beauty, power, and importance of high places, a recurring theme throughout his journey in Ireland.
Slemish, around 35 miles north of Belfast, is a landscape-defining peak that rises majestically out of the surrounding green fields.
Are you visiting Ireland to celebrate St Patrick's Day? Read our guide St Patrick's Day in Ireland: All You Need to Know for the inspiration and information you need!
Saul and Downpatrick, County Down
Having escaped his enslavement, Patrick made his way back home. In the intervening years, he underwent religious training and was ordained as a priest.
When he returned to Ireland, strong winds pushed his boat into Strangford Lough.
St Patrick landed in Saul and soon converted Dichu, the local chief, to Christianity. By way of reward, Patrick was provided with a barn, which he duly converted into Ireland's first Christian church.
Saul Church stands on this site today. Having established his first church, Patrick set out to spread the word of God across Ireland.
Many years later, an angel told Patrick to return to his original landing place, so he duly travelled back to Saul. Having come full circle, he died there on March 17th, 465 AD.
Down Cathedral, in the town of Downpatrick, is St Patrick's reported burial site.
Croagh Patrick, County Mayo
So much of Patrick's story involves ascending to the highest peaks of the places he visited. And the most iconic of these sites is Croagh Patrick — Ireland's holiest mountain.
This peak has a long association as a holy mountain that pre-dates Patrick. However, he Christianised it and spent forty days at the summit fasting.
It's also here that St Patrick reportedly banished snakes from Ireland!
Thousands of pilgrims climb Croagh Patrick every year on the last Sunday in July, known as Reek Sunday. This is a custom that dates back to at least the Middle Ages.
St Patrick also climbed to the top of high ground in locations such as:
The Hill of Slane, County Meath
The Rock of Cashel, County Tipperary
Ardpatrick, County Limerick
Maumeen Pass, County Galway
Is a visit to Croagh Patrick a must for your Ireland itinerary?
Our own Wild Atlantic Wanderer 6-Day Self-Driving Tour Of Ireland includes a climb to the summit of our country's holiest mountain.
St Patrick's Trail: An Overview of the Trail's Route and Landmarks
While Patrick's impact was felt across the island of Ireland, he is most associated with the northern counties of Armagh, Antrim, and Down.
This relatively small area is home to many of the most famous Patrician sites.
As such, you can follow St Patrick's Trail (also known as St Patrick's Way and the Pilgrim's Walk) from Armagh to Downpatrick.
The starting point, the ancient city of Armagh, became a great seat of Christianity after Patrick established a church there.
The trail then winds through numerous key locations such as Scarva, Newry, Rostrevor, the Mourne Mountains, Newcastle, and Tyrella Beach.
The route then concludes in Downpatrick, near Saul, the very place where St Patrick's time in Ireland started and ended.
If you're looking to extend your stay in Northern Ireland, check out our Guide to Ireland's Northern Coast to see the adventures that await.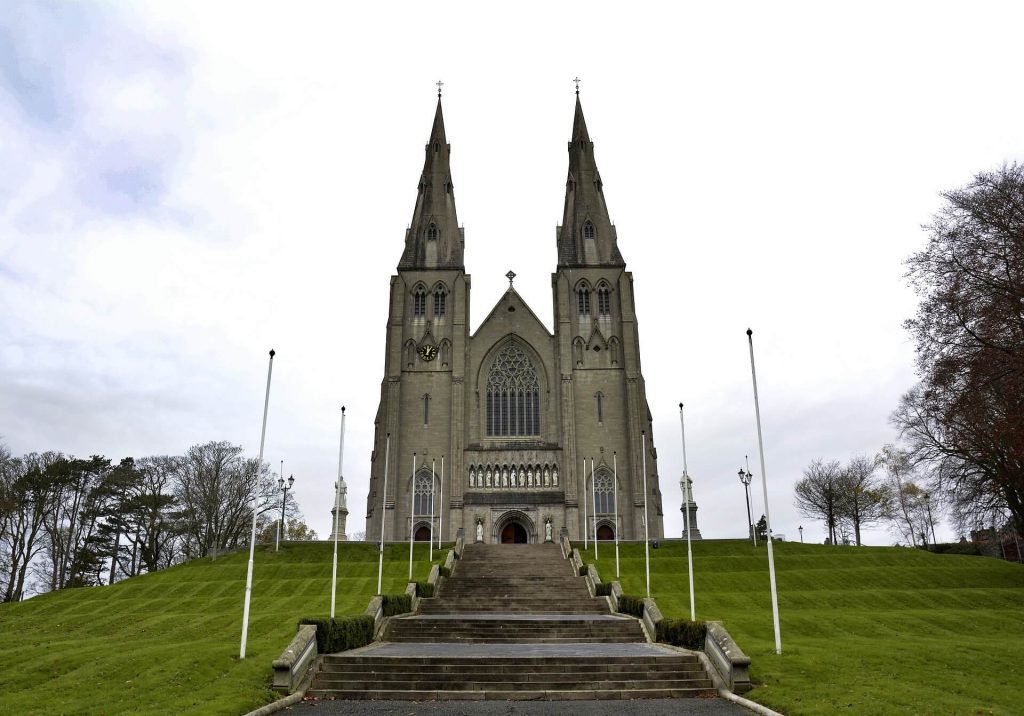 Experience Ireland's History, Culture, and Beauty with Our Tours
We hope this blog has helped in understanding the religious significance of St Patrick and his legacy in Ireland.
If you want to continue exploring the Emerald Isle beyond the footsteps of St Patrick, check out our wide range of Ireland tours.
We visit all corners of this incredible island to help you create memories that you'll never forget.
For more information about any of our tours, please feel free to get in touch.