The island of Ireland is home to spectacular scenery, vibrant cities, charming villages, and welcoming people. There's an inherent magic and mysticism that draws people to the Emerald Isle from all over the world.
In this blog, we provide a handy guide to one of the most picturesque, rugged, and awe-inspiring parts of Ireland — the northern coast.
At Overland Ireland, we know our country inside out! We're perfectly placed to provide all the information and inspiration you need for an upcoming adventure along Ireland's northern coast.
Browse our tours of Ireland to find out which adventure suits you best. If you have any questions for our team of experts, please don't hesitate to get in touch.
For now, though, let's jump into our guide to Ireland's northern coast!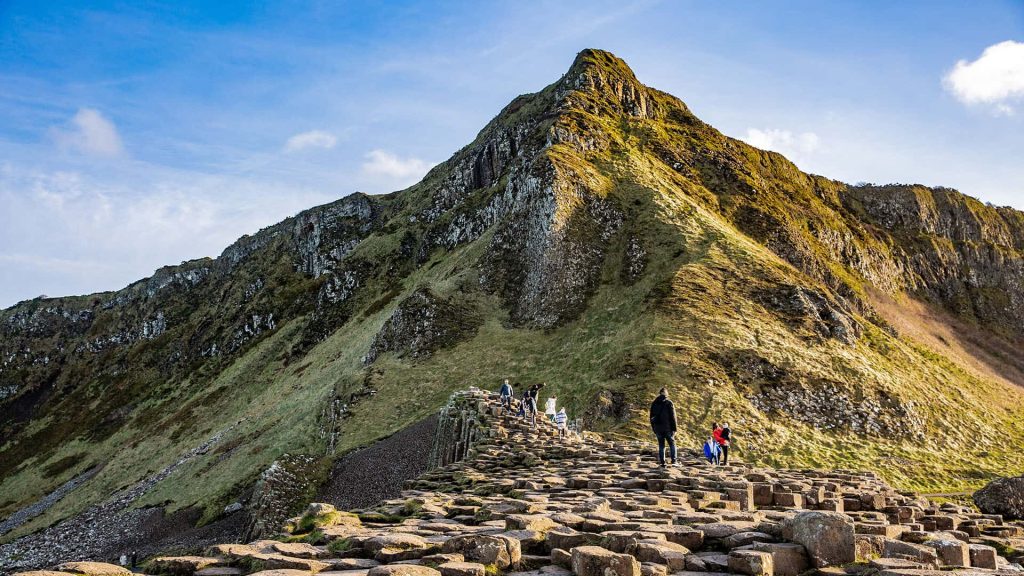 Bustling Belfast: A Reinvigorated City
There's no right or wrong way to travel along Ireland's northern coast. However, for many people, Belfast is a natural starting point, so that's where we'll begin!
Over the last two decades, Northern Ireland's capital city has undergone a remarkable transformation.
What was once a troubled place marked with decline is now filled with revitalised neighbourhoods that are home to pubs, bars, restaurants, and venues that cater to practically every taste.
The derelict old docklands are now the Titanic Quarter, where you can find the incredible Titanic Belfast museum.
Watch Out for Dragons at Game of Thrones Locations!
Northern Ireland is home to numerous Game of Thrones filming locations. Given the jaw-dropping landscapes and castle ruins, it was a perfect choice!
Arguably the most famous of these shooting locations is Dark Hedges, around a one-hour drive north of Belfast.
It's here you can find the eerie, mythical tunnel made of intertwined beech trees.
Other popular filming spots in the region include:
Carnlough, Co. Antrim
Larrybane, Co. Antrim
Ballintoy Harbour, Co. Antrim
Cushendun Caves, Co. Londonderry
Portstewart Strand, Co. Londonderry
Downhill Beach, Co. Londonderry
Binevenagh, Co. Londonderry
Tollymore Forest, Co. Down
Inch Abbey, Co. Down
Castle Ward, Co. Down
Marble Arch Caves, Co. Fermanagh
Our Ultimate Ireland 10-day Tour Package includes a visit to Dark Hedges among Ireland's many other must-see attractions!
Needless to say, all the locations above are spectacular in their own right, whether you're a fan of the show or not. There's a reason they were chosen to appear on screen, after all!
They are just as rewarding to visit whether you're familiar with Game of Thrones or not.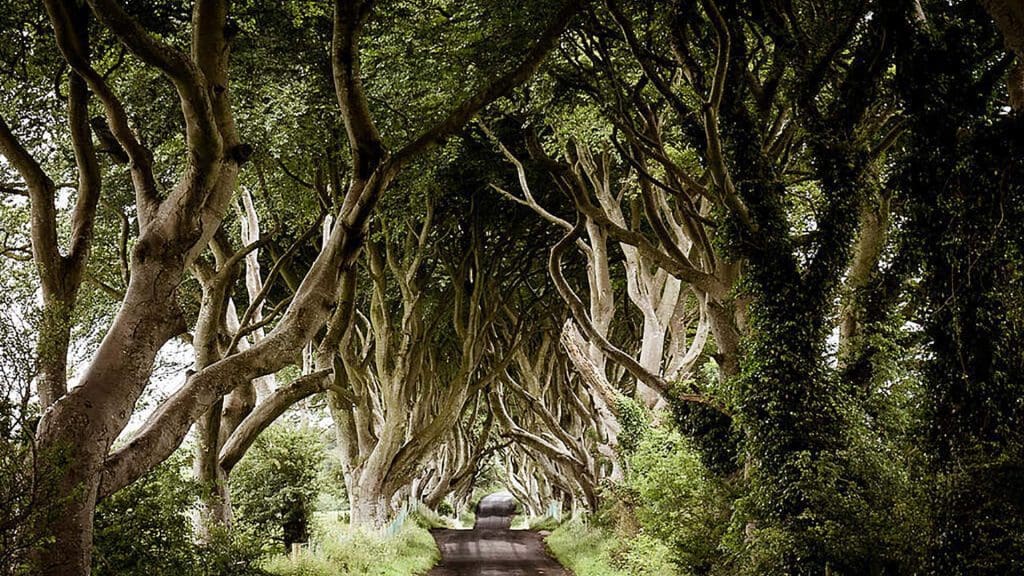 Incredible Sights for Days on the Causeway Coastal Route
Stretching from Belfast to Derry, the Causeway Coastal Route is easily one of the most scenic and exhilarating driving routes in Ireland. Some of the best sites already feature in our list of Game of Thrones locations.
To the north of Belfast, on the Islandmagee Peninsula, you can walk on water at The Gobbins cliff!
This walkway has clung to the face of the basalt cliff for more than one hundred years. Walking along the tubular bridge hanging 10m (33ft) above the sea is a truly one-of-a-kind experience!
Further north, you can find the stunning country of The Glens of Antrim, known locally as just The Glens.
The nine lush-green valleys create some of the most photogenic panoramas you can find in any part of Ireland. It comes as no surprise that the Glens are designated as an Area of Outstanding Natural Beauty.
Glenarm Castle will fill you with fairytale wonder while the Carrick-a-Rede Rope Bridge lets you act out dreams of adventure as you sway 30m (100ft) above the Atlantic Ocean.
The rope bridge itself links the mainland to the tiny Carrick Island and has done for around 350 years.
For even more hair-raising activities, read our tips for the 5 best adventure tours in Ireland.
Step into History and Folklore at Giant's Causeway
Of course, the Causeway Coast shares its name with the region's main attraction — Giant's Causeway in County Antrim.
Nowhere else on the island of Ireland can find a blurring of myth and history so pronounced.
Legend has it that the causeway was the handiwork of the giant Finn McCool as he carved out a path to reach Scotland where his nemesis, Benandonner, was waiting.
The reality is that volcanic activity in the area 60 million years ago created this geological marvel of 40,000 hexagonal columns made of layered basalt.
Whichever story you believe, one thing remains true — Giant's Causeway is a genuinely unforgettable sight and experience.
We might be biased, but the Causeway Coast was also featured in Lonely Planet's Best in Travel 2018: Top 10 Regions.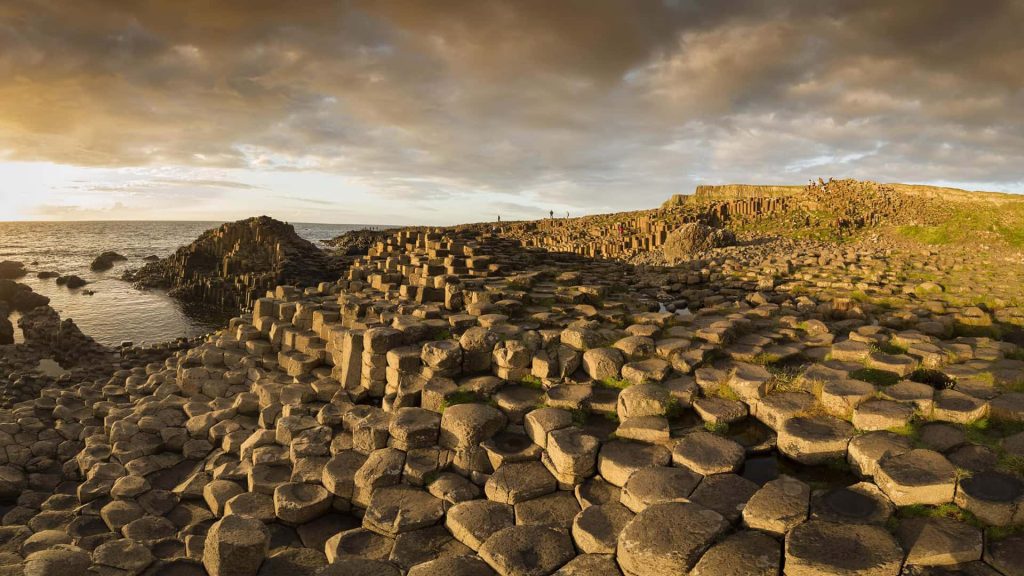 Visit Ireland's Oldest Working Distillery
West of Giant's Causeway you will find the Old Bushmills Distillery. Having been operating since 1608, this is the island of Ireland's oldest working distillery.
You can sample (and stock up on) the company's famous single malt whiskey as it is still produced using traditional methods today!
And the Causeway Coast Keeps on Giving!
Still heading west along the Causeway Coast, you will eventually reach Dunluce Castle, medieval ruins perched on a clifftop overlooking the North Atlantic Ocean.
There aren't many more romantic, picturesque locations in all of Ireland!
A short drive west and you find Portrush and Portstewart. Aside from their world-class golf courses, these two seaside villages have beautiful beaches to explore and restaurants serving up fantastic food.
You can also find another clifftop gem here in the form of Mussenden Temple. Built-in 1785 as a summer library, this beautiful building sits right on the edge of a 125-foot-tall cliff.
From here, you can move inland to explore the city of Derry and discover its rich, complex history.
Overland Ireland's The Wild West and North Ireland 6-day Tour is one of the best ways to experience this fun and fascinating part of the world.
Explore Ireland's Northern Coast and More with Our Multi-Day Tours!
Has this guide inspired you to dive into the history, culture, and beauty of the Emerald Isle?
Trust us when we say the northern coast is only the beginning! There's so much more to see and do on an adventure in Ireland.
Our tours of Ireland span all corners of the place we call home, and we love nothing more than showing visitors everything it has to offer.
For the ultimate freedom and flexibility, we can also create a fully bespoke itinerary tailored to your needs with our Ireland Private Guided Tours.
If you have any questions for us, please feel free to get in touch.