For many visitors, a trip to Ireland is a one-of-a-kind opportunity for exciting adventures in the great outdoors. Our world-famous lush green scenery isn't just a beautiful backdrop — it's there to be explored!
We have designed a range of adventure tours in Ireland for people looking to spice up their discovery of the Emerald Isle.
We call these our Zest Tours. And with plenty of hiking, cycling, and kayaking involved, they more than live up to their name!
If you have any questions about our Zest Tours, or more relaxed small-group tours in Ireland — our Jewel Tours, please don't hesitate to get in touch.
In the meantime, let us inspire your upcoming trip by showing you some of the best adventure tours in Ireland.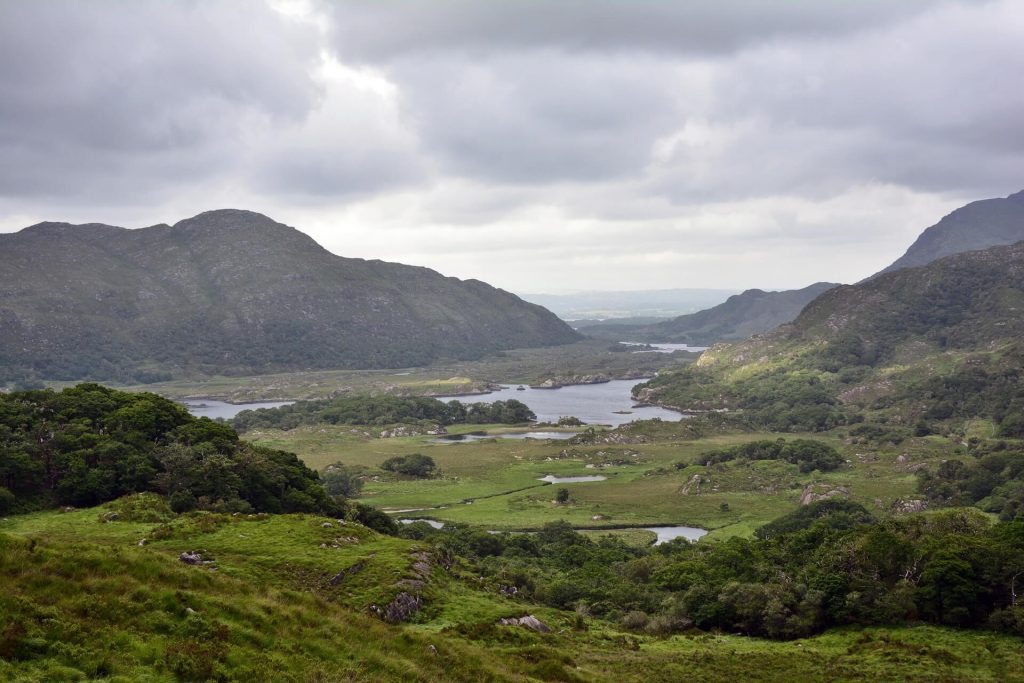 Hike, Cycle, or Kayak in Stunning Killarney National Park
There are spectacular vistas around every corner in Killarney National Park, which goes some way to explaining why around one million people visit every year.
Just a quick run-through of the must-see sights in Killarney National Park includes:
Muckross House and Gardens
Dinis Cottage and Island
Ross Castle
Torc Waterfall
Ladies View
And, of course, we can't forget the lakes of Killarney. This national park is home to three beautiful lakes — Lough Leane, Upper Lake, and Muckross Lake (Middle Lake).
There are many wonderful views to be found on the trails around the lakes, as well as at the Meeting of the Waters, where all three lakes merge.
For an added bonus, you can also find the picture-perfect Old Weir Bridge here too!
With so much to see and do in Killarney National Park, it's perfect for an adventure tour.
You can hike to your favoured sights, see even more by hopping on a bike or hit the water in a kayak.
It's hardly surprising that Killarney National Park features heavily in our own adventure tours, including The Great Atlantic Adventure 7-day Ireland Holiday, Spectacular South & West 5-day Active Tour of Ireland, and Ireland to Island 7-day Zest Tour.
Hit the Open Road on the Ring of Kerry!
For many people, a road trip through rugged landscapes is the epitome of adventure. And as huge fans of the Ring of Kerry, we definitely agree!
The Ring of Kerry is arguably Ireland's most famous and most celebrated drive.
Starting and ending in Killarney, it winds around the Iveragh Peninsula's raw coastlines and through its dreamlike scenery.
And while we could list all the best stops and must-see attractions on the 179km (111-mile) route, we think the journey itself is greater than the sum of its parts.
If it's adventure you're looking for more than anything, the Ring of Kerry is an absolute must for your Ireland itinerary.
Discover more about this iconic driving route with our Ultimate Guide to the Ring of Kerry.
Hike Over the Cliffs of Moher
There are few natural wonders more synonymous with Ireland than the Cliffs of Moher. And this awe-inspiring setting is ideal for a hiking adventure!
The coastal walk here passes over the cliffs, offering unforgettable views along the way.
And while you take advantage of the photo opportunities, you can breathe in the fresh, salty air and listen to the roar of the Atlantic Ocean as it crashes into the cliffs below.
Don't forget, the Cliffs of Moher are steeped in myth and folklore, so the best way to get the full experience is to join a hike led by one of our expert guides.
At Overland Ireland, we take you off the beaten track, showing you secret passages that offer a deeper insight into the local area than the main tourist trail.
To underline the Cliffs of Moher's adventure credentials, we also included it on our list of the 5 Best Wild Places in Ireland.
Set Out to Sea for the Skellig Michael Experience
A journey out to Skellig Michael is an adventure like no other.
You leave the mainland, venturing out into the Atlantic Ocean toward a craggy, rocky outcrop poking up through the waves.
You travel back in time to one of Europe's most well-preserved monasteries. You can climb the 618 steps to the peak of the island, some 700ft high.
Skellig Michael is one of the wildest, most isolated places you can visit in Ireland. In fact, it's not always possible to reach if weather conditions turn rough.
But as adventurers ourselves, we know that only makes it more appealing!
Are you tempted? Read our Guide to Visiting the Magical Skellig Islands to find out more.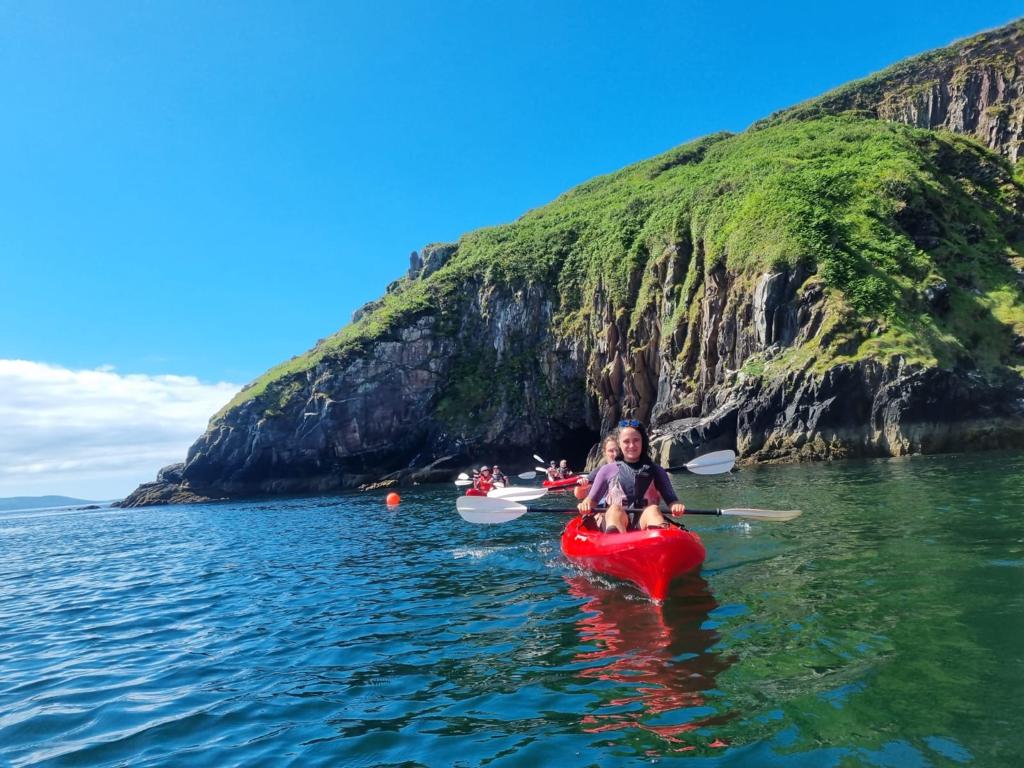 Marvel at Dingle's Beauty on Land and Water
The Dingle Peninsula is another stunning corner of County Kerry. With plenty of jaw-dropping views and exhilarating activities, it's yet another great place for an adventure in Ireland.
On land, you can jump on two wheels for a tour around the dramatic Slea Head Loop. And if that sounds like hard work, you can choose to use an e-bike!
You can also head out into Dingle Bay to explore the marine life, including dolphins!
Kayaking here allows you to explore hidden caves and beautiful bays that aren't accessible by land.
If you prefer adventures on foot, check out our tips for the best walks in Ireland.
And Some Honourable Mentions…
The adventure tours above are only an introduction to all the fun and excitement waiting for you on the Emerald Isle. Some deserving honourable mentions include:
Hiking the Burren Way
Trekking on the Kerry Way
Hiking on the Wicklow Way
Cycling the Beara Way
Hitting the Wild Atlantic Way
Exploring Connemara National Park
Venturing out to the Aran Islands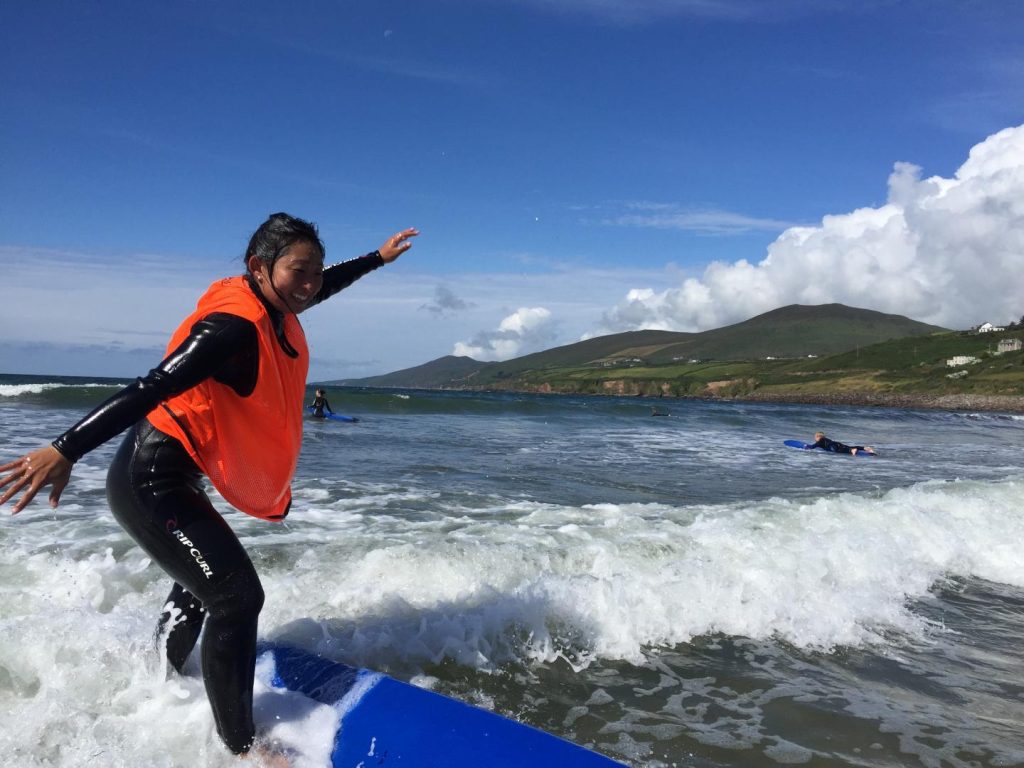 Our Tours Offer Fun and Fascinating Adventures in Ireland!
At Overland Ireland, we specialise in Ireland adventure tours that are fun and enlightening, all while providing a slice of authentic Irish life.
Are you ready to turn your dream of Ireland into reality? Please don't hesitate to contact us with any questions or queries you may have about our tours.