For many people, a Ring of Kerry tour is a once-in-a-lifetime experience. To ensure you get the most out of your journey, Overland Ireland has put together this ultimate guide outlining everything you need to know before hitting the road.
Our team loves helping visitors to the Emerald Isle find their perfect Irish experiences. We pour this passion for creating unforgettable holidays into every one of our Ireland self-drive tour packages, Ireland private tours, and small group tours of Ireland.
If you have any questions about specific tours we operate, please feel free to get in touch.
For now, though, let's get to know the Ring of Kerry better.
What is the Ring of Kerry?
The name 'Ring of Kerry' refers to the ring road that follows the contours of County Kerry's Iveragh Peninsula.
Most of the route consists of the N70 as it navigates the stunning coastal areas. To complete the ring, however, the N70 feeds into the N71 and N72 on either side of Killarney.
The Ring of Kerry is more than just a driving route. It's an iconic, historic region in Ireland's lush green hills. The area also contains diverse wildlife, including sheep and an incredible range of bird species.
How Long is the Ring of Kerry?
This circular route is around 111 miles (179km) long. When driving without stopping, the Ring of Kerry takes three and a half hours to complete.
But most tourists make multiple stops as it's the only way to soak up the picturesque scenery and culture in Kerry's villages and towns.
To experience all the Ring of Kerry highlights, take your time. Savour every moment of your journey around this wonderful peninsula.
For example, our own Ireland to Island 7-day Tour dedicates an entire day to the Ring of Kerry.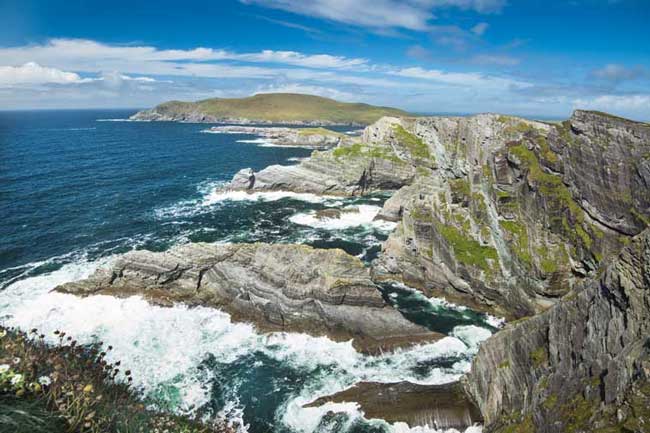 Where Does the Ring of Kerry Start and Finish?
The Ring of Kerry has no official start or finish point, and there's no right or wrong way to drive around it. Put simply, the journey starts once you arrive on the ring road.
Given its size, facilities, and attractions, Killarney is the typical starting point for many laps around the circuit. We also advise driving around the ring clockwise as you'll be on the left-hand side of the road. This makes it easier to pull over and stop when you see a point of interest for a breathtaking vista.
It's important to note that some roads become quite narrow, so always take care when rounding a bend. If you feel uncomfortable driving on Irish roads, our Ireland custom tours can take you everywhere you want to go in comfort!
The drive ends whenever you decide to leave the Iveragh Peninsula. Most tourists return to Killarney after their adventure for its lively atmosphere, pubs, and restaurants.
Why is the Ring of Kerry Famous?
The Ring of Kerry is Ireland's most celebrated drive for a reason. The route is lined with scenic villages and towns to explore and it passes through some of our country's most spectacular scenery.
The Best Ring of Kerry Towns and Villages
There are plenty of warm and welcoming villages and towns along the Ring of Kerry. Killarney is the largest and most well-equipped for tourists, making it an ideal place to start and finish a journey on the longer side.
The Kerry Way, a 135-mile walking trail that leads hikers through southwestern Ireland's beautiful countryside, also begins in Killarney. If you're planning to tackle this trek, read our Ultimate Guide to Walking the Kerry Way ahead of your journey.
Other gems along the Ring of Kerry include:
Beaufort
Caherdaniel
Cahersiveen
Glenbeigh
Kenmare
Killorglin
Portmagee
Sneem
Waterville
The Ring of Kerry is one of Ireland's most popular tourist attractions, so you'll find everything you need on the road.
Famous Sights are On the Ring of Kerry
Between the towns and villages on your Ring of Kerry map, you'll find a landscape defined by raw beauty.
Killarney is home to Killarney National Park, a rugged and mountainous sanctuary complete with forests, rivers, lakes, and waterfalls. Among the park's many highlights are Torc Waterfall, Ladies View, Muckross House, and Ross Castle.
Not far outside the park, and slightly off the Ring of Kerry itself, you'll find the Gap of Dunloe, a picture-perfect view fit for a postcard. It marks the eastern end of the Macgillycuddy Reeks, Ireland's highest mountain range and home to Carrauntoohil, our country's tallest peak.
And did you know that Kerry is home to numerous photogenic sand beaches? Rossbeigh Strand is on the ring road and ideal for swimming, relaxed walks and horseback riding.
Across the sea, on the Dingle Peninsula, you can also find Inch Beach, a beautiful 3-mile stretch of golden sand. This location is so striking that it has featured in multiple films, including David Lean's Ryan's Daughter.
Out to sea are the Skellig Islands, the biggest of which is Skellig Michael. This island has long been famous for the ancient monastic settlement perched on its 218-metre-high summit.
But its fame skyrocketed after it featured as Luke Skywalker's island sanctuary in the Star Wars movies The Force Awakens and The Last Jedi.
If you want to visit this incredible location, read through our Guide to Visiting the Skellig Islands.
For the sake of brevity, we can't list all the Ring of Kerry highlights here, but rest assured, the above barely scratches the surface!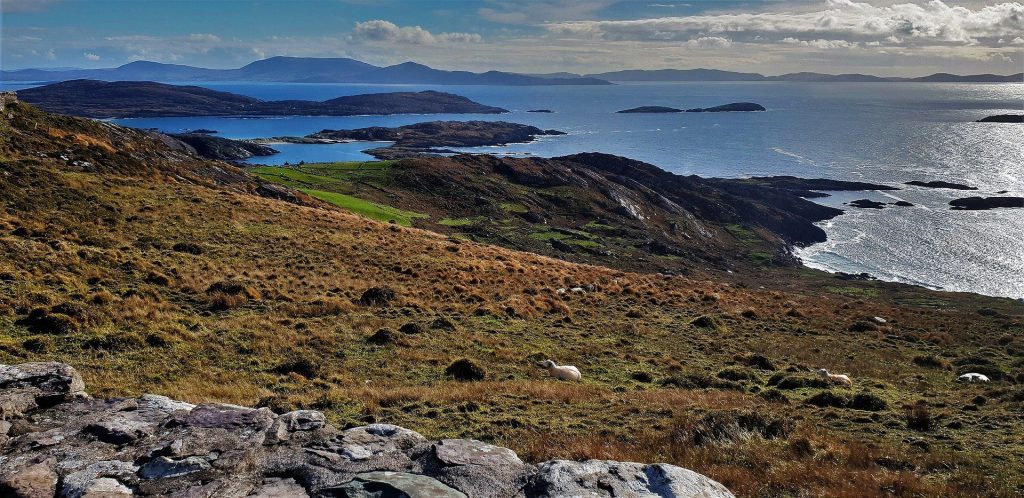 Tour the Ring of Kerry with Friendly, Experienced Guides!
The best way to see all the highlights on a Ring of Kerry map is to travel with the expert team at Overland Ireland. What's more, you can also learn about the culture, folklore, and history linked to everything you see.
Ring of Kerry tours feature in our wider range of Ireland tour packages. Feel free to browse through our options and get in touch with any questions.
We can't wait to start showing you around Ireland's must-see sites!