As a land of rolling hills, dramatic coastlines, and incredible waterways, Ireland is the perfect place to get your fill of outdoor activities.
We have designed a range of Zest Adventure Tours in Ireland that allows you to feel the thrill of active travel in our incredible country.
And while this includes cycling, kayaking, mountain hiking, and more, in this travel guide we're focusing on stand-up paddleboarding (SUP).
Ireland has countless amazing spots to hit the water on a paddleboard, so we can only focus on some of our favourites here.
Keep scrolling down to discover our recommendations for the best stand-up paddleboarding in Ireland.
If you have any questions about our Zest Tours, or the more laidback Jewel Tours in Ireland, please feel free to get in touch.
What is Stand-Up Paddleboarding?
Before we get started, let us introduce SUP in case you're new to it.
Stand-up paddleboarding is a water sport that originated in Hawaii. It involves standing on a large board while using a long paddle to navigate through the water.
It's a fantastic full-body workout that's also great for mental relaxation and mindfulness!
Now, let's dive into some of our favourite SUP locations in Ireland.
Head Out into Beautiful Dingle Bay, County Kerry
Located on the stunning Dingle Peninsula in County Kerry, Dingle Bay offers some of the most breathtaking views you can find in Ireland.
With lush greenery and rugged mountains as your backdrop, you can paddle through flat water and spot wildlife like seals and dolphins.
The usually calm waters in the bay are ideal for beginners looking to learn the basics of SUP.
And for those with more skill and experience, there's an opportunity to venture further out toward the cliffs and sea caves, weather permitting.
If kayaking in Dingle Bay is more your speed, we include this as an option on our Great Atlantic Adventure 7-Day Tour.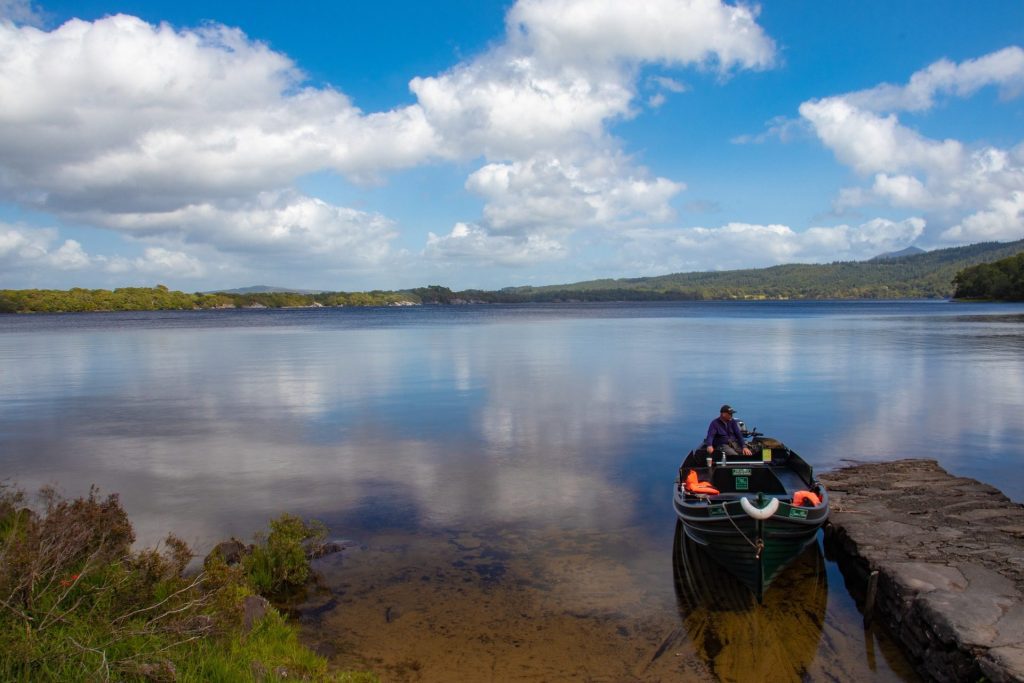 Explore Lough Leane, One of the Lakes of Killarney
If peaceful tranquillity is what you're after, Lough Leane in Killarney National Park is the perfect spot for you.
This freshwater lake is surrounded by spectacular landscapes, including looming mountains carpeted by thick forests.
This SUP experience is the perfect way to escape the hustle and bustle of everyday life.
Keep an eye out for the park's famous resident deer as you paddle along the calm waters too!
And remember, Lough Leane is just one of the three Lakes of Killarney, so you can also explore Muckross Lake and Upper Lake.
We love visiting Killarney National Park and its wonderful lakes, and it's a popular stop on our Ireland to Island 7-Day Zest Tour.
Experienced Paddlers Love Killary Harbour, Ireland's Only Fjord
Nestled on the west coast of Ireland, Killary Harbour is Ireland's only fjord and is truly a sight to behold.
The towering mountains on either side of the fjord create a dramatic backdrop that will make you feel small as you glide over the deep blue water.
This location is a bit more challenging than some of the others on our list, but the stunning scenery is well worth the effort.
Has all this talk of adventure stirred your wanderlust? Find even more active travel inspiration in our guide Why is Ireland a Boring Country?
Discover Clifden's Natural Harbour
Clifden is a charming town located on the rugged coast of Connemara, County Galway.
The town's natural harbour provides the perfect launching point for a SUP adventure along the coast.
As you paddle, you'll see dramatic cliffs, secluded coves, and maybe even a castle or two.
This is a great spot for SUP beginners as the sheltered waters are relatively calm.
Several of our Jewel Tours in Ireland visit the picture-perfect town of Clifden, but these itineraries don't involve any water sports.
If you'd like to include Clifden in an active holiday of your own, we can include it as part of a tailor-made tour in Ireland.
Caragh Lake
Located in County Kerry, Caragh Lake is a hidden gem that's perfect for a peaceful paddle.
The lake is surrounded by lush forests and rolling hills, creating a serene atmosphere that makes relaxation and disconnection easy.
While paddling, you can see beautiful old mansions and even a small island that's home to a picturesque church.
But best of all, Caragh Lake is on the Ring of Kerry, one of Ireland's most iconic and celebrated driving routes.
Both our Spectacular South and West 5-Day Active Tour of Ireland and Ireland to Island 7-Day Zest Tour include journeys on the Ring of Kerry — but only the latter has the full experience.
Do you want to learn more about this world-famous drive? Read our Ultimate Guide to the Ring of Kerry for all the information and inspiration you need.
Get Off the Beaten Path with Our Ireland Tours!
We hope this guide to the best stand-up paddleboarding in Ireland has sparked your sense of adventure!
If you're ready to start planning some active travel in the Emerald Isle, check out our Zest Adventure Tours in Ireland to see what's possible.
For more information about any of our Ireland tours, please don't hesitate to get in touch.
Planning on visiting Ireland soon? Get our free guides! We answer your Ireland Travel FAQs + offer local tips for visiting Dublin.
---