What is the best way to travel around Ireland? Well, everyone has their own interests, travel preferences, and budget, so there's no simple answer to this question.
Some people may find the perfect solution in car rental from start to finish, while others might need to combine numerous modes of transport to suit their needs.
To help you plan your dream trip to the Emerald Isle, we've put together this ultimate guide to getting around Ireland, from scenic railways and bus tours to small-group tours and self-drive road trips.
Whether you have a list of must-see places and are ready to plan out a detailed itinerary, or you prefer an expert guide to show you around, this blog outlines the pros and cons of the most popular transport methods.
At Overland Ireland, we have used years of travel experience to create our Ireland tours, so it's fair to say we know a thing or two about getting around our incredible country.
So however you picture your dream holiday in Ireland, let's take a look at the best ways to get around.
And if you have any follow-up questions while reading this guide, please contact us.
Airport Transfers After Your Arrival in Ireland
Let's start with your arrival in Ireland. The island of Ireland has five international airports, all of which offer simple and convenient transfers.
Dublin Airport: As Ireland's primary airport, Dublin Airport welcomes travellers from around the world. It's located 10 km north of the city centre, and you'll find an array of transport options including buses, taxis, and car rentals.
Belfast International Airport: Serving Northern Ireland, this airport is about 30 minutes from Belfast city centre. You can easily find buses, taxis, and car rental services to get your Irish escape started.
Cork Airport: Located just 8 km from Cork City, this airport is your gateway to the captivating landscapes of the south. Buses, taxis, and car rentals are readily available to whisk you away to the wonders of the region.
Shannon Airport: Positioned on Ireland's west coast, Shannon Airport is a convenient starting point for exploring the Wild Atlantic Way. Like the other airports, you can find buses, taxis, and car rentals to start your Irish experience.
Ireland West Airport Knock: Nestled in County Mayo, this charming airport provides easy access to the rugged beauty of the West. Transfer options, including buses, taxis, and car rentals, are at your service to begin your westward journey.
These transfer options offer the best blend of speed, convenience, comfort, and affordability.
Are you working out a budget for your holiday? Our previous guide What is the Cost of a Trip to Ireland? is filled with helpful information.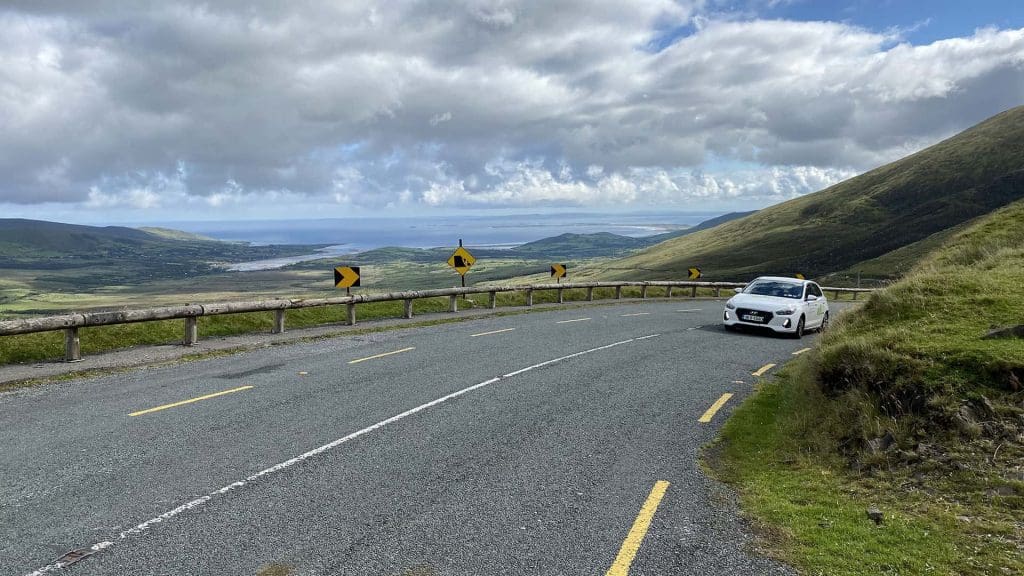 Car Rental: Embrace the Freedom of the Open Road
Embarking on a road trip through Ireland is an adventure like no other.
The freedom to roam, the joy of discovering hidden gems, and the flexibility to move at your own pace make car rental a popular choice among travellers.
If you are just looking to get from A to B, especially in rural locations, car rental is almost certainly the best option.
However, you must be aged between 25 and 74 and have held your licence for over a year. Here are a few tips to make your car hire in Ireland as smooth as possible…
Verify if your provider allows you to drop off the car at different locations. Scrutinise what is included in the price, with particular attention to insurance. Check the range of vehicles offered by your provider; most should have a wide range including hand-controlled cars for those with reduced mobility.
Make sure to take photos of your car with a timestamp before you set off so that you record any dents or scratches. And don't forget to make sure you budget for fuel. Finally, before renting a car, make sure you plan your itinerary carefully.
This is because there are certain cities (especially Dublin) where driving is not advisable due to the traffic and parking challenges, and some islands, such as Inis Meain, do not permit cars.
But let us reveal the pinnacle of this experience—our Ireland self-drive tours!
With Overland Ireland at your side, you'll receive a meticulously crafted itinerary, insider tips, and 24/7 support throughout your journey, including our 'Paddy the Pocket Pilot' app. Our local expertise ensures you won't miss any must-see sights or authentic Irish experiences.
It's worth factoring in some time to get used to a left-hand drive and manual operation (stick shifts).
Ireland's roads range from 'motorways' (known in the US as interstates) with a maximum speed of 120km/hr or 74 mph, to dual carriageways or 'national roads' with a maximum speed of 100km/h or 62mph, to one-lane country roads with varying speed limits.
Take care if travelling over the Northern Ireland border, which isn't always marked, because speed restrictions will change from km in the south to miles in Northern Ireland. And never drink and drive! Just a pint can put you over the limit.
Take a deeper dive into this topic by reading our previous guide When to Hire a Driver Guide in Ireland.
Small-Group Tours: A Personal and Shared Irish Affair
If you're seeking an experience that's authentic, personal, and social, we think you'll love our small-group tours of Ireland!
Led by our knowledgeable local guides, these tours offer an affordable yet intimate way to explore specific regions or even most of the country.
In a small-group tour with us, we arrange all your accommodation and route options in advance with carefully selected local providers. We offer a wide range of different itineraries suitable for all types of adventurers.
Of course, with a fixed itinerary, there's limited flexibility. However, we take care to build in lots of moments of free time, and where possible we try to offer a choice of activities.
Whichever one of our tours you choose, you'll immerse yourself in Irish culture, engage with locals, and create lasting memories with like-minded travellers.
The beauty of small-group tours lies in the connections you make, the insider stories shared along the way, and visits to little-known beauty spots.
So pack your curiosity and let our guides weave the tapestry of Ireland's history, culture, and folklore!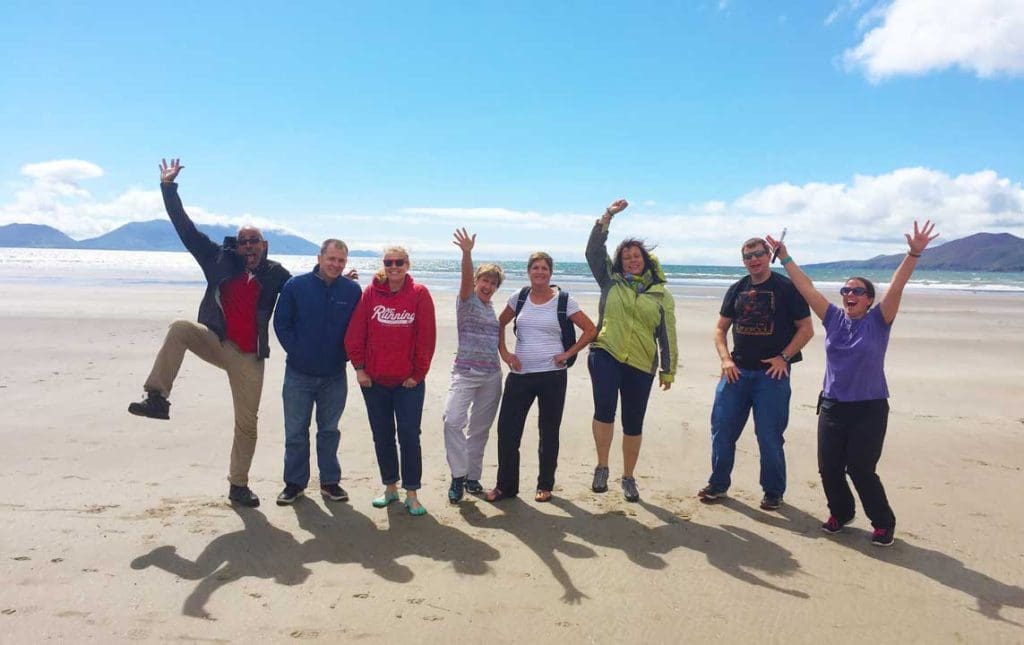 Private Tours in Ireland: The Exclusive Option
If you want all the relaxation of a group tour, but with added flexibility and customisation, then a private tour is the best option for you. On our private tours of Ireland, we tailor a bespoke itinerary around your interests.
Do you want to stop off at the village of a great-great-grandparent? Or stay a little longer exploring the Aran Islands by horse and buggy while picking up some Gaelic? We can craft an itinerary that takes in all your priorities.
We can even tailor tours to meet the competing interests of family members. If one person wants to hike Croagh Patrick, someone else wants to explore fairy folklore, and a third wants to relax with the perfect pint of Guinness, it's not a problem! Talk to us and we will make it all happen.
And as with small-group tours, on private tours you don't need to worry about any of the driving logistics, ferry boat itineraries or, perhaps most challenging of all in some places, searching for a parking spot!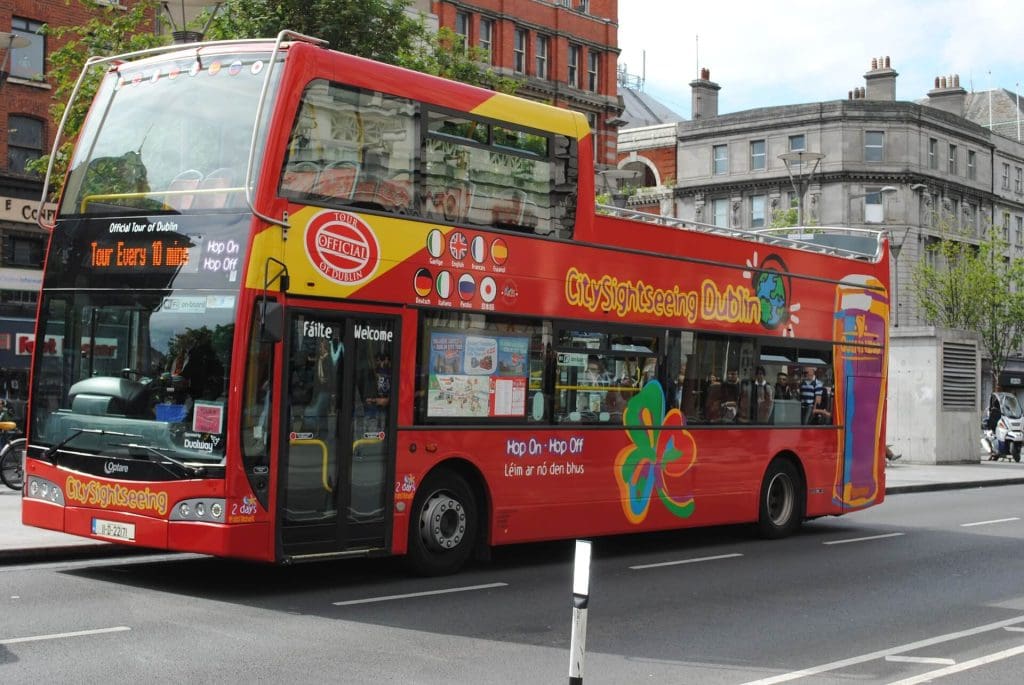 Public Transport: Great for Urban Exploration and City Hopping
Ireland's public transportation system offers a reliable way to travel between major cities and within urban areas.
If you are visiting Dublin, public transport is, hands down, the best way to get around. You can choose between trams, buses, and trains, and the DART electric train line connects the city to nearby coastal locations.
If you buy one of Ireland's Leap visitor cards you can enjoy a substantial reduction in travel costs — far cheaper than paying for parking.
The same goes for Belfast; as it is a more compact city, you may be able to get everywhere you need by foot or by bike, but there are also regular local buses that are easy to use. Belfast Bikes provides an easy cycling option.
Ireland's larger cities also have hop-on-hop-off buses for seeing the top attractions at your leisure. In Dublin, for example, you can explore on sightseeing buses and boats.
Of course, this approach isn't for everyone. But if you like to tick sights off your bucket list and are pushed for time, this is just the ticket.
However, if your heart yearns for the hidden gems and lesser-known landscapes outside of Ireland's cities, you shouldn't necessarily rely on public transport. If you do, you will need plenty of time, patience, and careful attention to schedules.
Our guided and self-drive tours of Ireland are the stress-free option here—taking you off the beaten path and into the heart of Ireland's untamed beauty.
But, of course, travelling by public transport can be very rewarding. You will have many a friendly chat with locals, and there are some stunning bus and train routes.
For example, County Clare's 350 bus travels along the edge of the Burren National Park, the train line into Galway crosses the magnificent River Shannon, and the Belfast to Dublin line provides a panorama of the vast Armagh countryside.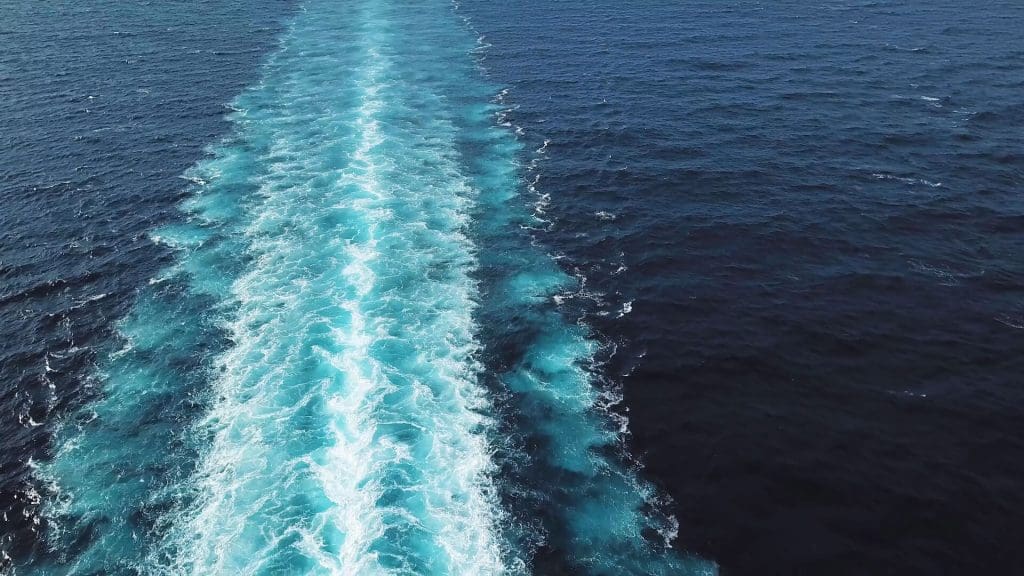 Ferries: Head to the Islands and Beyond
The islands scattered around Ireland's coast hold a charm all their own, and ferries are the gateways to these remote and stunning locations.
Whether you dream of visiting the rugged Aran Islands or exploring the mystical Skellig Michael, hopping on a ferry will transport you to another world.
Moreover, if you're planning to extend your journey to Great Britain, ferries offer a convenient and scenic route across the Irish Sea to ports in Liverpool, Holyhead, Cairnryan, Port Ellen, Pembroke, and Fishguard.
Our own Ireland to Island Tour includes ferry trips to two of our most famous and spectacular islands — the Aran Islands and Skellig Michael.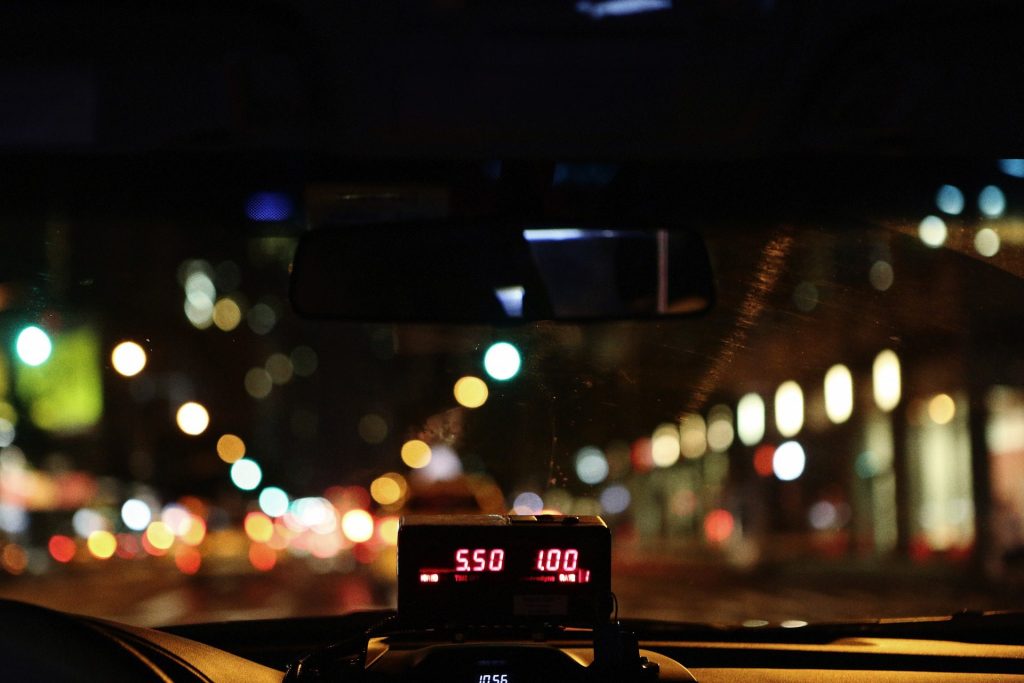 Taxis: City Convenience
In bustling cities like Dublin, Cork, and Belfast, taxis are a convenient option for short trips here and there.
Whether you're heading to your accommodation, a restaurant, a pub, or to and from the airport, a taxi will get you there quickly.
Of course, the main downside is that taxis aren't cost-effective or budget-friendly.
If you want to head outside the cities to explore the best small villages in Ireland, it's far better to have a guide or your own transportation.
Cycling and Walking: Embrace Beauty While Getting a Workout!
Cities in Ireland are walkable, so wandering around the streets is a great way to connect with them and get under their skin.
For those who cherish the serenity of nature and want to stay active while on holiday, Ireland's walking and cycling trails beckon.
Lace up your hiking boots or hop on a bike to traverse the rolling hills, lush landscapes, and rugged coasts.
There are many stunning hiking routes around Ireland, including:
Wicklow Way
Dingle Way
Beara Way
Kerry Way
Burren Way
Cycling comes with the added benefit of being able to cover more ground than walking.
For example, riding across the Aran Islands, as you can on our Ultimate Ireland Tour, is the best way to explore this ruggedly beautiful gem.
Hopping on two wheels is also ideal for seeing as much of large natural spaces like Killarney and Connemara national parks as possible.
Check out Cycling Ireland, the National Governing Body for cycling, which recommends a great range of routes both north and south of the border.
Another great resource for cyclists is Sustrans, a cycling charity providing recommended routes across the island. Check out their long-distance rides in Northern Ireland and the Republic of Ireland for routes that take in coasts, castles, and cities.
Bike and e-bike rental is widely available across both countries, and you can take bikes on trains and ferries for free.
Hiking and cycling are key aspects of our Zest Tours, all of which feature more adventurous itineraries.
Our Ireland Tours Make Exploring the Emerald Isle Easy!
We hope this guide to getting around Ireland has helped your dream holiday become a little clearer.
Browse our Ireland tours to keep planning and find out more about the authentic Irish experiences waiting for you.
The Overland Ireland team is here to help with anything you need, so please get in touch if you have any questions for us.