How are you planning to get around on your upcoming trip to the Emerald Isle?
Will you hit the road independently with a self-drive tour of Ireland, embracing the romance and magic of road trips?
Or are you leaning more towards a private or small-group tour in Ireland, where you can let a local take the wheel on an expert-led dive into Irish culture, history, and our stunning landscapes?
If you haven't made a final decision yet, keep scrolling down to read our guide to the differences between self-drive, small-group, and private tours in Ireland.
And if you have any questions about our Ireland tours, please feel free to get in touch.
Self-Drive Tours in Ireland: The Independent Choice
Our self-drive tours are perfect for those who want the ultimate freedom to explore Ireland on their own terms.
But this independence comes with the resources and knowledge you'd enjoy on one of our guided trips.
You can journey around Ireland at your own pace, all while following an itinerary carefully designed by one of our local experts.
With Overland Ireland, you also have the added benefit of Paddy the Pocket Pilot, our virtual tour guide app.
One of the main benefits of self-drive tours is that you have the opportunity to experience the very best of what Ireland has to offer at your own pace.
You have the freedom to stop and take in the scenery, explore small towns and villages, and discover hidden gems that are off the beaten path.
The itinerary is only a guide. You can always deviate from it on a spontaneous adventure and pick up the recommended route again further down the line.
Put simply, our self-drive tours in Ireland offer the best of both worlds — the independence of a road trip and the expertise of a guided tour.
Small-Group Tours in Ireland: The Relaxed Choice
Our small-group tours are perfect for those who want to experience the best of Ireland's sights and sounds without the hassle and worries of planning and driving themselves.
Expert guides lead our tours, taking you on a journey of discovery by sharing local knowledge and insights into our incredible country's history, culture, people, and natural wonders.
Our small-group tours have a maximum of 15 people, ensuring a personal experience and plenty of opportunities to ask questions.
And you also have the opportunity to travel with like-minded people who share your interest in Ireland.
You'll make new friends and share unforgettable experiences as you explore Ireland's cities, towns, and countryside together.
Our small-group tours in Ireland are also great value for money, as you'll get to see more sights in less time.
We provide small-group tours in two different categories to ensure you can enjoy the kind of Irish adventure you have always dreamed of.
Jewel Tours move at a slower, more relaxed pace, while Zest Tours are more adventurous and include activities like hiking, cycling, kayaking, and more!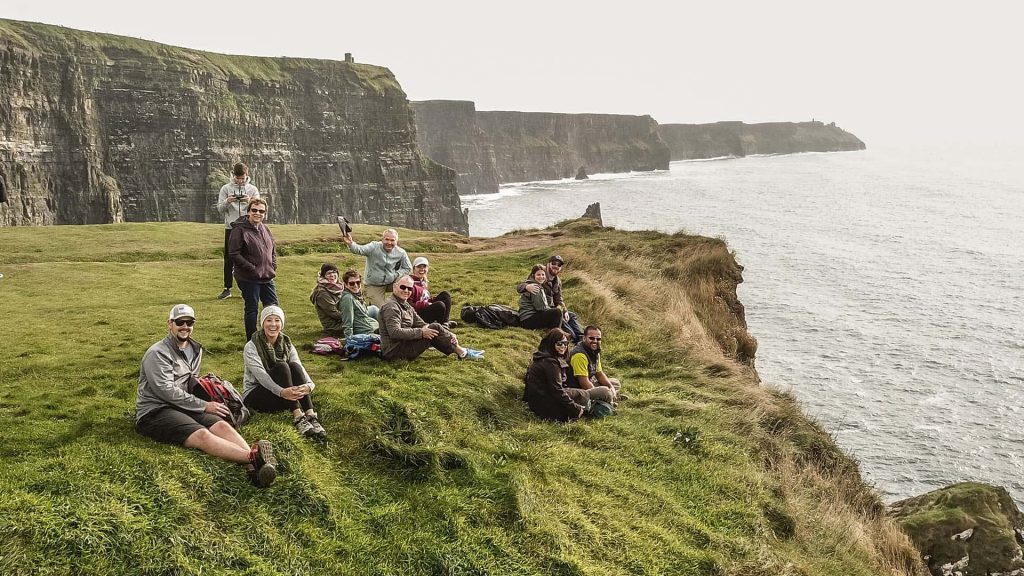 Private Tours in Ireland: The Customisable Choice
Our private tours are perfect for those who want the ultimate in freedom and flexibility
We work with you to tailor an itinerary around your specific interests and preferences.
With a private tour, your group will have its own dedicated driver and guide who will take you wherever you want to go.
The biggest benefit of a private tour is that you have complete control over your itinerary.
You can choose to visit the most popular tourist attractions, explore off-the-beaten-path destinations that only locals know about, or a combination of the two.
You can also decide how long you want to spend at each location and when you want to take breaks.
Spectacular scenery, small towns and villages, bustling cities, islands off the mainland, hidden gems off the tourist trail — tailor-made tours in Ireland are designed exclusively for you.
Driving in Ireland: Helpful Information
We understand that some visitors to Ireland may be apprehensive about driving on the other side of the road or navigating the narrow country roads.
Naturally, this can make a self-drive tour seem daunting.
However, with a little preparation and guidance, driving in Ireland can be a fun and rewarding experience.
All our self-drive tours come with detailed driving instructions, including tips on driving on narrow roads, understanding road signs, and how to navigate roundabouts.
We also provide a GPS navigation system and a 24-hour helpline, so you can drive with confidence and peace of mind.
If you're still hesitant about driving in Ireland, don't worry! Our small-group and private tours are the ideal alternative.
You'll still get to see all of Ireland's top sights and attractions, and you'll have the added benefit of an expert guide and driver to navigate the roads for you.
For even more information to help you make your decision, check out another of our guides on this topic, Guided Tours of Ireland vs. Self-Drive Tours of Ireland.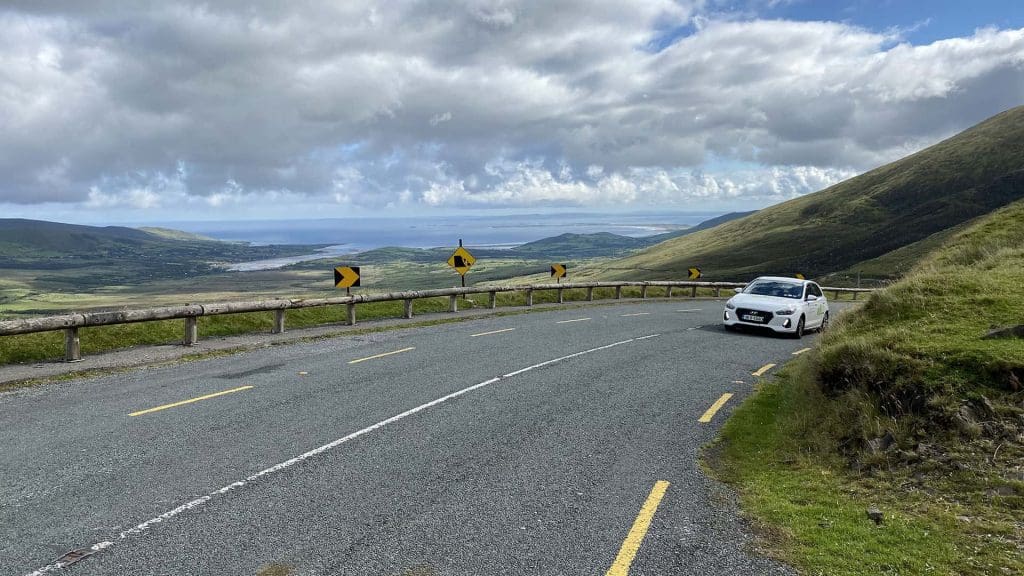 Common Questions About Driving in Ireland
Can I drive in Ireland with a U.S. driver's license?
Visitors to Ireland can drive with a license issued in any state outside the EU/EEA for a maximum of one year.
Of course, the license must be current and valid.
If you take up 'normal residence' in Ireland, you must either apply for an Irish driving license or exchange your current license for one.
Are you looking for more helpful tips before setting off to Ireland? Read our guide What Should an American Know Before Visiting Ireland? to help ensure a smooth and comfortable holiday.
Can I drive a car in the US with an Ireland driver's license?
On the other side of the coin, people visiting the US from Ireland who plan to drive must have a valid Irish driving license.
Some states require foreign visitors to have an IDP (International Driving Permit) along with a valid Irish license.
We advise checking the requirements for the specific state(s) you plan to visit.
Can you drive to Ireland from the UK?
Yes, you can! The easiest way is to simply drive across the border between the Republic of Ireland and Northern Ireland.
If you're starting across the Irish Sea in England, Scotland, or Wales, you can also drive onto a ferry and enter Ireland through one of our ports.
Find Your Perfect Tour in Ireland with Overland Ireland!
Are you ready to start planning your dream holiday in Ireland? Browsing the pre-planned itineraries for our Ireland tours is a great place to start.
You can learn more about the many adventures waiting for you here on the Emerald Isle, or even find inspiration for your own private tour.
If you have any questions for us about our tours in Ireland, please don't hesitate to get in touch.