We've already shared our guide to the Best Hikes On The Emerald Isle, but how about a concise guide to a few incredible walks for those of you starting off your hiking career or if you just fancy a super scenic stroll!
Perhaps you just want to slow things down and really enjoy your visit to Ireland at a relaxed pace! Enjoy learning where to go for some of the best walks in Ireland that we love to share with friends and visitors alike.
If you're keen to join us on one of our small-group tours of Ireland, we'd be delighted to have you! Always feel free to get in touch with any questions about our fun tours.
Now, onto the good stuff! Here are the best walks in Ireland for all levels…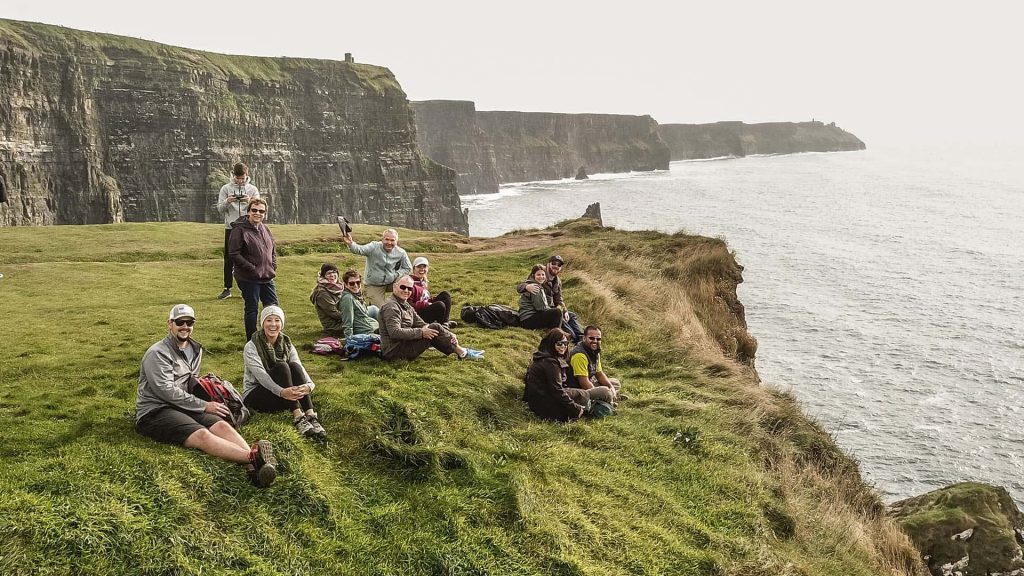 1. The Dingle Way in Kerry
While walking the entire Dingle Way would certainly be a feat at over 100 total miles, walking any small part of it offers a beautiful glimpse into this southwestern region of Ireland. The views, the variety of landscapes, the fresh coastal air…we just love it.
The Dingle Peninsula is one of our favorite spots to visit. After exploring Dingle by foot, why not try kayaking in Dingle Bay? You will be treated to breath-taking coastal views and you might even see some dolphins playing in the Bay.
We head to Dingle on our Spectacular South & West 5-Day Active Tour Of Ireland.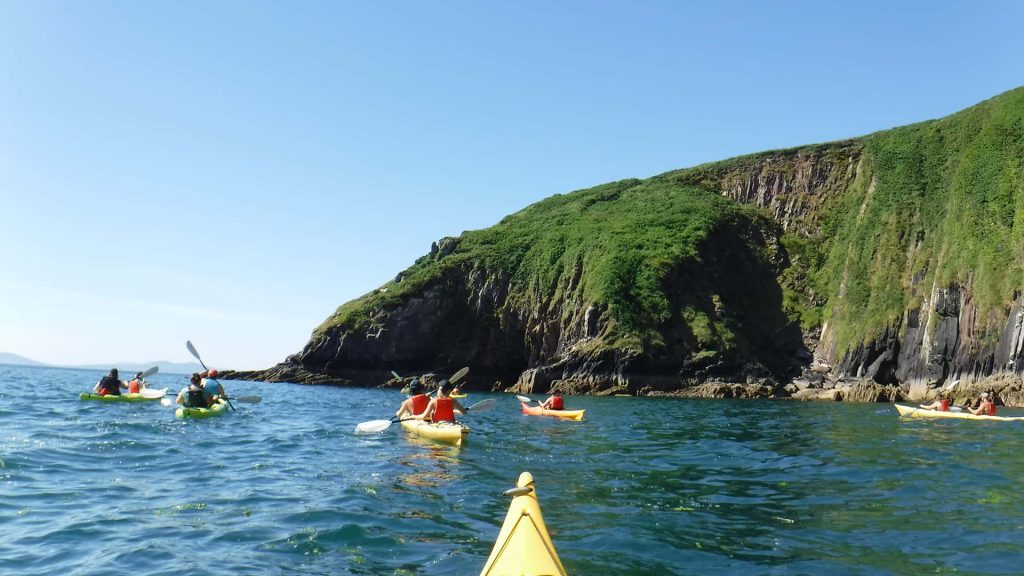 2. Bray to Greystones Cliff Walk in Wicklow
This easy cliff walk is just 7km long and offers epic views. Plus, it's easily accessible via the Dart (the train). Just be sure to check if the path is open before you go. Given its topography, it's been known to close due to landslides and the like. If nothing else, the journey by train as it hugs the coastline is a treat for the day.
3. Howth Walk Near Dublin
This beautiful coastal walk is an easy day trip from Dublin. You can enjoy the added bonus of a delicious fish and chips whilst you're there! With multiple routes to choose from, you can opt for a nice easy stroll for lovely views or a bit more of a challenge to work up your appetite.
You'll want that appetite good and ready so you can find out why Ireland is the ultimate destination for seafood lovers!
4. Ballycotton Cliff Walk in Cork
Another cliff walk at the Ballycotton Cliffs offers a lovely opportunity to explore from the charming fishing village of Ballycotton. This is a 7km walk if you stay along the coast, or you can loop back along country roads to make it closer to a 3-hour walk (just over 9km).
Want to check out this area and more? Our Ancient East Self-Drive Tour of Ireland takes you to Ballycotton and beyond!
5. The Beara Way in Cork
Walking the entire Beara Way would be quite another task altogether! But taking in the beauty of this peninsula along a part of the walk is highly recommended. The ancient ruins and mesmerizing vistas are well worth the effort!
The Ring of Beara is a lesser-known spot, and one of our top recommendations for Irish Attractions Off the Beaten Path.
6. The Famine Walk in Connemara
This haunting reminder of one of Ireland's bleakest periods is a walk that could be called a pilgrimage. Relatively flat and easy, it's a 10-mile walk along a road that was once paved by starved people.
During the famine, these people were forced to build this road for no reason, except to avoid the appearance of charity. It's a tough space to comprehend, but the walk is truly beautiful and you can pay homage to the people who suffered so greatly here.
The raw beauty of Connemara can be seen here come hail, rain or shine. It is stunningly beautiful and captures the real Ireland.
To experience this place with even more context, join our small-group Wild West & North Ireland 6-Day Tour, which takes in part of the Famine Trail in Connemara.
7. The Wicklow Way
The Wicklow Way covers 130km, so we're certainly not advising you to walk the whole thing! Although, of course, you could if you're keen on a multi-day hike. For us, enjoying even part of this beautiful trail is enough to appreciate its glory.
With country paths and mountain trails aplenty, you can choose the level of difficulty you'd prefer. As the oldest and most popular waymarked trail in Ireland, you'll find it easy enough to navigate whichever section you choose.
8. The Grand Canal Way Across Ireland
Did you know there's a trail that cuts clear across the whole of Ireland? The Grand Canal Way would be quite the journey to complete, but walking a section of it is certainly pleasant enough. You can enjoy a stroll in Dublin for a bit of nature within the capital city.
If you have a bit of extra time before or after your Ultimate Tour of Ireland, get in touch with us and we will give you some great recommendations for your stay in Dublin!
9. Bray Head Loop Walk on Valentia Island in Kerry
A 7km looped walk that's perfect for the family as it isn't super challenging and can be completed comfortably in 2-3 hours. You'll want to walk it as slowly as possible though to take in all the amazing scenery along the route.
Check out more things to do in our Guide to Visiting the Ring of Kerry!
10. The Burren in County Clare
Walking in the Burren is walking on another planet altogether! Its unusual landscape attracts visitors from all over the world. We like to visit when we're headed to the Cliffs of Moher, given their proximity to each other.
We've included both spots as some of Ireland's best scenery!
11. Cliffs of Moher Coastal Walk
Since we mentioned it, you simply must walk along the iconic Cliffs of Moher! When you think of Ireland, you surely conjure up the images of these coastal cliffs dramatically leading up from the crashing waves of the Atlantic Ocean below. Walking along this coastline really draws you into Ireland herself. Do not leave Ireland without experiencing The Cliffs of Moher.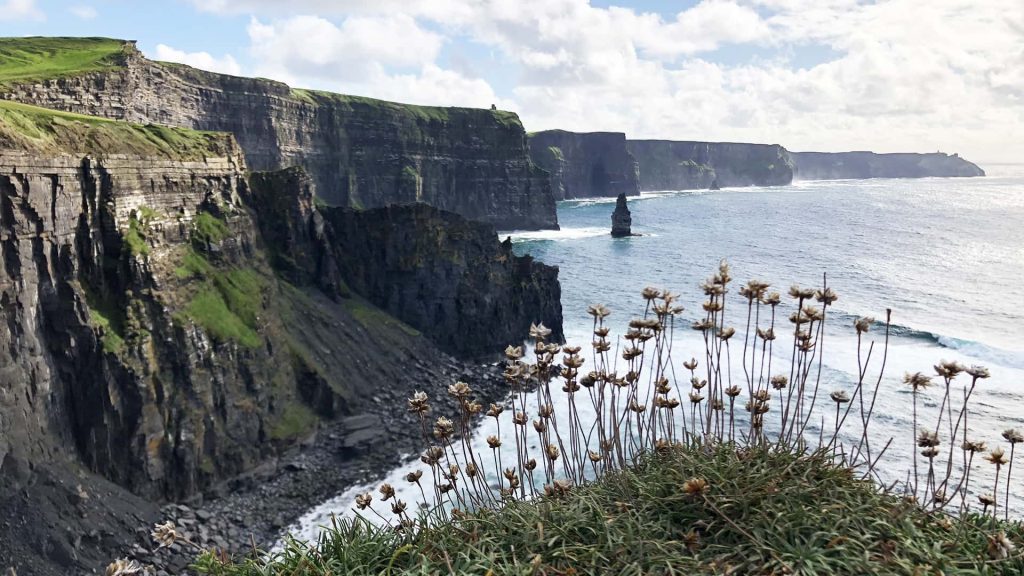 What do you think? Are you ready to take on some of Ireland's best walks and trails? We'd be delighted to have you on one of our small group tours of Ireland or you can explore our variety of Ireland self-drive tour packages, where you can touch on one or several of these excellent trails. Come join us!
Planning on visiting Ireland soon? Get our free guides! We answer your Ireland Travel FAQs + offer local tips for visiting Dublin.
---