Ireland is one of the most spectacular and beautiful destinations in the world. It's a lush, green land of rolling hills, dramatic coastline, windswept isles and incredible, natural scenery.
This is truly a country for outdoor lovers, and everywhere you turn you'll be astounded by Ireland's landscapes. There are few places that are quite so photogenic. If you've been inspired to travel to Ireland by gorgeous pictures on Instagram, then you might be wondering just where those beautiful spots can be found.
From the towering Cliffs of Moher to the remote and striking Skellig Islands, this is our ultimate guide on where to see Ireland's best scenery.
1. Cliffs of Moher
The Cliffs of Moher appear at the top of many lists that promote Ireland's natural scenery because this rugged stretch of coastline is arguably the most spectacular place in the country.
The Cliffs of Moher are part of the Wild Atlantic Way, and they are found on the west coast of Ireland in County Clare. These enormous sea cliffs rise to 120 metres in height at their tallest points, while they stretch along the coast for at least 14 kilometres.
You can follow windswept hiking paths that lead along the top of the cliffs, and offer epic views along the wave-battered rocks that stretch far into the distance.
2. The Burren
Also located in County Clare, the Burren is one of Ireland's most unusual landscapes. Protected by the Burren National Park, this is an extreme land of karst rocks and karst hills that you might expect to find in Iceland, but perhaps not Ireland.
This is a surreal landscape, where the karst scenery seemingly never ends. The unique geological features found in the Burren were mostly formed during the seismic changes that rocked Ireland at the end of the last Ice Age. As well as being fascinating to look at, the natural history behind the area is equally as fascinating to uncover.
3. The Aran Islands
Take a boat from Galway on the west coast and head out into the stormy seas of the Atlantic Ocean and you'll reach the isolated Aran Islands. Cut off from the mainland, this remote destination is seemingly frozen in time.
This is a stronghold for true Irish language and culture, and there are few places left like it in the country. The Aran Islands are also undeniably beautiful, and these dramatic islands are made all the more impressive by their isolation. Take a bumpy ride from Galway and experience some of Ireland's best scenery in the rough seas along the Wild Atlantic Way.
4. Skellig Islands
The Skellig Islands are perhaps even more dramatic in appearance than the Aran Islands, but these inhospitable and uninhabited islands are much more difficult to travel to.
Located off the Iveragh Peninsula, the Skellig Islands can be isolated for much of the year by the treacherous swells and currents of the Atlantic Ocean. The islands were recently made famous when they appeared as a major set location in the latest Star Wars movies, thanks to their otherworldly and spectacular landscapes.
In good weather, you can land on the steep Skellig Michael, but Little Skellig remains off-bounds. On Skellig Michael, there are breathtaking views, as well as the ruins of ancient monasteries and dwellings that were built by monks looking to escape the rest of the world.
5. Killarney National Park
If you are searching for quintessential Irish landscapes with verdant green scenery, glimmering lakes and ramshackle ruins, then head to Killarney National Park. Located just outside the town of Killarney, this was the country's first-ever national park – and for good reason too.
Killarney National Park is home to three lakes, lush forests and ancient abbeys. Hike through the trees and watch out for deer and other wildlife, before boating across Lough Leane to explore the ancient remains of the Innisfallen Abbey. You can also hike to the crashing Torc Waterfall, while for exceptional views over the entire park head to Ladies View, where you'll see one of Ireland's best landscapes in all its glory.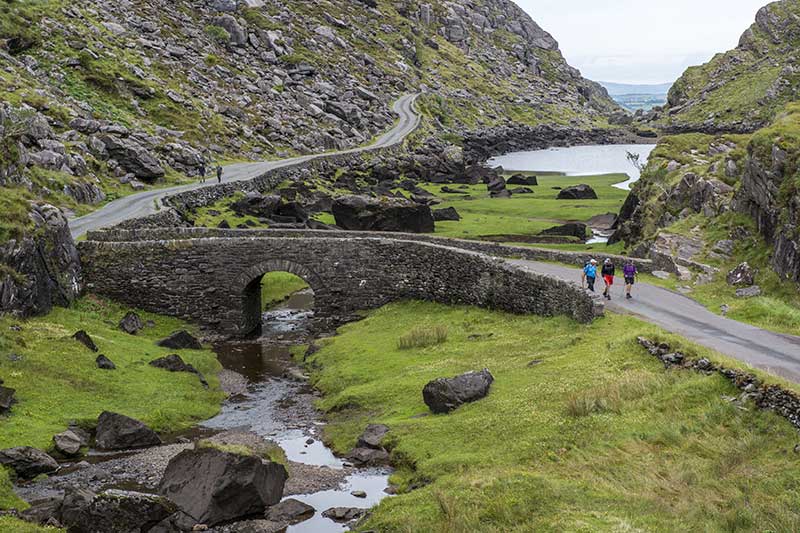 6. Gap of Dunloe
The Ring of Kerry is one of Ireland's most famous road trips, taking visitors from Killarney around the spectacular Iveragh Peninsula in County Kerry. The scenery around the peninsula is epic, but the most beautiful spot is found just a short drive from Killarney.
The Gap of Dunloe is a mountain pass that cuts through the imposing MacGillycuddy's Reeks mountain range, which is where you can find some of Ireland's tallest mountains. The Gap of Dunloe could well be Ireland's most scenic stretch of road, and you'll constantly be pulling over to take photographs and stare in awe at the landscapes around you.
7. Carrauntoohil
Rising to 1,038 metres in height, Carrauntoohil has the distinction of being the highest mountain in Ireland. Carrauntoohil is an unmissable sight, and the peak is located amongst the MacGillycuddy's Reeks range in County Kerry.
The peak itself forms part of a spectacular landscape, but if you are experienced and are up for a challenge then you can hike to the summit for unparalleled views over the Iveragh Peninsula. There are several routes to the top, and all are tough and challenging. Whichever route you pick, it's a full-day hike there and back, but you'll be able to witness some of Ireland's best scenery on the way. Just be aware of the weather, because even in summer clear skies can quickly be replaced by lashings of rain as you gain elevation in the MacGillycuddy's Reeks mountain range.
8. Inch Beach
Ireland isn't just about mountains and cliffs though. The country is actually home to some incredible beaches too. All around the coast, there are long stretches of sand, and one of the most aesthetic beaches to visit is Inch Beach.
Set on the south coast of the Dingle Peninsula, Inch Beach runs for five kilometres across Dingle Bay. Rolling green hills flank the beach and there are plenty of epic viewpoints all along the coast, as well as excellent hiking trails.
The beach is perfect for outdoor pursuits and it's one of Ireland's most popular surfing destinations. You'll find surf schools and rental shops nearby, but of course, if you aren't up for any strenuous activity then there's plenty of room at Inch Beach to find a quiet spot and to do little at all except admire the wonderful scenery around you.
9. Achill Island
If sweeping beach views are the sort of landscape you love to see, then travel over to Achill Island in County Mayo. This is Ireland's largest island. It's connected by road to the mainland and is the perfect place for a road trip.
Keem Bay is an iconic white sand beach that's surrounded by tall cliffs that look over the Atlantic, while Croaghaun is an epic stretch of coastline where you can find even taller cliffs that are constantly thrashed by the violent waves below.
Achill Island is in many ways a complete microcosm of Ireland's best scenery, as on the island you can find not only cliffs and beaches but mountain peaks and many more beautiful landscapes too.
10. Glenveagh National Park
In the northwest of the country, you can find Glenveagh National Park, an area of wild landscapes and exceptional scenery. This is Ireland's second-largest national park, covering a wonderful area of wilderness in a remote and often under-visited part of the country.
The crowning centrepiece of the national park is Lough Veagh, a large freshwater lake that offers one of the best natural scenes in Ireland. The lake is nestled amongst mountainous terrain, and along its shores is the dramatic sight of Glenveagh Castle, which is another marvellously photogenic spot to visit.
As well as the iconic lake, you can explore hiking trails that stretch across the vast national park, there are fantastic viewing points in the hills and mountains, as well as some of the best landscapes in all of Ireland – with few other tourists around to spoil the view.
11. Malin Head
While the Wild Atlantic Way has become an enduring Irish attraction in recent years, the far north of this long tourist trail on the west coast is often overlooked by visitors. If you are looking to escape the crowds at the more popular destinations such as the Cliffs of Moher, then head to Malin Head, which just so happens to be the most northerly location in Ireland.
Malin Head is part of County Donegal. On this isolated peninsula, you can visit Banba's Crown, which overlooks the Atlantic and is the last mainland point in the country. As well as being able to say that you've stood at the end of Ireland, Malin Head is a truly beautiful place to visit and the rugged scenery seen here is particularly Irish in character.
The cliffs are windswept and the rocks are battered by fierce waves. Just like many of Ireland's other wild landscapes, Malin Head was an integral filming location for the last Star Wars movies. If you brave the cold weather and short days of winter, this is also one of the few spots in the country where you are likely to see the Northern Lights.
12. Glenalough
Situated in County Wicklow just a short journey from Dublin, Glendalough is a marvellous valley that's home to some of Ireland's best scenery. This is one of the country's most accessible areas of natural beauty, as it's an easy day trip from the Irish capital.
Mountain peaks flank this long valley, and there's a huge array of scenery in Glendalough. There are dense areas of forest, shimmering loughs and excellent panoramas. In the valley, you can find pleasant villages, as well as the ancient ruins of castles and monasteries that have lain crumbling for centuries.
In the same region, you can find the Wicklow Mountains National Park, where there are scenic stretches of road leading from Dublin and plenty of opportunities for hiking and mountaineering in a beautiful part of Ireland.
13. Connemara National Park
Back over on the west coast, Connemara National Park is one of Ireland's best national parks. Part of County Galway, there is a truly diverse array of landscapes waiting for you in Connemara.
There are tall mountains, rolling hills, wide valleys, forests, lakes, bogs and marshes. The Twelve Bens mountain range offers excellent hiking opportunities, with many dramatic viewing points over the national park. The best landscapes can be seen from the top of Diamond Hill, where you have an iconic photo opportunity over one of Ireland's most magnificent natural scenes.
Connemara is also where you can find Kylemore Abbey, a famous Benedictine abbey that's located on the shores of Lough Pollacapall, just outside the boundaries of the national park itself. The abbey dates to the 19th century, and you can tour through the gardens and admire the glorious building from the lakeside. It's a picturesque scene and one of Ireland's most iconic tourist attractions.
14. Giant's Causeway
Located on the northern coast of Northern Ireland, the Giant's Causeway is one of the most famous sights in Europe. This unusual piece of natural scenery is steeped in geological history and local legend.
Tens of thousands of basalt columns stretch out into the ocean, and the unique rock formation does indeed look like giants placed it there. Indeed in past centuries, when the destination was being popularised as a tourist attraction, it was even thought that the basalt columns must have been carved out by hand, that no natural sight could be so perfect.
All along the coast of County Antrim, there are dramatic views with many more areas that are as spectacular as the Giant's Causeway itself. The entire area makes for an incredible outdoor escape, with excellent hiking trails and coastal roads to explore.
If you're planning to head to the Emerald Isle to explore some of Ireland's best scenery, check out Overland Ireland's fantastic range of small group tours, designed to show you the very best that Ireland has to offer. Contact Overland Ireland today to book your adventure.
Planning on visiting Ireland soon? Get our free guides! We answer your Ireland Travel FAQs + offer local tips for visiting Dublin.
---