Christmas is a fantastic time to visit Ireland because the Irish really know how to celebrate the festive season in style!
From December right through to January you'll find festivities all over the country, from Christmas light shows to Christmas markets. While it's true that pubs are always packed out this time of year, it's also true that in Ireland they don't forget their traditions or the religious reasons behind the season.
It might be cold, rainy and dark in December, but it sure is livened up by the Christmas cheer. You'll appreciate the hearty Irish food and a heavy pint of Guinness, while you'll also realise that there are a lot of unique and sometimes bizarre happenings around Christmas.
To help you to plan your trip, here's everything you need to know about Christmas in Ireland.
Christmas Starts on 8 December, Sometimes Earlier!
Christmas in Ireland doesn't start on 25 December. In fact, it can start much earlier than that. The Christmas period in Ireland officially begins on 8 December each year, because this is the start of Advent.
This date is supposedly the date when the 'Immaculate Conception' occurred in Roman Catholic teachings, and so 8 December is an important day. This is when people start to put up their Christmas decorations, when Christmas trees are raised high and when you can really start to prepare for 25 December by shopping for and buying Christmas gifts and presents.
Of course, these days the Christmas period is getting longer and longer, and shops will begin advertising far in advance of 8 December. Many towns and cities will begin their Christmas markets and turn their Christmas lights on in November.
25 and 26 December are Public Holidays
In Ireland, both the 25 December and 26 December are public holidays. Everyone's off, and you aren't going to find anywhere open, except the local pubs, which do a roaring trade!
Many people will take more time off work before and after Christmas, particularly in the run-up to New Year's Eve. In Ireland, 26 December is known as either Boxing Day or St Stephen's Day, and there's plenty of fun to be had on the day after Christmas too.
It Doesn't End Until the Epiphany and Woman's Little Christmas
The festive period goes on for much longer, and it doesn't end on Boxing Day. The official festive period actually carries on until Epiphany, which is held on the 6 January.
In religious history, this was the day when the three wise men appeared in front of Jesus and presented the baby with their gifts of frankincense, myrrh and gold. While religious services are held in churches, the day has a much more traditional celebration for the Irish, and in particular for Irish women.
Traditionally, it was the women who were made to do all the hard work over the Christmas period. To recognise their hard work, on Epiphany it's the men who cook and clean and do all the housework while the women enjoy themselves at the local pub. Known as Little Christmas, while things might not be so one-sided these days in terms of gender, 6 January is still very much a day for women!
Christmas Dinner
The centrepiece of Christmas Day is Christmas dinner. While it can vary subtly from household to household and town to town, it's always going to be glorious wherever you are.
An Irish Christmas dinner is in many ways very similar to Christmas dinner in other English-speaking parts of the world, like the UK and US, but again, there are differences too.
The roast turkey holds pride of place in the middle of the table and is the focus of all the efforts and hard work. You might also have a Christmas ham or some other joint of meat, or a vegetarian or vegan equivalent too.
To accompany the centrepiece, there are mounds of different vegetables and side dishes. There's stuffing, Brussels sprouts, roast potatoes, carrots, parsnips and so many more options too.
Add in lashings of gravy, bread sauce and cranberry sauce, and you've got yourself a feast.
Even if you've got no room left after the meal, there will be desserts too. Traditional Christmas desserts include the imaginatively named delights of Christmas cake and Christmas pudding, alongside a hefty serving of mince pies, of course.
Midnight Mass
If you're in Ireland for Christmas, then it's not easy to forget that the basis of the festivities has always been religion. Ireland can be an incredibly religious country, and this side of the holidays is still as important as ever in many places.
While there are services and religious ceremonies all through the Christmas period, the most important of them all is midnight mass.
Midnight mass is held at the stroke of midnight on Christmas Eve and is seen as a way to celebrate the onset of Christmas Day and the birth of Jesus Christ. Midnight mass can be held earlier in the evening on these days, and there are several masses to attend on Christmas Day as well.
If you're visiting as a tourist – and even if you aren't religious – then you might want to call into local churches and cathedrals through December and early January to see first-hand the importance of religion in some communities.
Christmas Markets
From November right through to January, you'll find Christmas markets all over Ireland. All the major cities have their own markets, and many smaller towns and even villages will hold shorter or smaller-scale markets too.
In Galway, you can visit the bustling Christmas in Galway market that sets up shop in the city centre and join thousands of more visitors who make the journey to west Ireland just for the market.
In Waterford, you can join in with the festive celebrations, as the city is turned into a glorious winter wonderland of epic proportions.
The biggest of them all though is in Dublin, where you can find festive rides, festive food and drink, and plenty of wonderful Christmas presents and souvenirs to buy for friends and family.
Ireland's Christmas markets are always lively and vibrant, and wherever you choose to visit, then you'll find plenty to keep you entertained.
It's Cold at Christmas
December might not be the coldest month of the year in Ireland – on average, that award goes to the frigid month of January – but remember that it's going to be cold at Christmas. It might rain too because this is Ireland, after all.
Be prepared with cold-weather gear and raincoats if you're visiting over Christmas, and definitely pack hats, gloves and scarves. You can even wrap up in the festive spirit by wearing Christmas jumpers!
Days are short too – 22 December is the shortest day of the year – so daylight hours are limited if you want to head out and explore Ireland's countryside and see the natural scenery. Some remote areas can be off-limits too, including places like the Skellig Islands, where the wild Atlantic Ocean stops boat travel this time of the year.
However, the weather can add to the beauty of Ireland's great outdoors. The early morning frost can look spectacular across the fields, while rugged cliffs and mountaintops are shrouded in mystery when the fog rolls in.
There Aren't as Many Tourists Around
While Ireland is undoubtedly busy at Christmas time, it's definitely not peak season, and there are far fewer tourists around compared to other times of the year.
While some businesses and tourist attractions might close, either due to the weather or because it's the offseason, many still stay open, including museums and galleries and historical attractions across the country.
With fewer tourists, you won't need to queue, you'll be able to meet more locals, and you'll end up paying less for accommodation in comparison to the summer months.
People Go Swimming on Christmas Day
Ireland has a lot of traditions when it comes to celebrating Christmas, and some are more peculiar, or perhaps more reckless, than others.
One of the hardier traditions played out in some places in Ireland is the swimming tradition. Ireland has a long and beautiful coastline, but rather than just admiring it from the top of the cliffs and watching the waves far out to sea, intrepid – or perhaps foolhardy – locals choose to jump into the ocean instead!
It's a great way to wake up – particularly if you've had a late Christmas Eve attending midnight mass at the church or been in the local pub – but it takes a lot of nerve because the Irish Sea and the Atlantic Ocean are incredibly frigid this time of the year.
People Race Horses on Boxing Day
If jumping into the freezing cold ocean isn't your cup of tea, then there are plenty more Irish traditions to join in with. Horse racing is a big part of Irish culture, and on St Stephen's Day (Boxing Day), you can visit some of the biggest racing events on the calendar.
The biggest racing event is held at Leopardstown close to Dublin, where for four days you can watch and bet on the best Irish and British horses out there. It's fantastically atmospheric, as everyone is upbeat after Christmas and looking to wager their cash away!
The Wren Boys Parade on St Stephen's Day
Another curious Irish tradition that occurs on St Stephen's Day on 26 December is the unusual custom of the Wren Boys.
In fact, St Stephen's Day is also known as Wren Day because historically a hunt would be held, and a wren would then be paraded through town while all the locals dressed in strange, straw costumes and masks, and played loud and lively music.
The tradition continues in many Irish towns – with the most famous location being Dingle in County Kerry – but in most cases, the hunting aspect has been stopped. The costumes and the music are still very much there though, and a wren parade by the Wren Boys is a unique sight to behold on Boxing Day.
You Will Hear The Pogues
The Pogues are perhaps the most stereotypically Irish band the world has ever seen. Across the English-speaking world, you'll hear The Pogues being played as soon as it hits 1 December.
Ireland is no different. In fact, the Irish will be playing The Pogues more than anyone else, with the Fairytale of New York being on the radio constantly throughout the Christmas period!
Don't Forget New Year's Eve
After Christmas, you've still got plenty to look forward to in Ireland, and many people will save up their holiday to take time off over New Year's as well if their job allows. New Year's Day is a public holiday, but the days leading up to Boxing Day aren't – and neither is New Year's Eve itself.
If you're visiting on holiday though, you won't need to worry about that, but do make sure you try and time your visit to stay over New Year's. This is one of the liveliest and loudest times to be in Ireland. While there are celebrations all over the country, the best place to visit will always be Dublin.
There are fireworks and festivities late into the night, and you'll be partying non-stop until the early hours of the New Year in Ireland.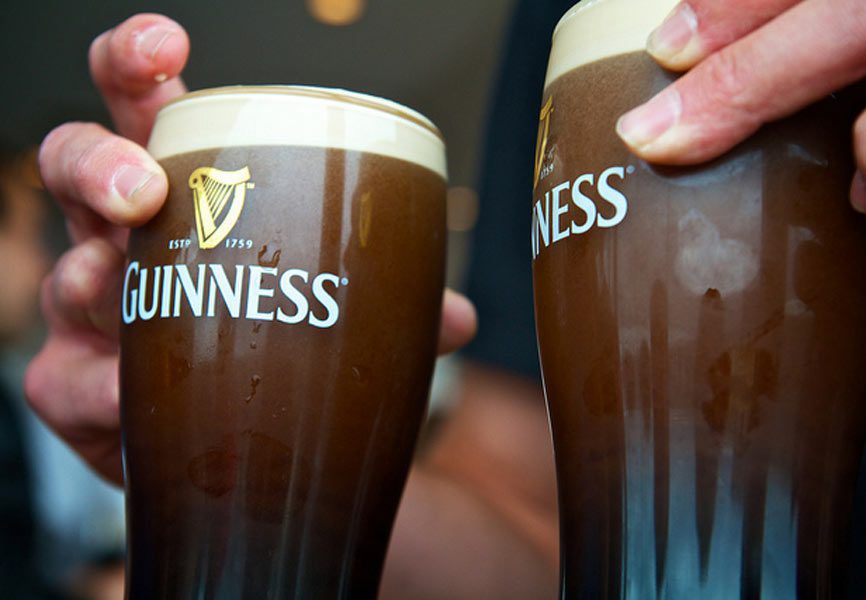 You Will Go to the Pub!
And finally, if there's one thing that you need to know about spending Christmas in Ireland, it's that you will end up in the pub.
No matter how hard you try to avoid it – although, why would you want to, especially at Christmas? – you'll be drawn into the very Irish establishment that is the local pub. Christmas is pub time in Ireland, and you'll find friendly, welcoming taverns offering warming fires, hearty Irish food and endless pints of Guinness.
Over the Christmas period, pubs will hold festive events, have special lunch and dinner menus, and they'll bring in live bands and musicians to entertain the crowds during those cold winter evenings.
If you want to spend Christmas in Ireland, contact Overland Ireland to ask about our superb selection of small-group tours.
Planning on visiting Ireland soon? Get our free guides! We answer your Ireland Travel FAQs + offer local tips for visiting Dublin.
---