Best things to do on the Dingle Peninsula during your Irish Tours
During your tour of Ireland, you will see no other landscape with the density and the variety of archaeological monuments as with the Dingle Peninsula. The Atlantic Ocean combined with the lush vegetation has supported various tribes for almost 6000 years.
If you combine this landscape with a picturesque little village you've got the winning recipe. No wonder that we stay in Dingle for four nights during some of our Irish tours.  So, what can you expect during your stay? We have listed the five best things to do in this great little spot. If anything we say here inspires you to explore Ireland with us, check out our Small Group Tours of Ireland and please contact us if you have any questions. 
Hike Mount Brandon
In Gaelic, Mount Brandon is known as Cnoc Breanainn. St. Brandon was a navigator born near Tralee around 484 AD and he was the first European to discover America. This was around a 1000 years before Columbus.
This hike is, undoubtedly, one of the best things to do in Dingle. Mount Brandon is steeped in mythology and Pagan history is a great and scenic hike. Mount Brendon measures 952 meters in height and this is a moderate to strenuous hike. None of our guests, however, ever complained about the difficulty and on a clear day, you are rewarded with one of the best views of all our Irish Tours. You will experience the most magnificent views whilst you're hiking up.
You can see the sleeping Giant, Skellig Michael and of course, the flock of sheep getting smaller and smaller the more you walk up. Once you reach the top you get rewarded with even better views. You will see tiny mountain lakes and the beautiful mountainside town, Castlegregory further down the bay.
A bit of grub
Nevermind Dingle's attractions, let's eat! Dingle has been named the foodie town of Ireland and for a good reason. The food is excellent and you have so much choice as well. This is important during our Irish tours as we need to cater for all tastes, budgets and beliefs. All around the peninsula you will find the freshest seafood which is often caught that same day. How good is that?
One of our favourite restaurants is The Global Village. The menu is incredible and we always recommend our guests to try the tasting menu and pair it with the wines they selected. The food is incomparable and amazing quality. We started with a crisp Bantry Bay Scallop paired with a slow cooked hens egg and some cucumber relish. This dish looked and tasted amazing and was followed by a trio of crab. You get a little shot glass of crab bisque, some crab parfait and some scrumptious crab meat with Dingle Gin and Cucumber.
For the main course, we got served a plate of West Kerry lamb. The crisp pork belly stood out for me with the rack of lamb coming a close second. I just had a little space left for my dessert which was a garden strawberry and chocolate plate followed by a coffee. It's a great experience, the staff are lovely, the food is great and the wine is excellent.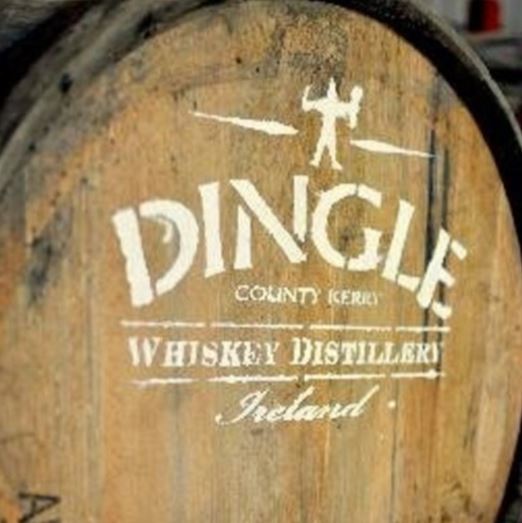 Whiskey, Gin and Vodka in Dingle
At the edge of Dingle Town, you will find the Dingle Distillery, which was founded in 2012. They produce Whiskey, Gin and Vodka and they have some of the nicest bottles to sell their products in. During our Irish tours we visit the distillery and everyone loves the experience.
Since this is a proper distillery and it's not that big you get a proper feel for what's going on. The guides who provide the tours are real characters and are able to make the public smile with typical Irish storytelling. The most important thing is that you get to taste their drinks and this sets you well up for a perfect night out in Dingle!
Get wet — Watersport Dingle Attractions
Since this is a peninsula, you cannot leave without touching the ocean at least once. You could just take your shoes off at the beach or if you are a little bit more adventurous, you could try surfing or kayaking with Fungi the dolphin. Both great ways to experience the ocean or even to get over that hangover if the night before was a little later than expected.
One of the best spots to surf on your small group tour of Ireland is Inch beach. This beach is famous for its mellow waves and easy access. You get to experience the clear waters of the Atlantic and you get lessons from some of the best instructors in Ireland. Once you have your wetsuit on it won't be long before you catch your first wave, and it's very likely that you will be hooked on the sport afterward.
If falling into the water is a bit too much you can always go kayaking in Dingle Bay. This half day tour is excellent for people who want to see Dingle from the ocean. It's also one of the most popular activities for our private tours, especially with families. The instructor/guides are extremely knowledgeable and will provide you with tons of information about the area and the flora and fauna. With a bit of luck, you get to see one of Dingle's oldest and most famous residents, Fungi the dolphin!
The Sleigh Head Drive
This circular route starts and ends in Dingle and is part of the famous Wild Atlantic Way and has many attractions and vistas along the route. In our opinion, this is the best and most spectacular driving routes in Ireland, full of coastline, islands and cliff-top roads. This route was also recently filmed by the Top Gear team and parts of the new Star Wars movie were filmed here. The route has more to offer than just the above. There are also amazing early Christian sites, ancient Neolithic paths and ancient pilgrim paths. It's here that you realize that our Irish tours are the perfect mixture of culture, scenery, activity and fun.
Find out about some of the other great places we visit by reading our blogs on 24-Hours in Dublin, Kinsale and various others. Hope to see you soon on one of our amazing tours!
Planning on visiting Ireland soon? Get our free guides! We answer your Ireland Travel FAQs + offer local tips for visiting Dublin.
---