Most asked questions during our small group tours of Ireland?
During our small group tours of Ireland, we always get a few questions that are very interesting and similar. Our guides are always really stoked to share their great wisdom. We asked them to let us know what questions they received most often and if they could formulate answers to the questions. Our guides always get tested over and over on their knowledge of Ireland and although they don't know everything on the spot they will always get back to as soon as they know.
Why is Ireland so green?
There are several reasons why Ireland is so green and called the emerald Isle. The combinations of these factors make Ireland really green, even from space you can notice this as you can see by the photo provided by Nasa. We won`t get up that high during our small group tours of Ireland but you get to see all the shades of green possible.
Ireland`s location is paramount, its sits between 51.5 and 55.5 degrees North Latitude which is fairly similar to Newfoundland. However, while Newfoundland can have extreme cold weather Ireland benefits from a milder climate due to the North Atlantic Drift. This extends the warm waters of the Gulf Stream and provides Ireland with a mild climate. This is also called a temperate climate which means that temperatures rarely go below 7 degrees Celsius. Most grass and plants grow at 7 degrees or above and if you combine our precipitation, which averages about 78 centimes, you can imagine that the grass is always greener in Ireland. This brings us the next question:
Why has Ireland so few forests?
There was a time that our beautiful country was filled with trees and had forests in abundance. But like in most countries humans cut most of the trees away. In Ireland, there were two stages that made a significant impact on our forests.
The first one was during the Industrial Revolution where loads of the English planters used wood from the forests for barrel making, Iron works, furniture, houses and boats. Another era where loads of trees were cut was during our famine period. At that stage our starving population was way bigger and needed heat from wood.
This however, doesn`t mean that we don't have beautiful forests. Killarney National Park is a prime example of one of the most beautiful forests in Europe. We actually stop at this location during our small group tours of Ireland. New forests are also planted these days and Irelands forestry is a thriving business sector.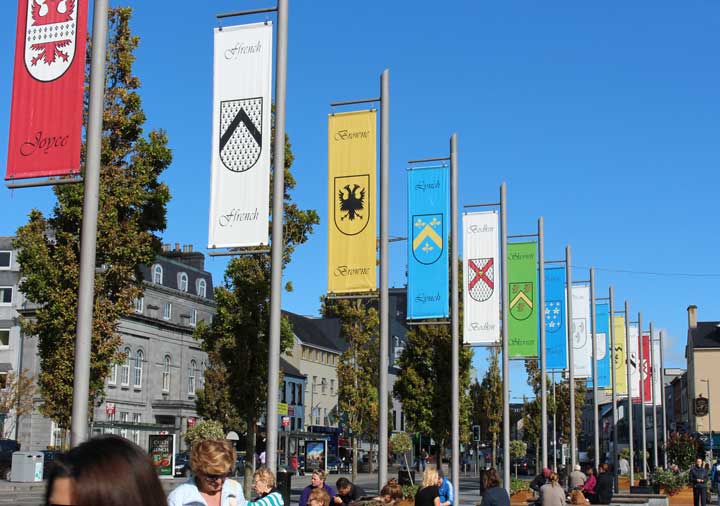 Why is Galway called the city of the Tribes?
For thousands of years, tribes were ruling Ireland. During the time of the Celts Ireland was divided into Kingdoms which were ruled by alliances of tribes. With the introduction of Christianity this changed somewhat and even further with the influence from outside Ireland with the invasion from the Norse, Scots and the English.
However, with Galway the name refers to the 14 most much and powerful families that used to run the city from the 13th to the 19th century. The 14 families came from Norway, France, England and Wales and distanced themselves from the natives by building a big wall around the city. The natives lived outside the city walls in the Claddagh. All of our small group tours of Ireland stop in this beautiful little city. It's also the HQ of Overland Ireland. During your visit to Galway you can still see many references to the tribes like the flags of each of the tribes on Eyre square or Lynches Castle in Shop Street.
What do people do for a living in the rural areas?
During our small group tours of Ireland, we avoid the big cities and keep to the epic little windy roads. Here and there you can see houses spread out all over the country side. The question we get asked most at that stage is what people do who live in these rural communities. Although the guide cannot know for certain we discussed this during our last teambuilding weekend. The rural communities are often a little older on average so you would find a good few people not working but enjoying their pension. These communities are often surrounded by farm land so a good few people would work on the farms as well. Ireland is not a very big country so the nearest city is never far away. People love to live in the country side so they often commute a little further. Within these small communities, you need schools, post offices, police offices and medical clinics so that would be another part of what people do.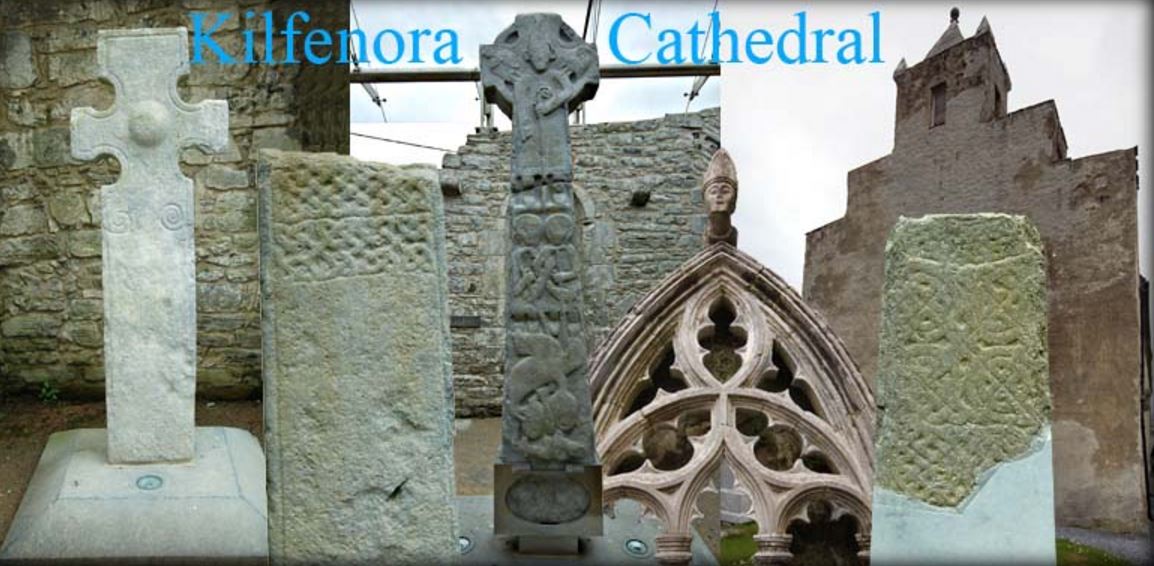 What are Celtic crosses?
Celtic crosses were found all over Ireland on old monastic sites. They are one of our biggest contributions to Western Art from the middle ages. The first ones were from wood and stone and the ones that survived best are carved from stone. Most of them were used as meeting points or to were used to mark boundaries. With Christianity coming to Ireland and most people could not read or write pictures were carved on them with messages corresponding to the bible. It was a way of the church to convert people from Pegan believes to Christianity. Many people think actually that these crosses are a perfect combination of Pegan and Christianly, with the circle reflecting the worship of the sun and the cross the worship of Jesus Christ. During our tour we visit always some of the best Celtic crosses in Ireland in Kilfenora. There were originally 7 crosses at the cathedral but one was removed to Killaloe. The remaining six crosses three are complete, these include the most famous of all, the Doorty Cross and also the West Cross.
If you have any questions or if you would like to know more about our small group tours of Ireland, you can email us, go to our chat function on our website or just give us a shout by phone.
Planning on visiting Ireland soon? Get our free guides! We answer your Ireland Travel FAQs + offer local tips for visiting Dublin.
---