We're not sure exactly when it happened, but Ireland has become a pretty tasty country! Here at Overland Ireland, we know that some people's main reason for travelling is their stomach, and we absolutely respect this! To make it easier for you to plan your big foodie trip through Ireland, we've decided to create this gastronomic guide to Ireland, detailing some of the best high-end dining experiences throughout our island.
If anything we say whets your appetite and you'd like to learn more about Irish food, check out our guide to Irish seafood and our vegan guide to Ireland. And if you're inspired to travel with us, find out more about our amazing tours and trips on our collection of small group tours of Ireland.
Can We Summarise Irish Cuisine?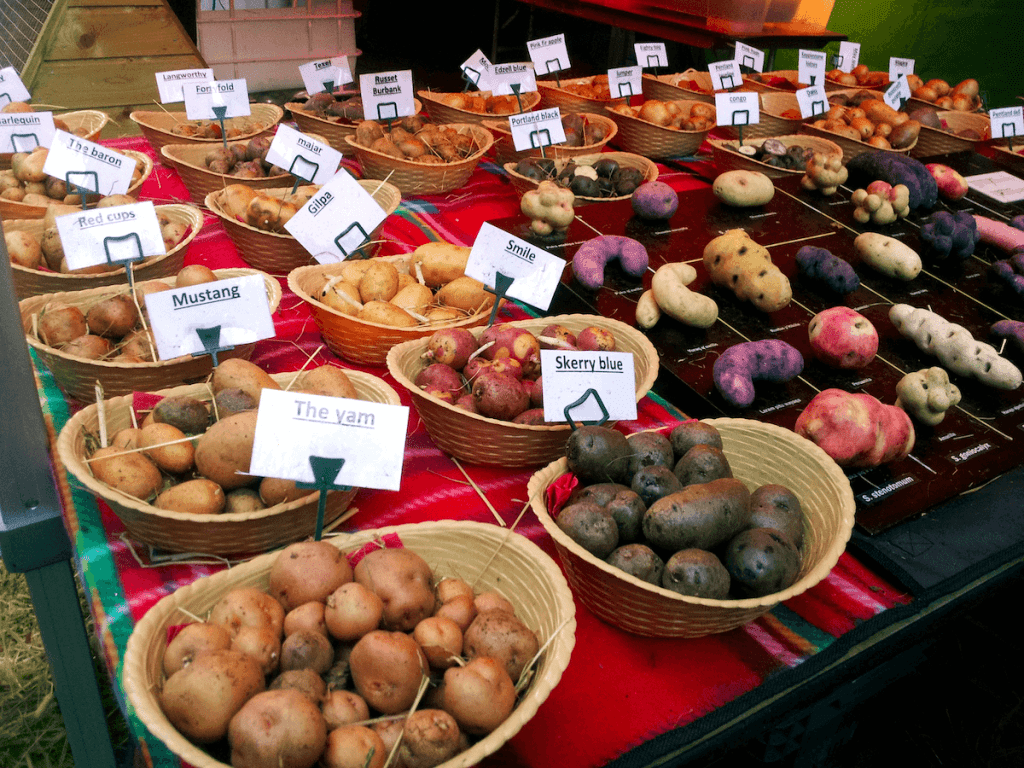 Just before we get into specific restaurants around Ireland, we thought it might be useful to attempt to sum up Irish food. As with most cuisines, summarising it up seems vaguely simple at first, but then gets much harder the deeper you look.
The stereotype of the Irish being obsessed with potatoes doesn't really stand (although we couldn't resist the image at the top of this guide!), and the idea probably stems from the Irish Potato Famine from 1845–1852.
We like them as much as the English, but we don't put them in anywhere near as many dishes as the French or the Spanish.
In fact, the carb of choice in Ireland is bread. Not only do we love bread, but we also have several loaves and farls that are only made on our island. Look out for soda bread (pictured below), wheaten bread, potato farls, and Veda. If you ask nicely we will share our Granny's secret recipe!
Irish cuisine is stereotypically rustic and made from affordable ingredients as the country has been predominantly working class for many centuries. We love to cook with fresh seasonal vegetables, such as carrots, greens, and cabbage, and our expansive coastline provides us with bounties of fish and shellfish. Our food never has too long to travel from farm to plate! So eco-conscious carnivores and vegetarians can indulge without guilt.
Our most famous dishes include Irish stew (mutton, potatoes, and carrots), colcannon (mashed potato with cabbage), and coddle (a Dublinner stew of sausages, bacon, potatoes, and onions).
So, it seems we can't really summarise Irish cuisine in a clear or succinct way. There's just too much to say about it!
Instead, let's look at some of the most gastronomically exciting restaurants in Ireland! And if anything inspires you to start organising a foodie trip through Ireland, consider Overland's tailor made tours of Ireland.
Dublin – The Fumbally
This cafe in Dublin might not have the prestige of many of the other places on this list, but it more than makes up for this with flavour — and with incredibly fresh local ingredients. While you can't stop in The Fumbally for a four-course evening meal, you can have one of the most delicious lunches of your life.
There's something special about this spot — it's as simple as that. Some readers might have ten different eateries they'd place on their own gastro-list of Dublin, and that isn't a bad thing. Dublin simply has so much to offer!
Check out our other recommendations in our guide to the best things to see in Dublin.
Belfast – Mourne Seafood Bar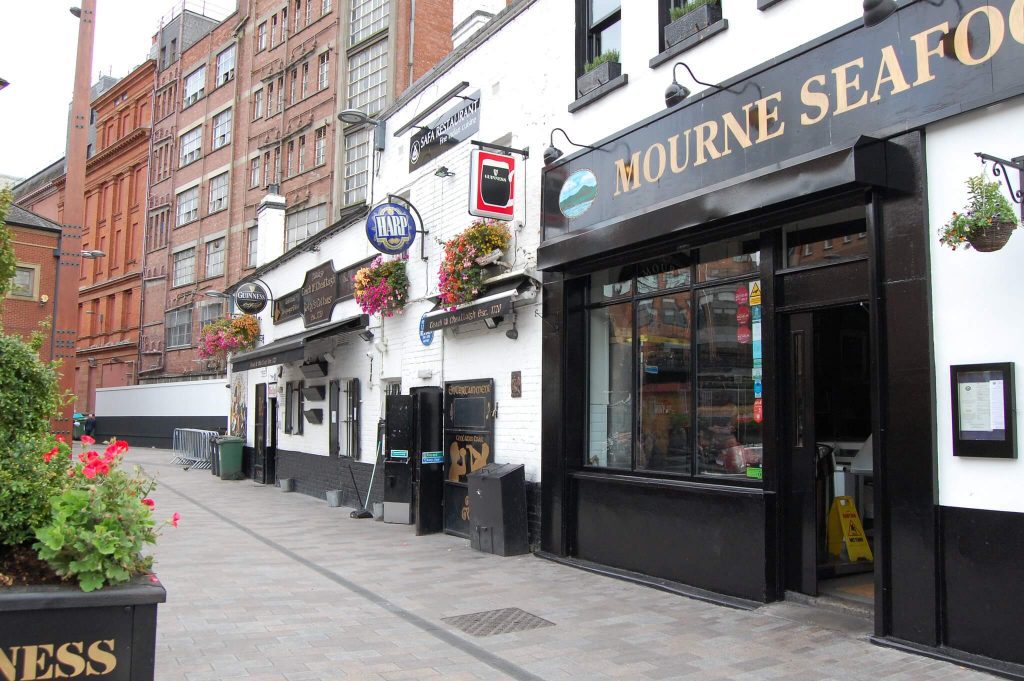 Moving north to Belfast next, we have the sensational Mourne Seafood Bar. While there are several different restaurants that are part of the Mourne Seafood family, the Seafood Bar is the clear winner for us.
The first thing that will strike you when you enter is the blackboards covered with the available dishes for the day. This is because the Mourne Seafood Bar only serves up produce that is just off the boat, so they adjust their menu according to the available seafood.
One thing they can usually be relied upon for is fresh oysters. Are these the best oysters in Ireland? We're not sure, but they're right up there!
On a side note if you are lucky enough to be in Ireland in September you simply cannot miss the Galway International Oyster Festival to celebrate the first of the Irish Oysters! We serve Irish Oysters every month with an 'R' in it…. September through until April!
Adare (County Limerick) – 1826 Adare
Moving from a slick, modern seafood bar in Belfast to the most traditional old thatched cottage in County Limerick. Wade and Elaine Murphy are the husband and wife team behind 1826 Adare — a restaurant that combines traditional Irish fare with more modern methods. The result is something that feels relatively fresh and unique.
If you're interested in traditional Irish food but you want something extra special, then 1826 Adare is the place for you.
Kinsale – The Black Pig
While relatively small in comparison to many other Irish towns and cities, Kinsale is special enough that tourists have been flocking here for decades.
It's tricky to find a bad meal in Kinsale, but if we had to recommend one place for its gastronomic flair, we'd recommend The Black Pig. This is a picturesque wine bar hidden away on a little cobbled street. The selection of wine never disappoints, and neither do the thoughtful small plates that are served as pairings.
Cork – Paradiso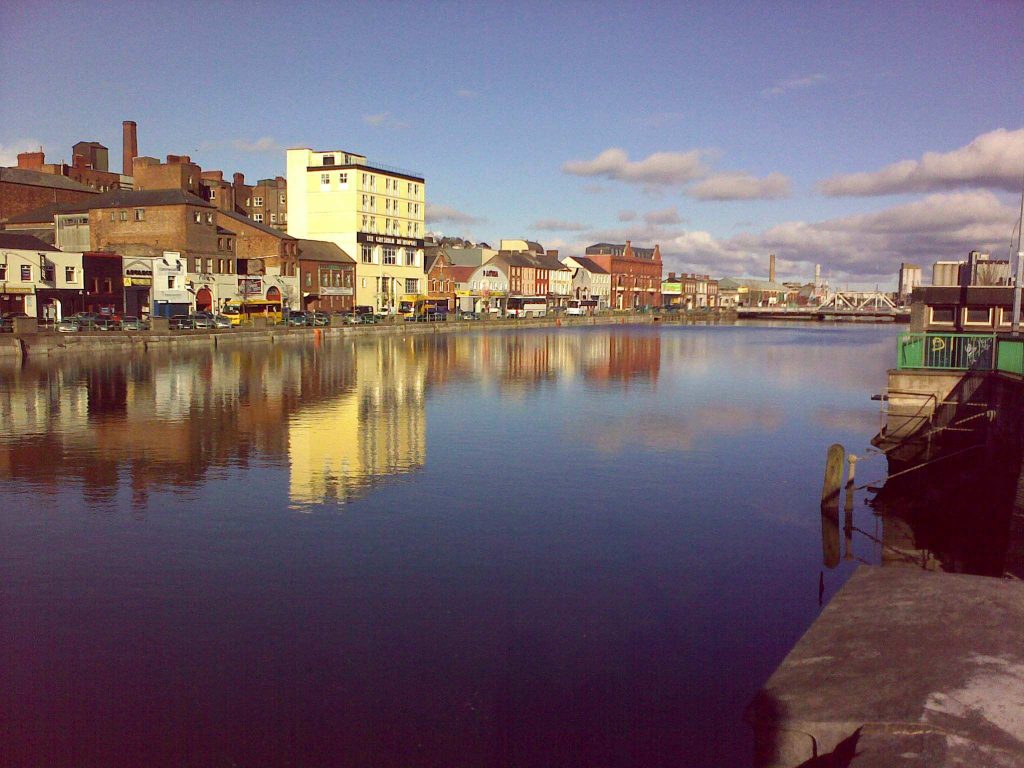 There's so much more to Ireland than pork, cabbage, and potatoes. Paradiso, in Cork, is a vegetarian restaurant that performs at the highest levels, beating out most of the omnivorous competition. The chef-owner, Denis Cotter has written numerous cookbooks, paving the way for budding vegetarian cooks around the world.
Paradiso will appeal to anyone who owns a Denis Cotter book, but it should also call to anyone who loves food cooked with the very best seasonal ingredients, all cleverly put together into new and exciting recipes. You will find things on the Paradiso menu that you've never seen before!
Cork also features in our guide to the best cities to visit in Ireland, so be sure to check it out!
There are, of course, hundreds of restaurants all over Ireland, and many of them more than deserved a place on this list. However, if we'd included everything it would have made this list longer than War and Peace…
This list is just a taste of what Ireland's gastronomic world has to offer, and we hope reading about some of our greatest restaurants has appetised your sense of adventure.
If you're considering a trip to Ireland in the future and you have any questions about our Ireland tours, please don't hesitate to get in touch. Perhaps you'd like a more personalized experience? If so, consider our Ireland private guided tours.
Your big Irish culinary adventure could be just a few clicks away! We think eating and drinking is a huge highlight of any tour and our guides get really excited giving you top recommendations every day.
Planning on visiting Ireland soon? Get our free guides! We answer your Ireland Travel FAQs + offer local tips for visiting Dublin.
---