It depends on where you go and what you know. There. That's the utterly unhelpful short answer.
But we can do better than that… Chances are you clicked through to this blog because you're either a veggie, vegan, or you're planning to travel with someone who is. Food is the fuel of travellers and it gives tourists a chance to literally sample the culture of the country they're visiting.
If you have a more specific diet — such as vegetarianism or veganism — travel can become much more difficult to organise; this is because you just don't know if the places off the beaten track are going to cater for you.
We hope this short guide emboldens and inspires veggies and vegans to visit Ireland. And if you'd like to travel with Overland, take a look at our small group tours of Ireland.
All of our tours can be veganised if you ask ahead of time, and we can take the personalization to the next level on our Ireland private guided tours.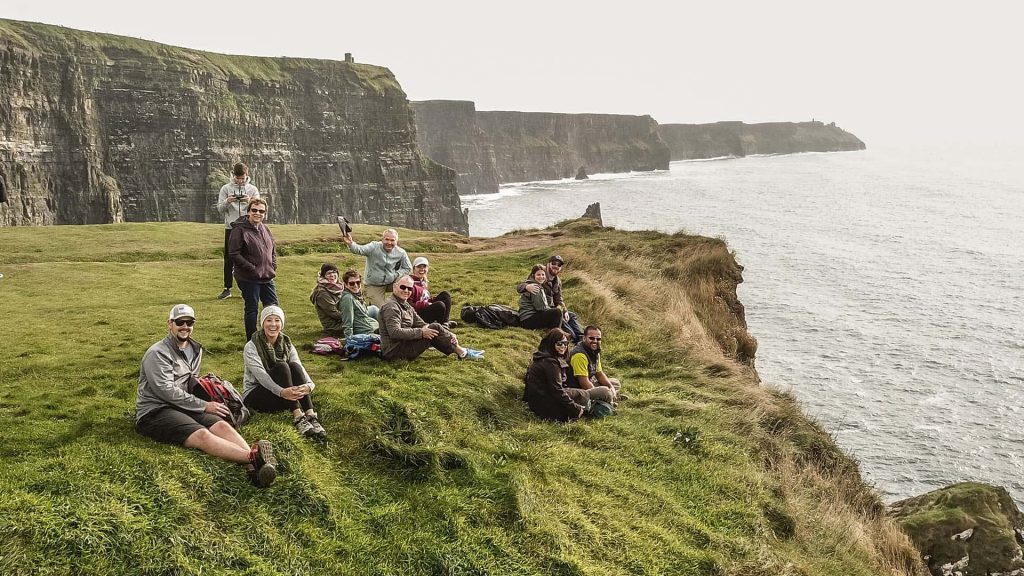 What is Ireland Like for Vegans?
Ireland is not the vegan utopia no doubt many of our vegans want it to be. We are a mixed bag. That said, Ireland is so much more vegan than any of us thought it would be just five or ten years ago.
As Ireland often leans towards traditional values and traditional Irish cuisine, it is more than a little frustrating for Irish vegans who not only want their country to consume less meat, but also for there to be far more plant-based options available to them.
Well, the vegetarian and vegan spirit has really taken hold in recent years, allowing us to confidently say that there are vegan food options throughout our entire island.
Depending on where you go, however, you might only have one vegan restaurant — or there might only be one vegan option in one café in one little sleepy seaside village.
Our expert local guides and planners, however, will hunt out the vegan hotspots even in the sleepiest seaside village!
Ireland has come on leaps and bounds catering for our vegetarian and vegan friends from far and wide. And there are some amazing hidden gems if you know where to look for them (and we definitely know where to look).
Even if you choose our zest Ireland tours because you enjoy outdoor adventures, you can benefit from our local knowledge as our guides recommend or personally take you to all the best vegan spots.
Is Overland Ireland Vegan?
Much like our beloved country, Overland Ireland is a mixed bag of vegans, vegetarians, pescatarians, and omnivores.
We support all kinds of people who want to come to our island and have the best experience possible, but we aren't an exclusively vegan company.
If you want to experience Ireland's vibrant culture, get out to explore Ireland's great outdoors, and meet Ireland's welcoming people, all while tasting the best vegan food our fair country has to offer, then Overland is the company for you.
What is Ireland like for Vegetarians?
Ireland is great for vegetarians and it has been for quite a while. Despite all of the meat that's consumed here, vegetarianism has been on the rise on the Emerald Isle for decades. And, because of this, we have some excellent local vegetarian food.
One of the reasons why Ireland is better at vegetarian cuisine comes down to butter and cheese… There is a fair deal of evidence that people have been consuming cow's milk in Ireland for longer than in any other country. This is why Ireland has the smallest percentage of lactose intolerance in the world!
As Ireland has been cooking with butter, cream, milk, and cheese for so long, many of our recipes are especially good for vegetarian cuisine.
We also have some of the most fertile lands in Europe, and this means that Ireland grows more than its fair share of lovely organic vegetables.
Food is almost always only as good as the ingredients, which is why our verdant farmland also ensures Ireland is great for vegetarians.
Tips for Vegetarians and Vegans Visiting Ireland
Lastly, we'd like to offer some helpful advice for vegetarians and vegans visiting Ireland. This topic deserves its own longer guide (which we might write when we have some spare time), but here's the quick and dirty guide in the meantime:
1) Take advantage of expertise from helpful and knowledgeable tour companies called Overland Ireland – perhaps even choose the tailor-made Ireland tour option and ask for your own vegan Ireland tour.
2) Use social media to find or even ask for great food recommendations in some of Ireland's far-flung locations.
Places like Dublin and Cork have some well-known vegan and vegetarian spots, but it's much harder to find good options when you go off the beaten track. If you do a little experimentation with the right hashtags, you'll reach helpful local vegans and vegetarians who will know all the best places to eat.
---
Join our Facebook group to ask for local recommendations before your trip!
---
3) Use HappyCow — almost certainly an app most vegans reading this will have heard of. So, while we don't want to teach you how to suck artificial eggs, we will say that HappyCow has loads of coverage of Ireland, making it an invaluable tool for vegans travelling through the country.
4) Bring vegan snacks on the go with you as while you can usually find a good restaurant or café in a larger town, you'll likely struggle in the little charming villages scattered throughout the roads less travelled all across Ireland.
5) Email all accommodations ahead of time, before you make a booking; ask them if they offer plant-based food. If they don't, they may be able to make arrangements at no extra cost, so it doesn't hurt to ask.
There is much more to say about travelling to Ireland as a vegan or a vegetarian tourist, but we hope we've at least answered a few of your burning questions. If you'd like to know anything that wasn't mentioned here, please feel free to get in touch.
Otherwise, we'd like to wish you safe and tasty travels around Ireland, however you decide to travel.
Planning on visiting Ireland soon? Get our free guides! We answer your Ireland Travel FAQs + offer local tips for visiting Dublin.
---