Looking for a concise list of all the must-see sights when visiting Ireland? Well, Overland Ireland has you covered. This list of sights and highlights is here to help as many people as possible, whether you book a trip with Overland Ireland or not.
But if we impress you in this guide and you'd like to explore Ireland with us, check out our small group tours of Ireland and our self-drive tours of Ireland!
Looking for some lesser-known spots around the country? You might also like our guide to Irish Attractions Off The Beaten Path.
The Must-See Sights When Visiting Ireland
First: Ireland's "Best Sights" is a Subjective Matter
We should start by admitting that any travel guide talking about the must-see sights in Ireland is obviously a little biased — like choosing your favorite child!
Not every travel blogger or tour company has had the same experience. And we all love different parts of our beautiful country. The simple fact that there are so many Ireland highlights for us to debate only proves how great Ireland really is!
However, despite the obvious subjectivity, we think that Overland Ireland's many tour guides and many years' experience as one of Ireland's top tour companies give our opinions more than a little legitimacy.
So with that all said, let's get on with it! Here are our recommended must-see sights when visiting Ireland…
The Cliffs of Moher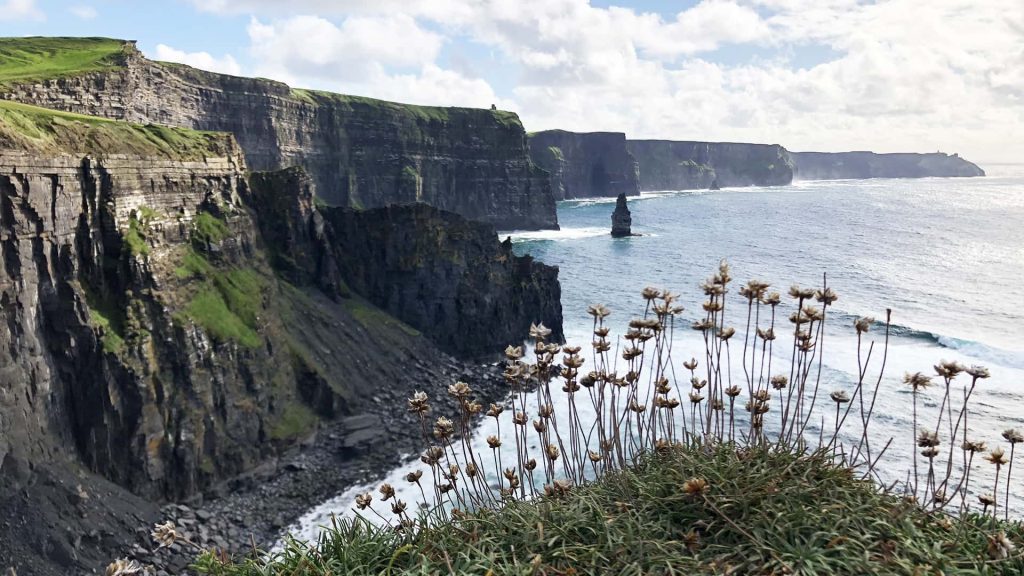 The Cliffs of Moher are perhaps the most popular tourist attraction in Ireland. Let us just say that the pictures don't do them justice!
These epic cliffs on the southwest coast of County Clare will take your breath away. And there's a good chance they'll eat up a big chunk of your camera film or internal memory. Imagine being there: green for miles around encased by the blue of the ocean.
Stunning views like this are why folk come to Ireland and the Cliffs of Moher should 100% be on your to-do list!
Cultural Connemara
Connemara, in County Galway, has the deepest roots to traditional Irish culture of anywhere else on our fair, green island. It is home to the largest number of Gaelic speakers (Gaeltacht) and it has some of the wildest, most untouched landscapes in Ireland.
There's the stunning Connemara National Park, the Twelve Bens mountain range, Invermore River, Loch Oorid, and countless other natural beauty spots. Connemara is a little bubble of wild, majestic Ireland that calls out to eager adventurers.
Every time you turn a corner you will find another fantastic hidden gem. Our self-drive app Paddy the Pocket Pilot will ensure that you don't miss any highlights in Connemara.
Dublin's Fair City
Most people arriving in Ireland are probably flying into Dublin Airport. So there's no excuse for not sampling what our capital city has to offer!
Even if you've come to Ireland to sample our natural beauty, spend at least one or two days in Dublin, getting a taste for our culture and history.
Walk our ancient cobbled streets, explore our museums, and pop into a few pubs along the way.
Here are a few Dublin highlights you should squeeze into your trip:
Trinity College and The Book of Kells
The Molly Malone Statue off Grafton Street
Saint Patrick's Cathedral
Guinness Storehouse
Ha'Penny Bridge
The Oscar Wilde Statue at Merrion Square Park (pictured above)
You may also want to read our guide to the Best Cities To Visit In Ireland to plan your trip.
Majestic Donegal
While Donegal is part of the province of Ulster, it is not part of Northern Ireland, yet the most northerly point of Ireland is in Donegal…
This north-west region of Ireland is often chosen as a peaceful vacation spot for Irish who want to get away from it all without hopping on a plane.
It is as remote and rural as Ireland gets, with lush green fields, rugged sea cliffs, and beautiful white-sand beaches. Donegal may be the best place to get lost in Ireland!
But beware of the locals, their love of the craic (fun) and their sing song accents! They will keep you entertained throughout your stay!
Beguiling Belfast
Ireland has a lot more to offer city lovers than Dublin alone!
Belfast is the capital city of Northern Ireland and it has been flourishing in recent years, enjoying a huge increase in tourism, with a thriving restaurant industry and a swanky bar scene.
Belfast has had a challenging but fascinating history for tourists to explore. We highly recommend our guests to take a Black Cab historical tour of the city. These may be slightly biased depending on your driver but the passion revealed is worth the trip.
You can also visit the Titanic Belfast (pictured above). It's an innovative museum designed to tell the story of the construction of the world-famous ship in the Belfast dockyard.
The Dingle Peninsula
The Dingle Peninsula is the most westerly point in Ireland, jutting out at 90% from the mainland, just north of Kerry. The town of Dingle on the peninsula is one of the most popular places on Ireland's world-famous Wild Atlantic Way, which is an epic 1,553-mile driving route along the western coast of Ireland.
The Dingle Peninsula's gentle yet slightly rugged landscape is perfect for hiking. And its beaches are ideal for more gentle walks.
Make sure you visit the Gallarus Oratory: a 1,300-year-old small stone chapel.
The Ring of Kerry
The Ring of Kerry is a scenic driving route around one of Ireland's most beautiful locations: the Iveragh Peninsula.
The drive takes around three and a half hours as you explore 111 miles of isolated roads. However, while the drive is wonderful, make sure you get out of the car at a few spots along the way to take in the sights.
Here are a few of our favorite places along the Ring of Kerry:
Ross Castle
Kenmare
Parknasilla
Derrynane House
The epic Skellig Islands
If visiting Skellig Michael is at the top of your Ireland bucket list, then check out our Ireland to Island 7-day Tour. We also wrote an entire Guide To Visiting the Magical Skellig Islands that you may want to read!
The Blarney Stone
At first glance, you might expect that the Blarney Stone is one of Ireland's tourist traps and that it's overrated in some way. Lots of blogs we've read seem to think so. We disagree!
The Blarney Stone and Blarney Castle have proven to be incredibly popular with our guests. There is something enchanting and magical about Ireland's legends, and this is often what people expect when they come here.
If you're interested in the Blarney Stone, you'll explore a beautiful old castle and hang off the edge of a wall to kiss an old legendary stone that gives you the 'gift of the gab' (magical powers of eloquence).
After all, it's not a real trip to Ireland without a healthy dose of magic.
Want some more magic on your Ireland trip? Check out our Guide To Ireland's Best Castles!
All of Ireland's must-see sights mentioned in this guide feature on our biggest, most comprehensive Ireland tour: our Ultimate Ireland 10-day tour. There are, of course, dozens of other must-see sights in Ireland, but we've covered most of our favorites. If you'd like a more personalized experience, perhaps you'd also like to consider our Ireland private guided tours.
We hope this guide has inspired you to stop dreaming about Ireland. Wake up already and come see what all the fuss is about! If you have any questions about our tours whatsoever, please feel free to contact us.
Planning on visiting Ireland soon? Get our free guides! We answer your Ireland Travel FAQs + offer local tips for visiting Dublin.
---