Did you know that surfing is highly popular in Ireland? Our western shores lay exposed to the full force of waves generated in the North Atlantic Ocean.
In fact, the Emerald Isle has a long-standing surf culture dating back to 1964 when the Bray Island Surf Club was established.
And there are even accounts of surfers in Irish waters long before this!
The Wild Atlantic Way is a 1,600-mile (2,600-km) trail winding around Ireland's rugged western coastline, as well as stretches in the south and north.
This means it's not only a great way to explore our incredible country, but it's also perfect for anyone looking to enjoy world-class surfing.
At Overland Ireland, we have included parts of the Wild Atlantic Way in our Ireland tours, so we're perfectly placed to recommend the best surf spots along the route.
Read on to find out our tips!
If you have any questions about our tours in Ireland in the meantime, please feel free to get in touch.
Introduction to the Wild Atlantic Way and its Surf Scene
If you want to include surfing on your Wild Atlantic Way adventure, it's good to know that you can find a diverse range of surf spots all along the trail.
And what's more, there's something for surfers of all skill levels to enjoy.
It's worth noting that the Wild Atlantic Way has a recognised Surf Coast covering parts of County Donegal, County Sligo, and County Mayo.
Broadly speaking, the Surf Coast extends from Donegal to Erris. On this stretch of coastline, both Strandhill (County Sligo) and Bundoran (County Donegal) deserve specific mentions.
Strandhill has become somewhat of a mecca for surfers from all over the world, not just Ireland.
Strandhill Beach breaks on all tides and it picks up swells in almost any direction. As a result, the surfing opportunities here are incredibly consistent.
Experienced surfers also regard Bundoran as one of Ireland's premier, most consistent surfing locations.
But you don't need to be experienced to enjoy Bundoran. The wider area has spots where beginners can hone their skills too.
After you've finished reading this guide, check out Surfing in Ireland: the Best Surf Spots on the Emerald Isle for even more information and inspiration.
Top Surf Spots in County Cork: Inchydoney, Owenahincha, and Barleycove
Inchydoney
Inchydoney beach is pale, pristine, and one of the most beautiful along this stretch of Cork's coastline.
This south-facing strand has two separate sections, with the Virgin Mary Headland as the dividing feature.
Conditions here are always changing, but the swell can be excellent at times. The beach has also earned Blue Flag status for cleanliness.
A surf school operates on the beach and they welcome all skill levels.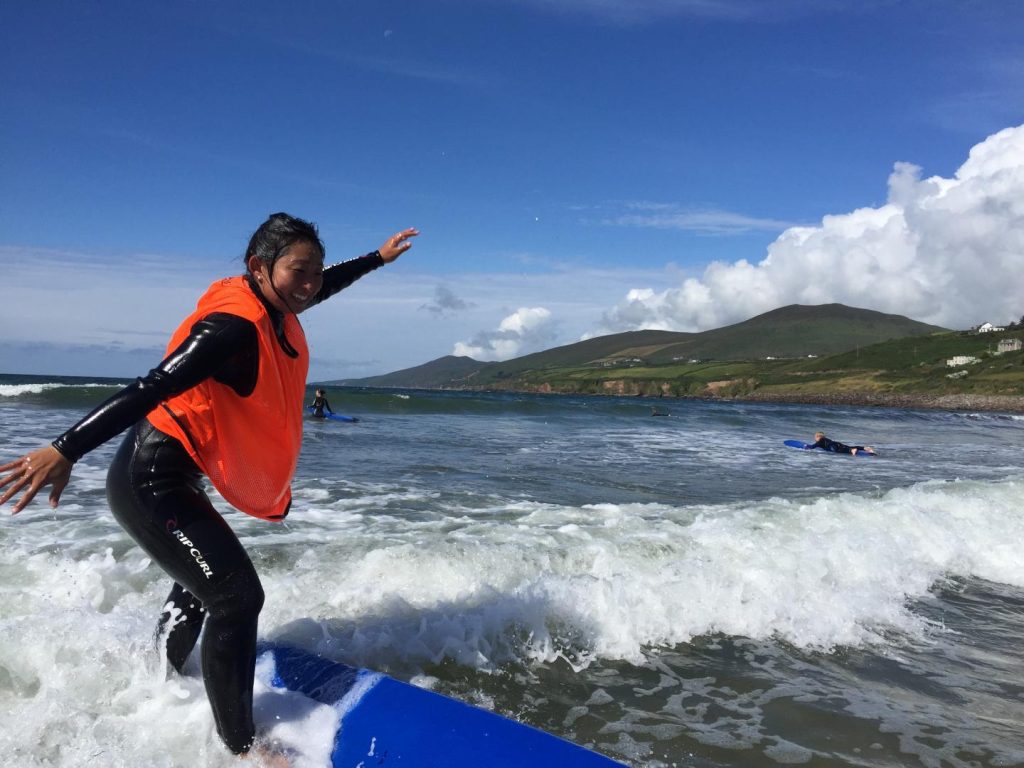 Owenahincha
This wild and exposed beach is a truly picturesque scene. Much like Inchydoney, Owenahincha is a short drive from Cork and is popular with people from the city.
A rocky outcrop splits the beach in two, with one section larger than the other. Both provide excellent surfing opportunities when the conditions are right.
Owenahincha's Blue Flag status is a testament to the cleanliness of the beach and the facilities available.
If you're looking for even more fun and excitement in the great outdoors, read our tips for the best adventure tours in Ireland.
Barleycove
This sheltered beach break has consistent surf throughout the year. Most of Barleycove's surf comes from groundswells, with the best direction being from the south/southwest.
The best wind direction is from the east and all stages of the tide offer good surf.
Barleycove Surf Camp operates here, so you can join surfing lessons or sign your little ones up for a kids' surf camp.
Best Surf Breaks in County Kerry: Ballybunion and Brandon Bay
Ballybunion
Located in North Kerry, Ballybunion has three individual beaches. The North and South Beaches attract surfers from near and far, but they're also popular with walkers and swimmers too.
Both have Blue Flag status and are ideal for beginner and intermediate surfers. The Atlantic cliff breaks create exhilarating surf for those with advanced skills.
Ballybunion is such an impressive spot that we also included it on our list of the best surf beaches in Ireland.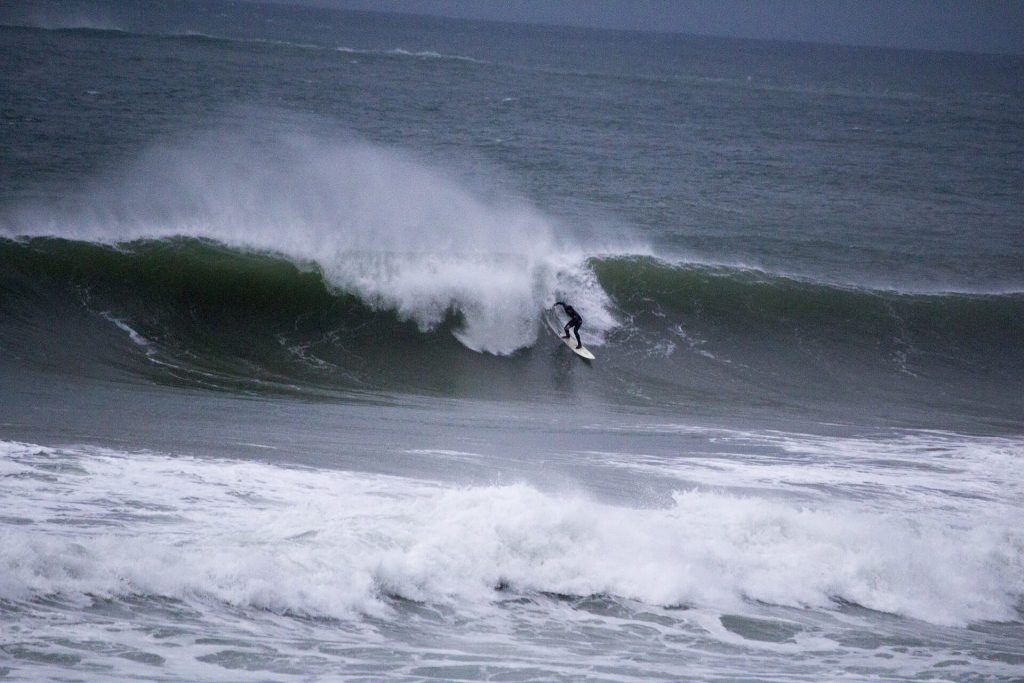 Brandon Bay
On the Dingle Peninsula, Brandon Bay is an exposed beach break with consistent surf year-round.
You can find both groundswells and wind swells here in equal measure, with the best swell direction coming from the northwest.
The ideal wind direction is from the southeast, but peaks here vary with tide and swell.
Brandon Bay has a huge strand with plenty of access points. Due to the reliably windy conditions, and because the beach is so large, it's also a brilliant spot for windsurfers, kitesurfers, and long walks.
Surfing Hotspots in County Clare: Lahinch and Spanish Point
Lahinch
This Blue Flag beach faces out into the Atlantic Ocean, so it takes the full force of incoming swells. Unsurprisingly, it's one of the most popular surfing beaches in Ireland.
At low tide, Lahinch Beach is vast. However, when the tide rushes in, the water submerges almost all of the sand.
Lahinch can also have strong currents, so it's best for intermediate-level surfers and up.
It's worth noting that the spectacular Burren, a naturally formed "pavement" covering a huge area, is close to Lahinch beach and is absolutely worth a visit.
Several of our own tours visit the Burren National Park, including the Ireland to Island 7-Day Tour and the Ultimate Ireland 10-Day Tour Package.
Spanish Point
Spanish Point is an exposed reef and point break with consistent surf throughout the year. While it's a sand beach, it has a rocky shoreline.
This spot typically receives distant groundswells, with the best swell direction coming from the west.
At low tide, the beach is especially wide, but the high tide narrows it significantly. The best surf is usually around mid-tide.
Exploring County Mayo's Surf Scene: Mullaghmore and Enniscrone
Enniscrone
Located on Sligo's coastline, this beautiful beach has something for surfers of all abilities.
Three miles (five kilometres) long, sandy, and safe Enniscrone Beach is a worthy addition to any Wild Atlantic Way itinerary.
And if you are a beginner, the North West Surf School can put you through your paces.
You can find smaller waves for learning closer to the harbour. For a bigger peak, head further up the strand.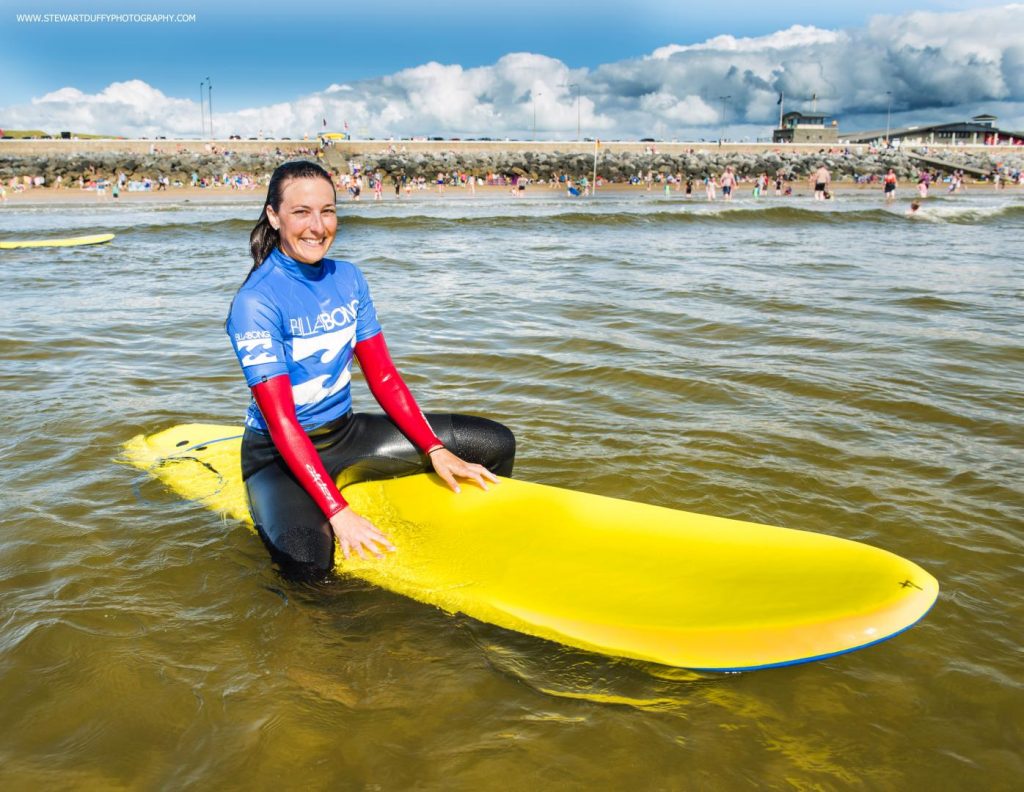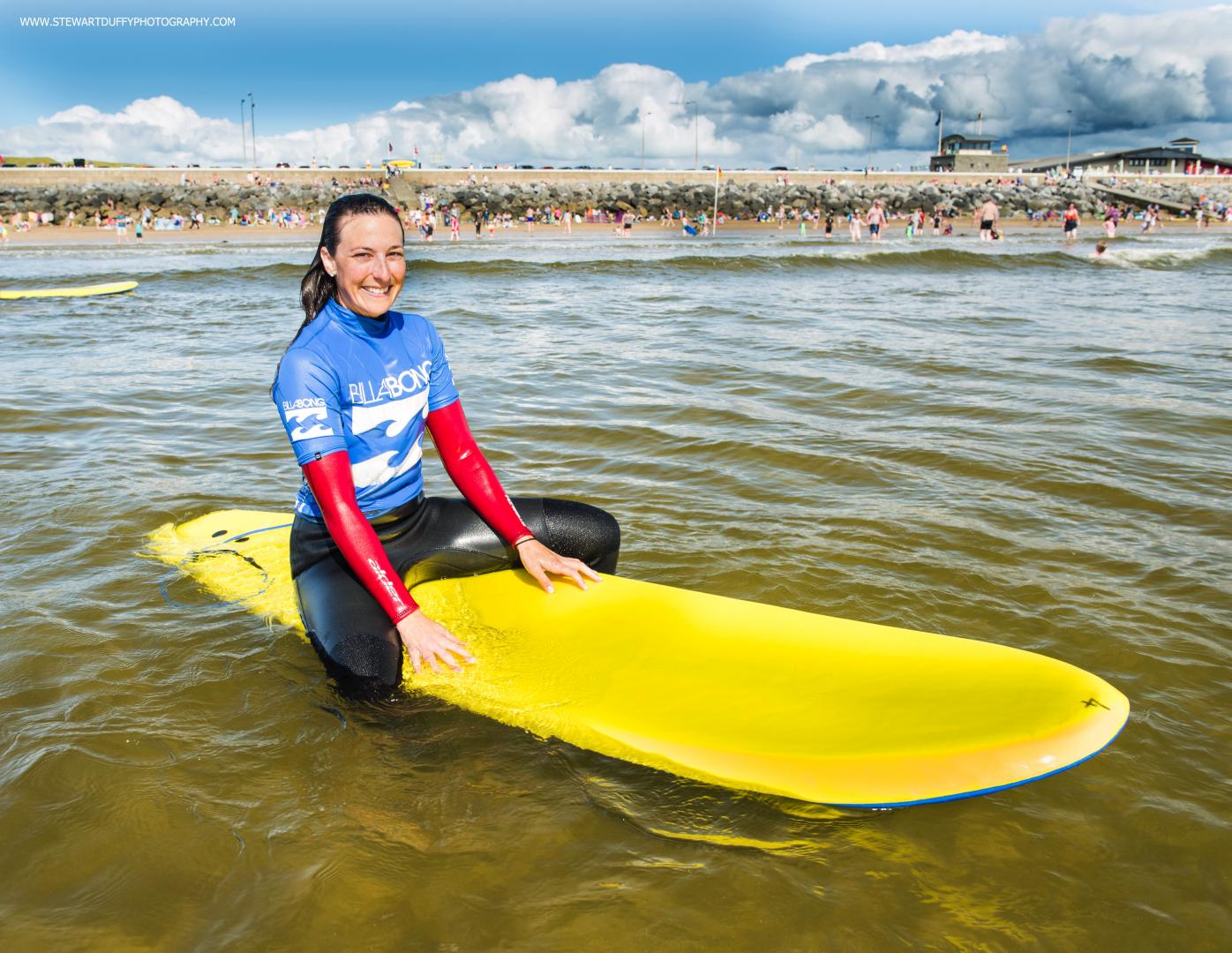 Mullaghmore
Mullaghmore is unique among Irish surfing beaches — Lonely Planet named it one of the best surfing spots in the world.
But be warned — this beach is for expert surfers only.
The waves here are huge and can reach up to 15m. High winds and choppy water also present plenty of obstacles.
But it's for exactly these reasons that Mullaghmore has become known as one of the world's premier big-wave surfing destinations.
Is your journey taking you north of the border? Check out our recommendations for the best outdoor activities in Northern Ireland to keep the adventures rolling!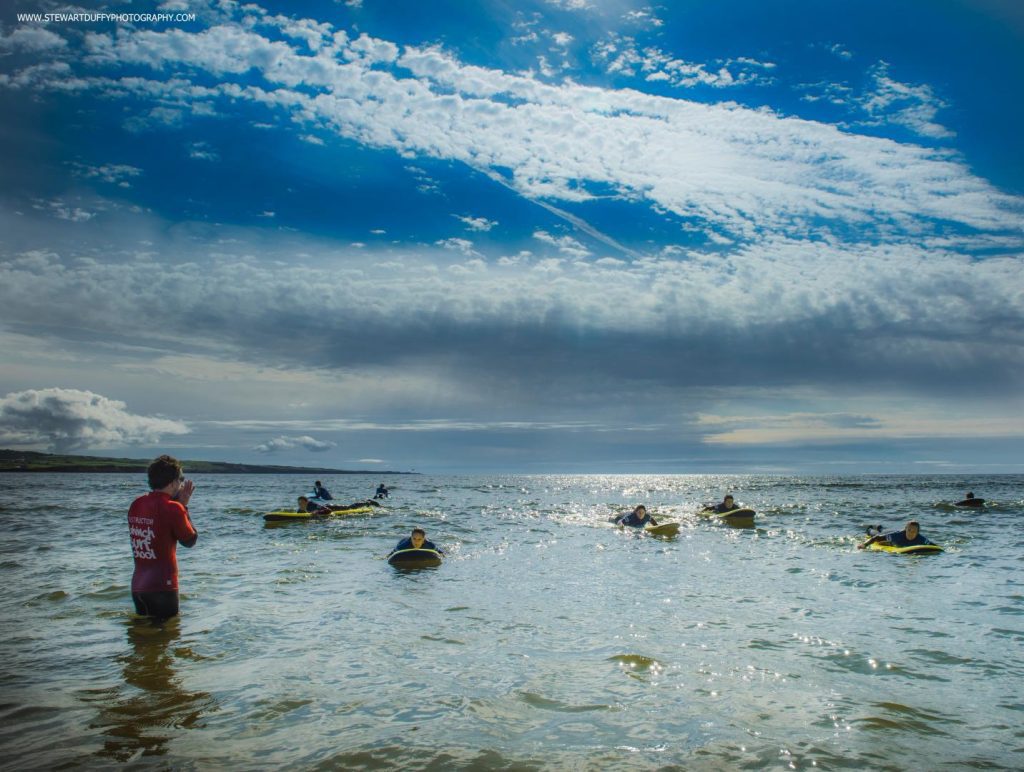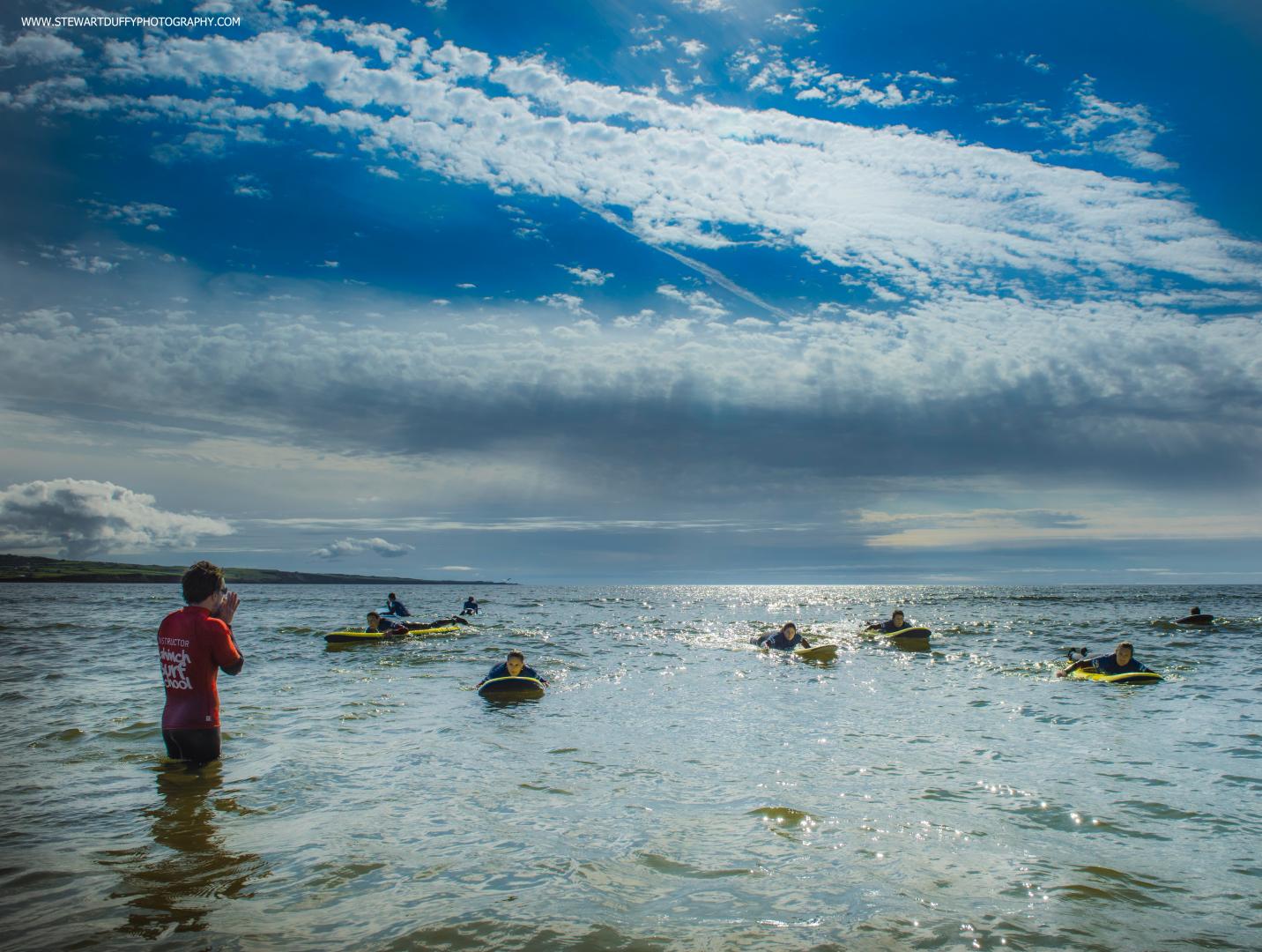 The Wild Atlantic Way Offers a Diverse Range of Surf Spots for All Skill Levels
The above guide is by no means exhaustive. There are many more amazing surfing locations scattered along the Wild Atlantic Way.
Whatever kind of adventure you're looking for, and whatever level of surfing you're currently at, you can find exactly what you're looking for on Ireland's stunning West Coast.
Explore the Emerald Isle with Our Ireland Tours
Are you ready to start planning for your holiday in Ireland? The Overland Ireland team is here to help you make memories you'll never forget.
Browse our tours in Ireland to find all the inspiration you need for your adventure.
And if you have questions for us before booking, please feel free to contact us.