Sometimes people are surprised to find that surfing is so popular in Ireland! This has always shocked the team here at Overland Ireland because the Emerald Isle has such a rich history of the sport. We've had a surfing culture since the "Bray Island Surf Club" was founded in 1964.
However, the first-ever instance of surfing documented in Ireland was in 1949, when an early Irish surf pioneer named Joe Roddy surfed the waves of Dundalk. Since then, the Emerald Isle has caught the surfing bug, and we are home to some of the biggest names in surfing!
One of those surfers is Tom Lowe, who in 2016 competed in Jaws. For those not in the know, Jaws is a big wave surfing competition in Maui, where waves can reach up to 80ft!
While you won't be tackling waves that big here in Ireland, you can still get that thrill of adrenaline as you push up on your board, the roar of the Atlantic ocean behind you, and enjoy that blissful glide across the wave. Then, once you have ridden the wave as far as possible, you dip behind it and paddle back to do it all again.
Surfing is a sport that requires you to be 100% in the moment, an extreme form of mindfulness. That's why we love the sport at Overland Ireland and have incorporated surfing into our Zest Ireland Tours.
Are you a beginner surfer and worried that you don't know your wipeouts from your cutbacks?
Not to worry, at Overland Ireland, we offer surfing lessons as part of our 7- Day Great Atlantic Adventure holiday in Ireland and we offer private Ireland tours that can be personalized to meet your individual needs. If you have any questions about our tours, please get in touch.
So it's fair to say that we Irish folk know a thing or two about surfing. With that in mind, let's take a look at the frothing swell our country offers at some of the best surf beaches in Ireland.
Rossnowlagh in County Donegal
Rossnowlagh comes from the Irish, Ros Neamhlach meaning "heavenly headland", and we'd have to say that we agree.
Rossnowlagh is located just 10 miles from Donegal Town and is a bay with soft golden sands and exceptional views; it even achieved Blue Flag status!
This beach is popular with all water sports enthusiasts, from swimmers to sailors to surfers. This beach does it all!
It's important to note that there aren't any toilets on this beach, but a nearby campsite does have facilities if needed.
The great thing about Rossnowlagh is that it's got plenty of surf schools, so if you're a newbie wanting to try surfing for the first time, this is the place for you!
Top Tip: Make sure to learn how to surf under the careful supervision of a surf instructor, who will teach you about water safety as well as shreddin' those waves!
Inch Beach in County Kerry
If you're looking for a famous surf spot teeming with fellow adrenaline junkies, look no further than Inch Beach. It's a hotspot for windsurfers and surfers alike.
Want to know how this 4-mile-long beach got its name? You guessed it: it has nothing to do with the length of the beach!
Inch comes from the Irish word Inse, meaning Island. This means that the bay was an Island in the middle of Castlemaine Habour in Kerry long ago.
Inch Beach is also an excellent spot for advanced surfers for slab surfing. Slab surfing refers to surfing on waves that break on a reef; it's only for the highly skilled surfers, though.
Brandon Bay in County Kerry
Brandon Bay is a glorious 7-mile stretch of sand located on the northern side of the Dingle Peninsula and at the foot of Brandon Mountain.
This bay in the Dingle Peninsula is excellent for entry-level surfing due to its long slow waves.
The bay also offers shelter from the wind, so whilst you're shredding those waves, your loved ones can enjoy the pleasant breeze on the beach without getting sand in their eyes!
Top Tip: When surfing, always make sure your toes reach the board's end. Otherwise, you might tip the board over (this is called nosediving).
Ballybunion in County Kerry
Ballybunion is a great family-friendly beach, so why not have a family surfing lesson? In addition, this beach won a Blue Flag award as it's free of pollution.
Ballybunion is regularly recognized as one of the best surfing beaches in Ireland.
When in Ballybunion, you should consider joining in with the local tradition of a seaweed bath – which involves bathing in kelp! Who knows, maybe it'll be the next skincare craze?
Also while you're here, try cooked periwinkles from local vendors on the beach. When in Ballybunion, right?
As is the case for most of the beaches we've recommended, surf lessons are available here as well. However, if you're more advanced, you should consider the Atlantic Cliff break-outback to experience the power of the Irish Sea.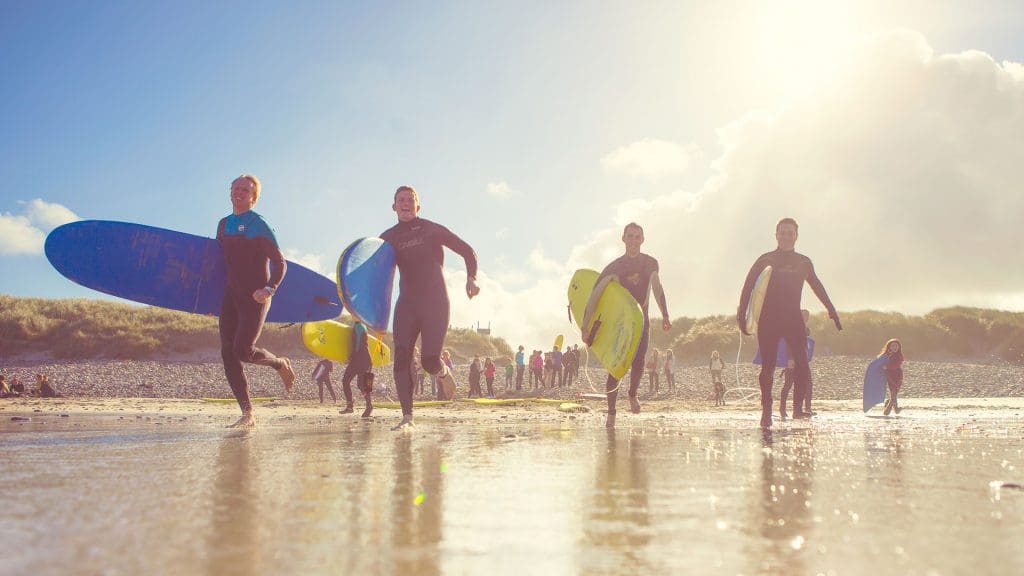 Lahinch Beach in County Clare
Lahinch is the ultimate holiday destination for families. Not only do you have wonderful beach and reef surf breaks but you also have a million hot spots for delicious ice-creams and coffee! Here you can get some surf lessons or simply rent a board and give the rolling Atlantic waves a whirl! Ben's Surf Clinic is a fabulous surf school that welcomes budding surfers of all ages and abilities.
The long stretch of beach is located a stone's throw away from the world-famous Cliffs of Moher. After a refreshing splash in the Atlantic Ocean, you can treat yourself to the awesome views from the Cliffs of Moher and a hike to Doolin – The hometown of traditional Irish music. This all can be experienced on the Great Atlantic Adventure Tour.
There you have it, that's our list of the best surfing beaches in Ireland. We hope this will inspire the newbie to the seasoned surfer to take a trip to our beautiful country and experience all that the Irish Sea has to offer.
Perhaps you'd like to explore Ireland in other ways once you've had your surfing experience? If so, look at our group tours of Ireland – perfect for all the family!
If you have any questions about our small group tours of Ireland, or our private tours of Ireland, please get in touch.