Do you want your Irish itinerary to focus on adventures in the great outdoors? The island of Ireland is famous around the world for landscapes ranging from lush and beautiful to wild and rugged.
With so much variety on offer, you can find a wide range of fun and exciting outdoor activities. On this page, we're focusing on the thrills available in Northern Ireland.
At Overland Ireland, we provide small group tours of Ireland. We know the Emerald Isle inside out, so we're perfectly placed to show you around!
If you have any questions about our pre-planned or private guided tours of Ireland, please don't hesitate to get in touch.
But for now, let's dive into Northern Ireland's best outdoor activities!
Take in the Geological Wonder of Giant's Causeway
Let's start with Northern Ireland's most famous natural attraction — Giant's Causeway!
Made up of 40,000 hexagonal columns of layered basalt, this geological marvel was formed by volcanic activity in the area around 60 million years ago.
The result is one of the most striking and unique coastal scenes across the island of Ireland.
It's an otherworldly place to walk around. If you're a keen photographer, you can get some incredible shots here too.
Does your Irish journey take you south of the border? Check out our tips for the 5 best adventure tours in Ireland for more travel inspiration.
Revel in the Causeway Coastal Route's Beauty
While Giant's Causeway takes much of the limelight, the surrounding area, known as the Causeway Coastal Route, is just as breathtaking.
The route officially runs between Belfast in the east and Londonderry in the west, so it truly takes in most of the northern coast. As such, it's perfect for a multi-day road trip!
Some of the most popular highlights of the route include:
Glenariff Forest Park and its three wonderful waterfalls
A ferry ride to Rathlin Island for bird and seal sightings
Enjoying the views of and from the majestic Fair Head
Stepping into a horticultural wonderland at Benvarden Garden
Visiting a 9,000-year-old fort in Mountsandel Wood
Portstewart Strand, a four-kilometre stretch of golden sand
Brooding Binevenagh and its spectacular views
Discover even more about this jaw-dropping region by reading our Guide to Ireland's Northern Coast.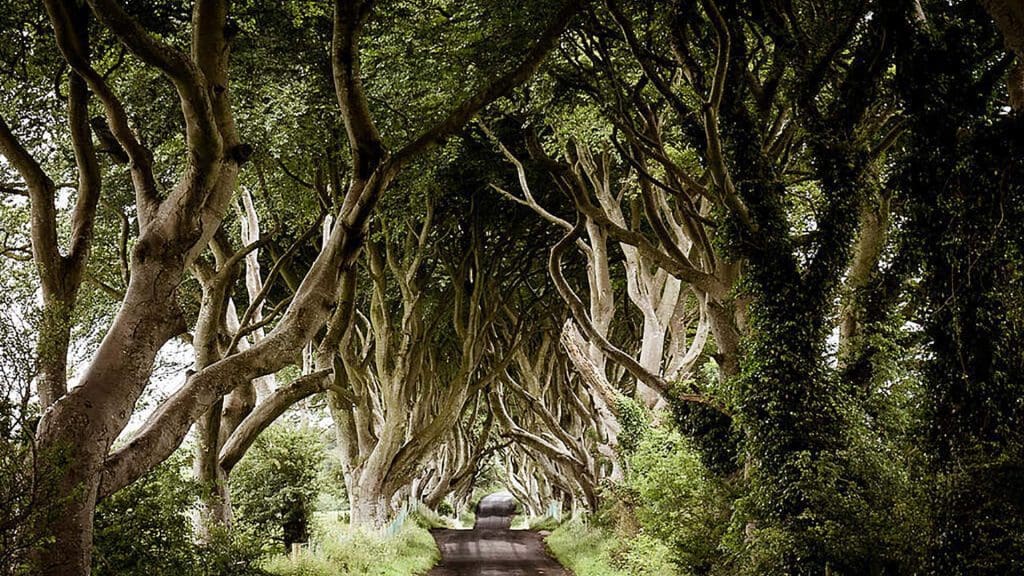 Put in Your Best Performance at Game of Thrones Filming Locations
If you're a fan of the iconic TV series Game of Thrones, visiting the show's Northern Ireland filming locations is probably high on your bucket list.
As a land of myth, legend, and awe-inspiring scenery, it's easy to see why the show's producers fell in with what they saw.
For many fans, the must-see site is Dark Hedges. Beech trees on both sides of the Bregagh Road create an atmospheric, foreboding tunnel fit for any dark-edged fantasy.
If you absolutely have to visit Dark Hedges, it's included in our Ultimate Ireland 10-day Tour Package.
But there are plenty more filming locations to explore. And in doing so, you aren't just paying homage to Game of Thrones, you're taking in some of the best natural spots in Northern Ireland.
Aside from Dark Hedges, the other filming locations include:
Carnlough, Co. Antrim
Larrybane, Co. Antrim
Ballintoy Harbour, Co. Antrim
Tollymore Forest, Co. Down
Inch Abbey, Co. Down
Castle Ward, Co. Down
Marble Arch Caves, Co. Fermanagh
Cushendun Caves, Co. Londonderry
Portstewart Strand, Co. Londonderry
Downhill Beach, Co. Londonderry
Binevenagh, Co. Londonderry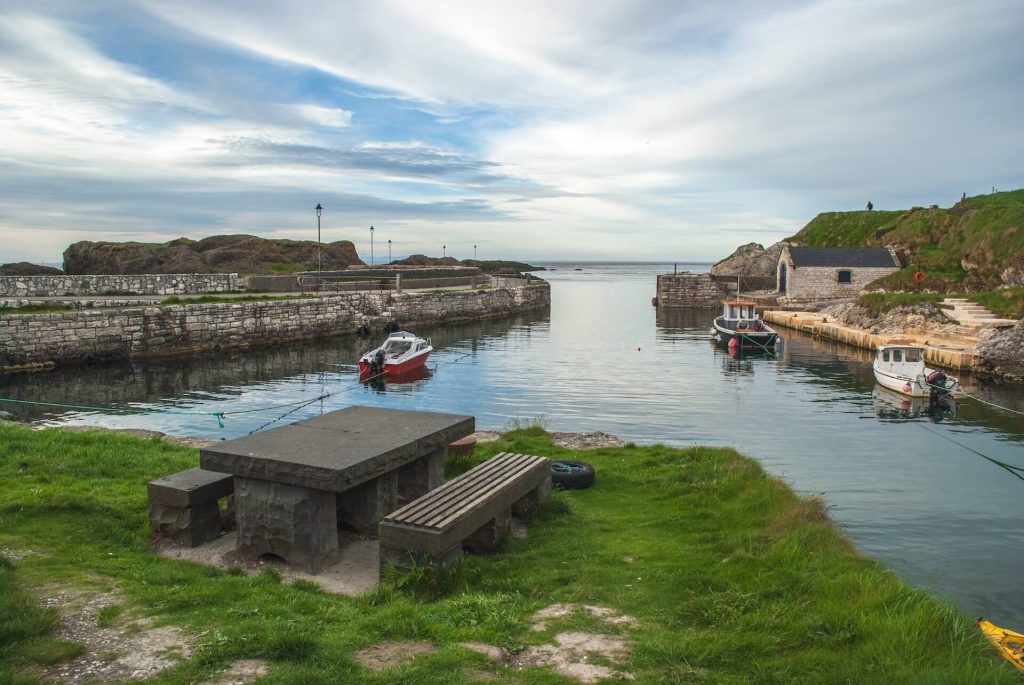 Bask in the Beauty of Ballintoy Harbour
Accessed by a narrow, winding road, the small fishing harbour of Ballintoy is a picturesque joy. The quaint surroundings are a dream for photographers and painters alike.
The harbour itself is constructed from limestone blocks, the same rock that forms the rugged cliffs looming over the fishing boats and peaceful scenery.
And while you may feel like you've stepped back in time here, Ballintoy Harbour is still a respected fishing and trade post to this day.
Best of all, Ballintoy Harbour is right in the heart of the Causeway Coast, making it a must for any Northern Ireland itinerary.
It's near the Carrick-a-Rede Rope Bridge, Giant's Causeway, and is part of the Causeway Coastal Walk.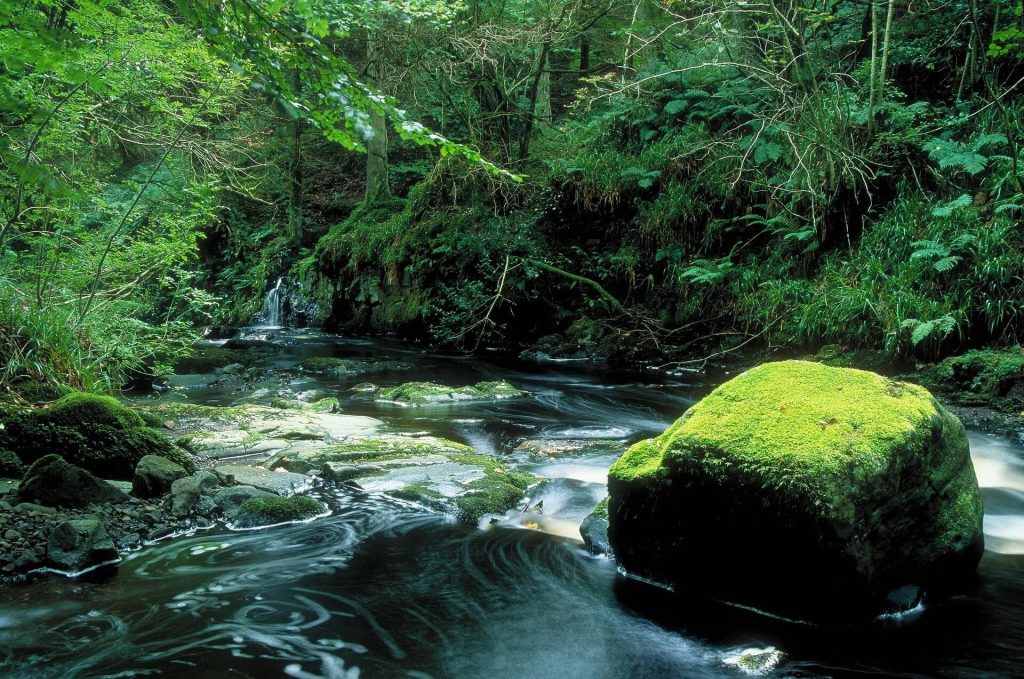 Roam the Green Glens of Antrim
Known locally as The Glens, the Glens of Antrim provide the backdrop for one of the most scenic areas in Northern Ireland.
Its status as an Area of Outstanding Natural Beauty only underlines this claim!
Roaming The Glens is a delightful way to spend your time and a surefire way to connect with nature.
Given their location on County Antrim's northeastern coast, every glen is also close to the sea, so you can easily combine walks with time at the beach.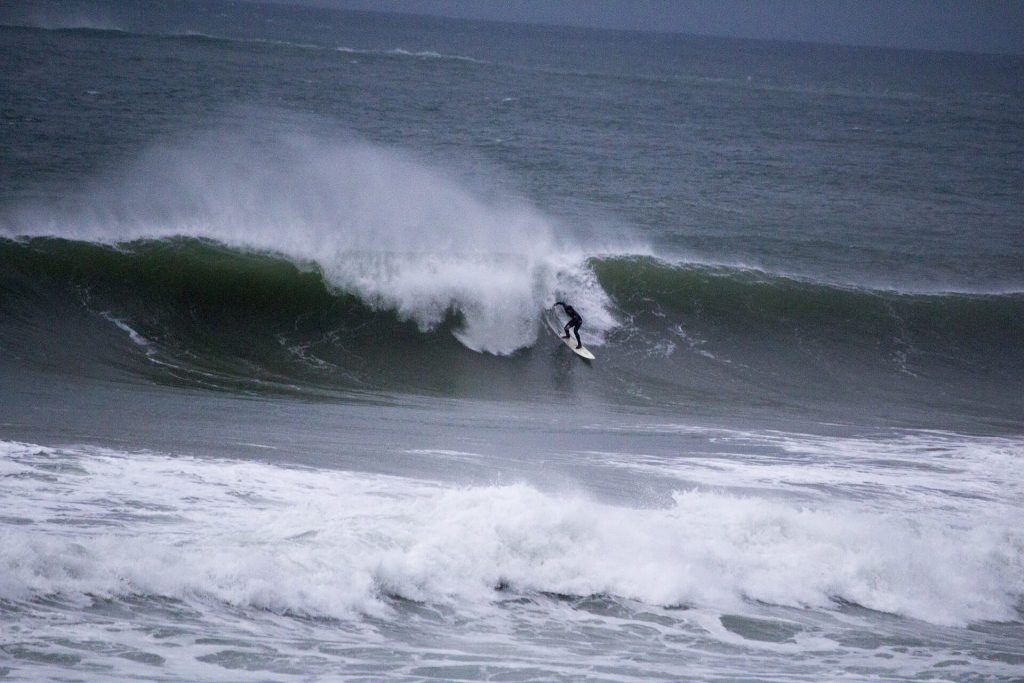 Find Your Fun on Northern Ireland's Beautiful Beaches
With the wild Atlantic Ocean and the Irish Sea crashing into the coastline, it's only natural that Northern Ireland has stunning beaches too.
Benone Beach is seven miles of sand running from Downhill to Magilligan Point. It's one of Northern Ireland's longest, and best, beaches.
This is a great spot for anyone who simply loves getting outside in nature, be it for a stroll or kite flying on the sea breeze. You can also walk up to Mussenden Temple at the Downhill end.
West Strand Beach in Portrush offers the best surfing in Northern Ireland while Ballintoy Harbour Beach has rock pools, sandy coves, and secluded bays waiting to be explored.
On Castlerock Beach, you can find people from all walks of life taking part in all kinds of outdoor activities, from swimming to surfing, and bodyboarding to paddleboarding!
Look through our recommendations for the 5 best wild places in Ireland for even more outdoor activities to include on your trip. 
Explore the Island of Ireland with Our Fun and Fascinating Tours!
We hope this guide to the best outdoor activities in Northern Ireland has inspired and informed you in equal measure.
But no matter which part of the Emerald Isle you want to experience, Overland Ireland can get you where you need to go.
We have carefully curated tours in Ireland covering must-see sites and must-do activities.
And if you want more freedom and flexibility, consider a custom itinerary with one of our tailor-made tours of Ireland.
For more information about any of the tours we operate, please feel free to get in touch.