If you're traveling hundreds or thousands of miles to visit Ireland, you understandably want to make sure you visit the very best places while here.
The good news is that countless incredible sights and experiences are waiting for you on the Emerald Isle — and they feature heavily in our tours of Ireland!
Everyone has their own interests and preferences, from outdoor adventures to cultural and historical gems. As such, any list of the five best places to visit in Ireland is far from exhaustive.
With that in mind, we have focused on the true cornerstones of a quintessential Irish experience!
If you have any questions about our Ireland tours, please feel free to get in touch.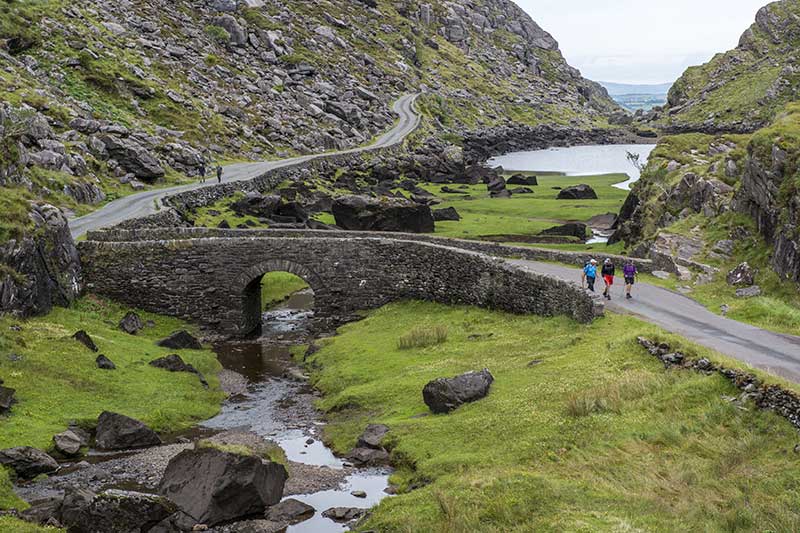 Dublin: Experience the Culture, History, and Charm of Ireland's Capital
Your Irish adventure will likely start in Dublin, and we strongly recommend using the opportunity to explore this wonderful city.
With a history stretching back one thousand years, Dublin has a rich and fascinating history.
And while this city treasures its past, it never forgets to enjoy the present. It's a bustling, modern port filled with great pubs, bars, restaurants, and entertainment options.
As the home of literary giants like James Joyce, Oscar Wilde, and George Bernard Shaw, Dublin is renowned for its links to literature.
In fact, one of the main attractions here is a 1,200-year-old book — The Book of Kells. You can find this in Trinity College, another of the city's most famous landmarks.
Other spots you should consider for your Dublin itinerary include:
Grafton Street
Temple Bar
Ha'penny Bridge
Guinness Storehouse
Kilmainham Gaol
If you prefer quieter, less-visited sights and attractions, read our list of 10 Irish attractions off the beaten path.
The Cliffs of Moher: An Icon of Ireland's Wild West Coast
Located in County Clare and on the Wild Atlantic Way, the Cliffs of Moher are a symbol of Ireland's rugged beauty.
For many, no trip to the Emerald Isle is complete without seeing these cliffs rise 214 meters (702 feet) above the shoreline as the roaring Atlantic crashes into them.
The Cliffs of Moher are so awe-inspiring that they attract almost one million visitors every year. This makes them one of the most popular places to visit in Ireland.
But it's not only the spectacular views of the cliff face that attracts so many people.
The Cliffs of Moher Coastal Walk allows you to pass over the cliffs themselves, giving you breathtaking views of the open Atlantic Ocean.
The Cliffs of Moher feature as one of our 5 best wild places in Ireland. If you're looking for inspiration for more adventures, consider visiting the other four!
The Ring of Kerry: Ireland's Most Popular Driving Route
In a field of strong competition, the Ring of Kerry takes the prize for Ireland's most scenic drive.
Winding along the beautiful coastline of Kerry's Iveragh Peninsula, this 160-km (100-mile) route is renowned for turning dreams of Ireland into reality.
Killarney is the logical starting point for the Ring of Kerry as it's a large, bustling town at one end of the route. However, Kenmare is also popular with those looking for a more peaceful base.
The Ring of Kerry itself is lined with sights, attractions, and quaint, welcoming villages. Just some of the highlights include:
Carrauntoohil
Torc Waterfall
Ladies View
Muckross House
Ross Castle
The Gap of Dunloe
The Skellig Islands
Derrynane National park
The Lakes of Killarney
Killarney National Park
Do you want to include the Ring of Kerry in your Irish itinerary? Read our Ultimate Guide to the Ring of Kerry to learn even more!
Killarney National Park: Ireland's First National Park
This idyllic, natural playground covers an enormous area of 10,236 hectares. Its broad network of paths and trails means you can explore the grounds on foot, by bike, or even in a horse-drawn carriage!
Then, of course, you can hit the water in a kayak or a canoe. This is because the park is home to the Lakes of Killarney — namely Muckross Lake, Lough Leane, and Upper Lake.
The tranquil waters, populated by swans and otters, are surrounded by forests. The picturesque scenes from the water and on land are a highlight of many an Irish holiday.
Established in 1932 when the Muckross Estate was donated to the Irish state, Killarney National Park has the distinction of being Ireland's first national park.
If you're spending time in town, be it visiting the national park or driving the Ring of Kerry, read our tips for the top 10 best things to see and do in Killarney.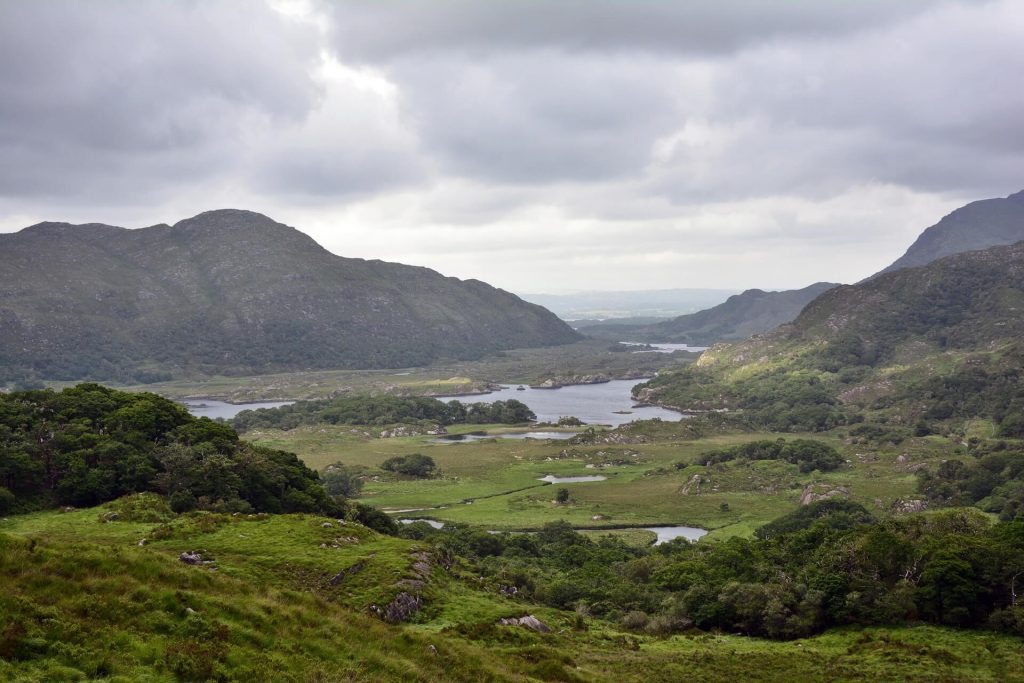 Giant's Causeway: Northern Ireland's Natural Gem
North of the border on the Causeway Coast, you will find Northern Ireland's most famous and popular attraction — Giant's Causeway.
Sitting at a cliff base and reaching out into the sea, this natural, spellbinding rock formation truly looks as though it were built by giant hands.
And that's exactly what the legend says! Finn McCool, the mighty giant, carved out the causeway to make a path to Scotland, where his foe Benandonner was waiting.
There are around 40,000 hexagonal basalt columns here, all of which look geometrically perfect. Tectonic plate activity, lava flows, and erosion over 60 million years created the present causeway you can explore today.
You can marvel at Giant's Causeway up close or from above on a clifftop trail. Every angle is incredible!
If you're planning to explore the north beyond Giant's Causeway, check out our tips for the best outdoor activities in Northern Ireland.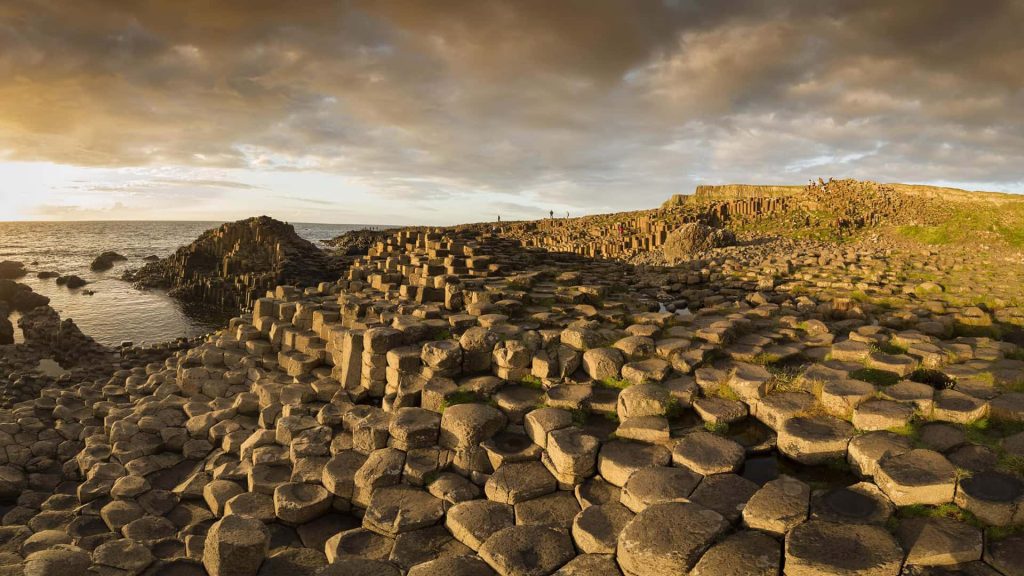 Get the Authentic Irish Experience with Our Tours of Ireland
We hope this list inspired you to start planning your Irish adventure. And remember, this is only an introduction to the best places to visit in Ireland.
There's far more to see, both on the tourist trail and off the beaten track.
Our tours of Ireland provide a complete, authentic Irish experience. When led by our knowledgeable guides, you can learn more about everything you see.
For more independence, consider our self-drive tours in Ireland. Or for the ultimate in freedom and flexibility, why not design a tailor-made tour of Ireland?
If you have any questions about our tour options, please don't hesitate to contact us.