Located in beautiful County Kerry, there are all manner of fun things to do in Killarney and the surrounding areas. From jaw-dropping natural scenery to activities in the town itself, there's something for everyone here!
For those driving the famous Ring Of Kerry, Killarney is often the starting or finishing point (or both!). And while we look at some of the highlights found on this iconic route, we haven't included the drive on our list as it extends far beyond the town.
But if this drive is part of your plans, we've provided the ultimate guide to the Ring of Kerry that covers everything you need to know.
Killarney is a popular destination on many of our small group tours in Ireland. If you want to explore the town and the famous landscapes nearby, browse our range and find out which options best suit your needs and preferences.
Of course, if you have any questions about the tours we operate, please don't hesitate to get in touch.
But for now, let's focus on our tips for the top 10 things to see and do in Killarney.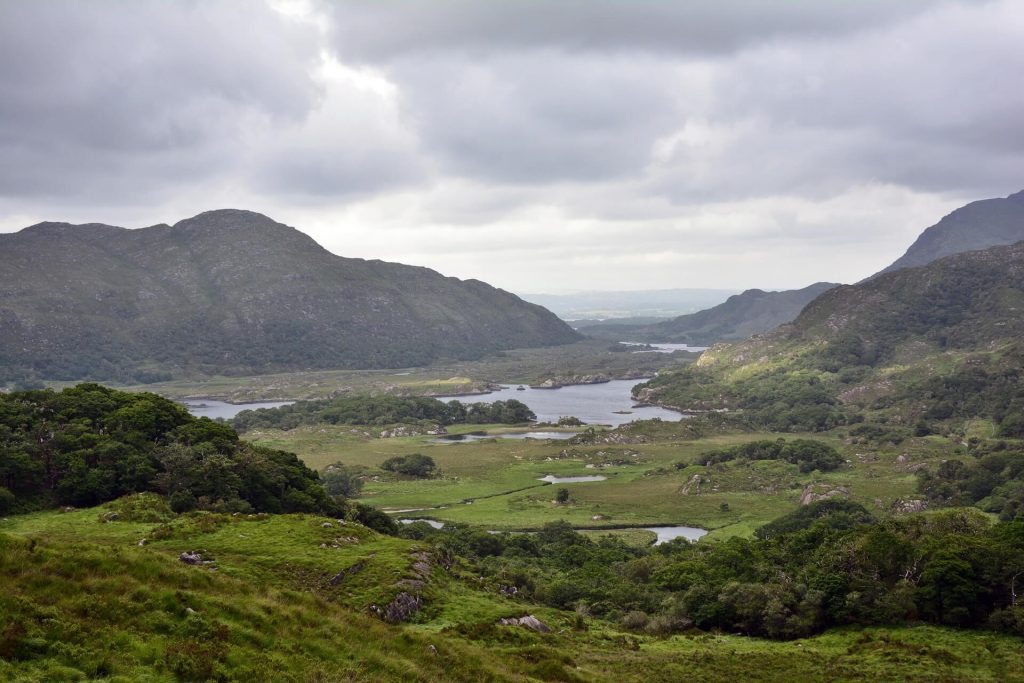 Explore The Natural Wonders of Killarney National Park
How many towns do you know with a spectacular national park on their doorstep? Well, that's exactly what Killarney has!
Killarney National Park is packed full of incredible sites and experiences. Trust us when we say this idyllic place is huge — 10,236 hectares to be precise!
And within its boundaries, you can find ancient woodlands, majestic mountains, and the picturesque Killarney lakes — Muckross Lake, Lough Leane, and Upper Lake.
Simply heading out into the park and soaking in the atmosphere is one of the best free things to do in Killarney. However, we recommend hiring a bicycle from one of the rental shops in town and riding around the tracks.
Cycling in Killarney National Park is one of our 5 adventures in Ireland that will change your life!
When entering the park at Ross Castle, you can cycle along a trail that takes in the lakes before heading on toward Muckross House and Gardens.
Find Tranquillity at Torc Waterfall
Located within Killarney National Park, Torc Waterfall is a scenic spot where you can stop for a moment and connect with nature. If driving, the waterfall is a short walk from the car park — 3 minutes at most.
Standing at 20m (66ft) high and 110m (360ft) long, Torc Waterfall is one of the most beautiful natural features in Ireland. Breathing in the fresh air while watching the water cascading down is always a rewarding experience.
For an even more dramatic sight, try to plan your visit the day after heavy rainfall.
But whatever the weather, Torc Waterfall is always on our list of 10 Irish attractions off the beaten path.
Visit the Picture-Perfect Ladies View
Another of Killarney National Park's popular attractions, Ladies View offers a landscape fit for a postcard. You can rest assured — the view here is grand!
Ladies View owes its name to Queen Victoria's ladies-in-waiting. They were so impressed with what they saw on a royal visit in 1861 that the place soon carried their name!
With central lakes framed on both sides by rising mountains, it's easy to see why Ladies View is so often ranked as one of Ireland's most-photographed spots.
Turn Visions of Ireland into a Reality at the Gap of Dunloe
Some places have a reputation for encapsulating a region's, or a country's, landscape. For many visitors to the Emerald Isle, the Gap of Dunloe is the perfect vision of rural Ireland.
The peaceful valley we know and love today was created by the glacial movement in the last ice age. This pass separates Purple Mountain in the western part of Killarney National Park from Macgillicuddy's Reeks.
With such an unforgettable scene, memories of the Gap of Dunloe last forever. With the same being true of Ladies View and Torc Waterfall, a trip that encompasses all three is one of the best things to do in Killarney for couples.
And if you want to extend the journey further, find out if you should take a road trip through Ireland.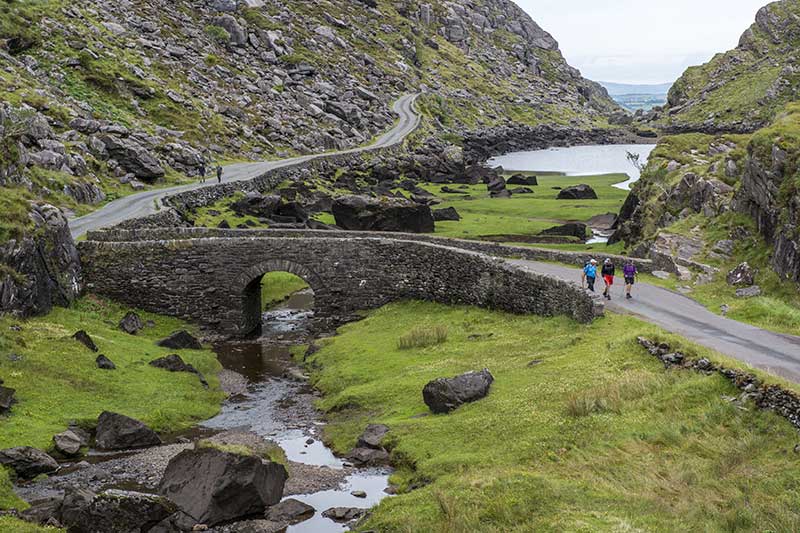 Find a Touch of Luxury at Muckross House and Gardens
Another of Killarney National Park's star attractions, Muckross House and Gardens is a luxurious Estate dating back to the 17th century.
Wealthy Welshman Henry Arthur Herbert built the impressive Muckross House as a family home. Construction finished here in 1843. Extensive landscaping work followed in anticipation of a visit from Queen Victoria in 1861.
After changing hands multiple times, the estate was gifted to the Irish State in 1932. Later, in 1964, Muckross Estate was granted the status of Ireland's first national park and went on to become what we now know as Killarney National Park.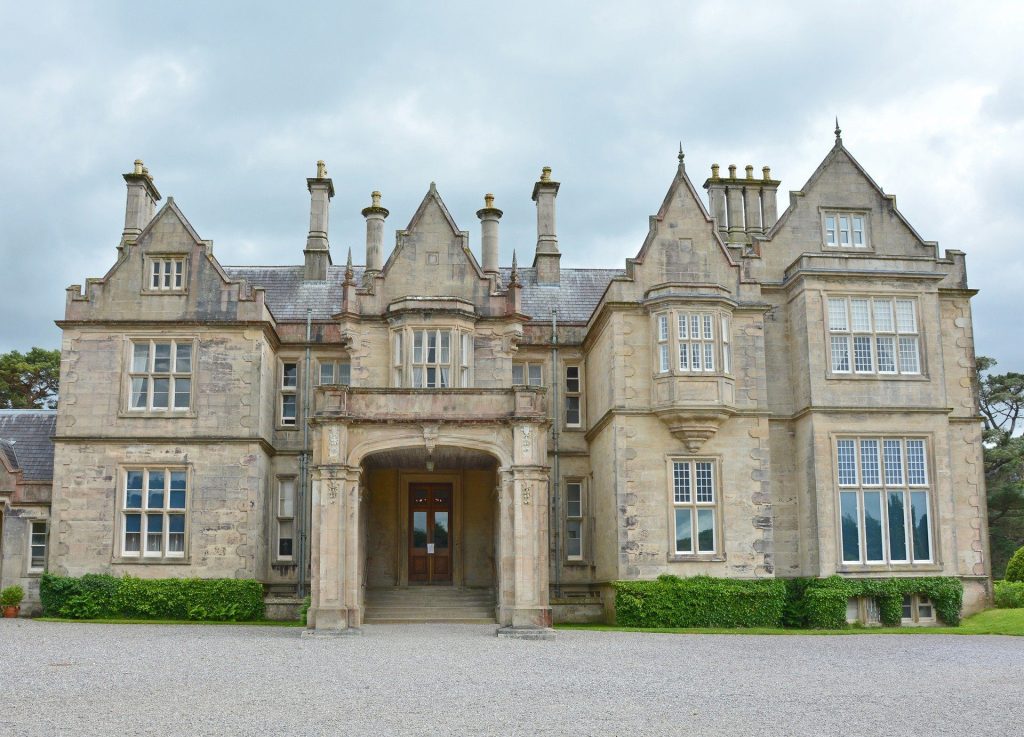 Stop for Tea or Coffee at Dinis Cottage…
Across Muckross Lake from Muckross House is another property built by the Herbert family. However, Dinis Cottage on Dinis Island is far more modest in size!
Described at different times as a woodcutter's hut and hunting lodge, today it's a tea room and coffee shop with wonderful views across the lake.
If you're looking at what to do in Killarney for families, there aren't many better options than a walk around the lakes with a stop for refreshments at Dinis Cottage.
…And Carry on to the Meeting of the Waters
As the name suggests, the Meeting of the Waters is where Killarney's three lakes converge. For the rarity of this occurrence alone, you can consider this one of the most unusual things to do in Killarney.
Only reachable by foot or bicycle, this spot is a wonderful natural haven and one of the area's hidden gems.
A short walk from Dinis Cottage, and with the photogenic Old Weir Bridge to see, this is yet another pocket of Killarney where you can feel closer to nature.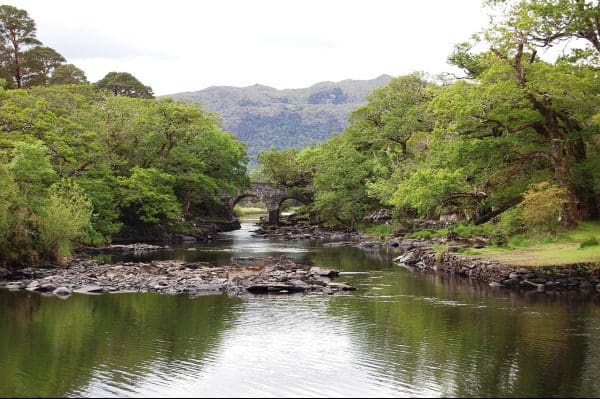 Step Back in Time at Muckross Abbey
Despite not having a roof, this 14th-century abbey is surprisingly well preserved. While famous for its Franciscan tower, many visitors come for the dramatic site of a Yew tree growing within the abbey walls.
The abbey, previously known as the Franciscan Friary of Irrelagh, was abandoned in 1652 during the Cromwellian campaigns and hasn't been occupied since.
Discover Even More History at Ross Castle
This tower fortress looming over Lough Leane dates back to the 15th century. The castle's structure consists of a main tower house surrounded by external walls, within which you can find more towers.
An old prophecy claimed the castle would only ever fall to an attack from the water. Cromwell's General Ludlow took advantage of this in 1652 by launching a large boat in the Lower Lake.
Upon seeing this, the castle's defenders immediately surrendered, assuming the prophecy was fulfilled!
Learn more about Irish castles with our tourist's guide to Ireland's best castles.
Enjoy a Night in the Town in Killarney!
The town of Killarney is a hive of activity, especially at weekends! The fact that it's a popular destination for hen nights and stag dos shows just how many spots there are in town for a great time.
If you're looking for an authentic Irish experience, complete with traditional music and some craic in a lively pub, you'll find it here.
Simply hitting the town and going with the flow is one of the best things to do in Killarney at night.
Our own 7-day Ireland to Island Tour spends two nights in Killarney, giving you plenty of time to get to know this warm, welcoming town better.
Explore the Best of Killarney and Ireland with Our Tours!
We hope this blog has inspired you to visit Killarney, County Kerry, and the rest of Ireland! Remember, you can browse our full range of tours in Ireland and find the perfect itinerary for you. And if you'd like a more personalized experience, consider our private guided tours of Ireland instead.
And with Ireland self-drive tours and tailor-made tours in Ireland designed around your interests, there's no travel preference or expectation we can't cater to.
To take the first step toward your dream holiday in Ireland, please contact us. The team at Overland Ireland is here to help you in every possible way.