Here at Overland Ireland, we try our best to ensure all our guests on tour have an unforgettable time in Ireland. We love our Emerald Isle and we know you will too — so long as you know where all the best stuff is! That's where we come in.
We've recently written guides to 10 Irish Attractions off the Beaten Path and an Irish Adventure Bucket List. We realised that Killarney featured on both these guides and decided to create a guide that focuses purely on Killarney. If anything in this guide inspires you to travel with Overland Ireland, take a look at our small group tours of Ireland, private tours of Ireland and our self-drive tours of Ireland.
An Introduction to Killarney
Killarney is a town in the southwest of Ireland that is known for its idyllic architecture and friendly locals. While the town is worth visiting in its own right, it is Killarney National Park that most people usually mean when they refer to "Killarney".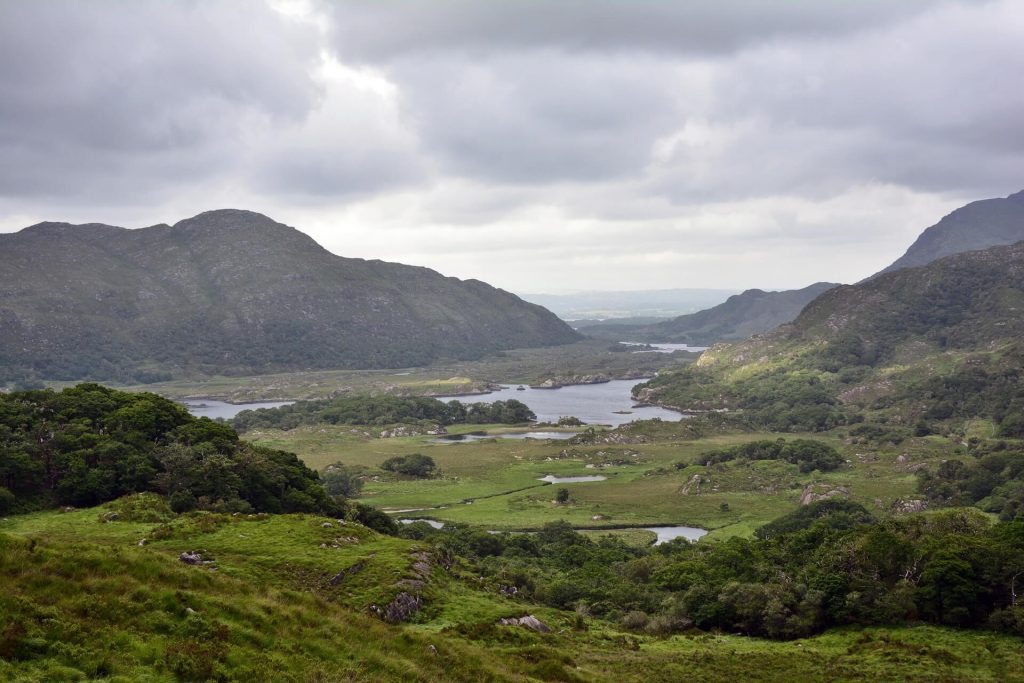 The town of the same name is technically in Killarney National Park, and people often simply refer to the entire area as "Killarney". Now, let's discuss why you shouldn't really bother going to Killarney…
Why Should you Avoid Visiting Killarney?
You absolutely shouldn't visit Killarney if you don't like gorgeous Irish countryside with grass, mountains, and lakes as far as the eye can see.
You might want to give Killarney a miss if you're not interested in seeing (or climbing) the tallest mountain in Ireland. And you definitely should avoid visiting Killarney if you don't care for cycling, horse riding, and kayaking out in some of Ireland's most beautiful environments.
Okay, we might have failed to make a good case for why you should avoid Killarney… So we'll take the opposite tack and tell you five things we love about it!
1) Killarney is Home to Carrauntoohil – Ireland's Tallest Mountain
Ireland never stays flat for very long… With hills and crags and mountains decorating this ancient land, you'll never have to look far for your next climb. But all climbs pale in comparison to Carrauntoohil, the tallest mountain in Ireland.
Standing at 1,038 metres high, Carrauntoohil is no Everest, but it is a challenging enough hike for most people. The ascent is rewarding enough, but the views from the top, looking over Killarney and the Macgillycuddy's Reeks range are absolutely stunning.
2) Ross Castle – One of Ireland's Most Picturesque Castles
Another reason to love Killarney is Ross Castle. This impressive structure is one of 30,000 castles in Ireland, but it stands out against even the biggest and best of them.
Built in the 15th century by the O'Donoghues Mór, it was quickly given to the MacCarthy Mór in the 1580s.
Ross Castle has too many stories and accolades to cover here, but it's worth noting that it was one of the last strongholds in Ireland to surrender to Oliver Cromwell's Roundheads in the Irish Confederate Wars. But even if you're not particularly interested in its history, there's no denying that Ross Castle looks like it has come straight out of a fairytale!
3) Kayak the Lakes of Killarney
There are three lakes in Killarney: Upper Lake, Muckross Lake (Middle Lake), and Lough Leane (Lower Lake). These lakes are tranquil and picturesque — perfect for a spot of kayaking. In fact, Killarney's lakes are arguably the kayaking capital of Ireland.
There's nothing like getting out on the water and exploring at your own pace. If this sounds like fun to you, make sure you add it to your itinerary. If you'd like us to plan it for you, consider Overland's tailor-made tours of Ireland. We can create your dream Ireland trip, using local knowledge and passion, saving you the stresses of working out distances, interest points, and other travel logistics.
4) The Gap of Dunloe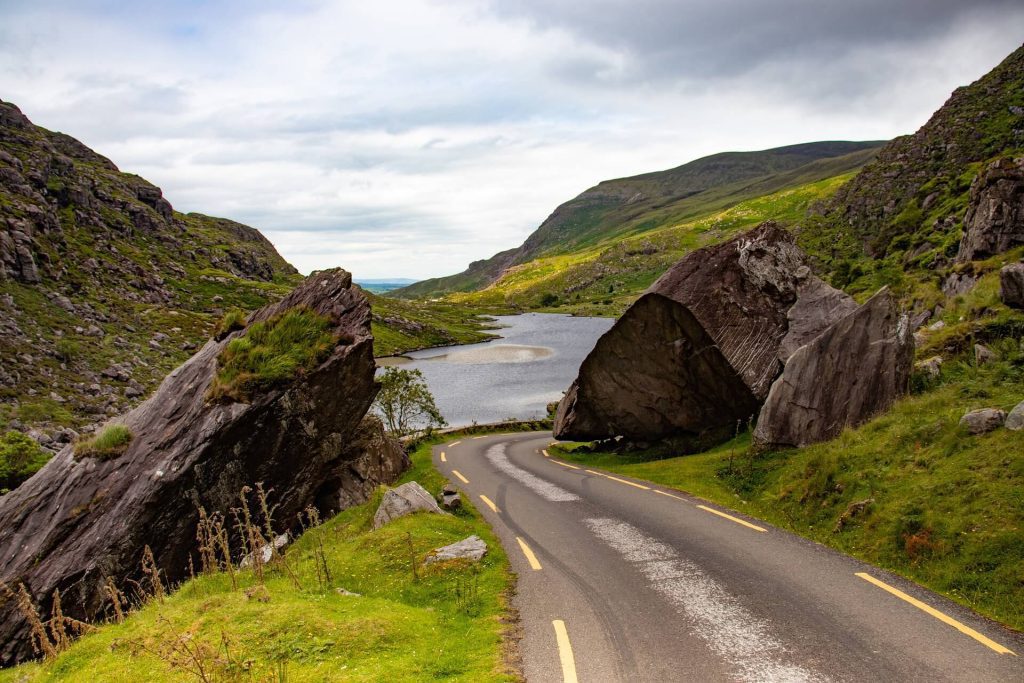 The Gap of Dunloe more than deserves the penultimate spot on this list. It is a narrow mountain pass ornamented with huge boulders cut from the earth by glaciers.
The Gap of Dunloe has a strange, almost otherworldly feel to it. Its pathways make it easy to explore, whether you choose to do it by foot or by bike. Some even opt to travel the gap by horse and carriage — it is called "jaunting" and you are sure to enjoy stories and tall tales from the local guide.
The views throughout the Gap of Dunloe are breathtaking, with valleys, lakes, and woodland to break up the rocky features that make it so unique. This is why we recommend hiking over the other modes of transport, as this way you have more time to appreciate the scenery.
5) Cycle Killarney National Park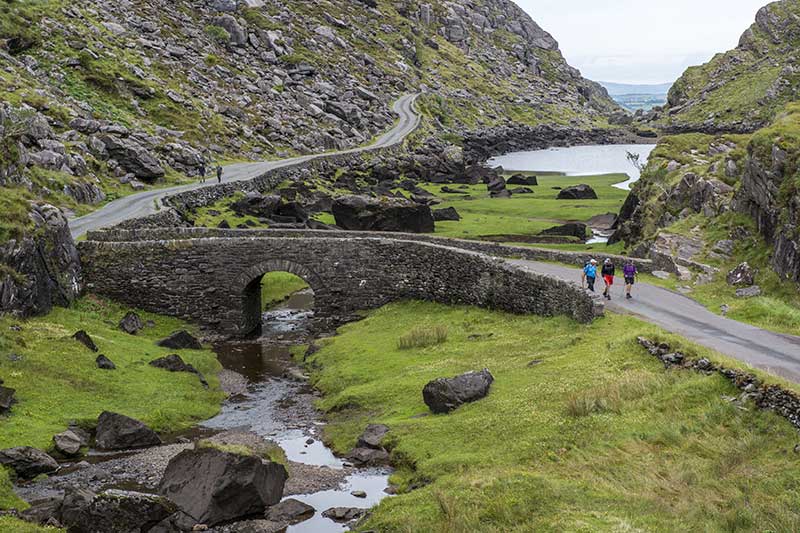 One of the best things about visiting Killarney National Park is that much of it can be cycled, thanks to the many walking paths and trails. This isn't smooth sailing on a road bike, but it makes for relatively straightforward mountain biking (most of the time).
To be honest, you can make your Killarney cycle as serene or as challenging as you like as you can choose to climb one of the many hills and mountains or you can keep to the lower routes. Whatever you do, we recommend travelling with our Overland Ireland local guides as they know all of the best spots and can keep you safe throughout.
There are many more reasons to visit this beautiful part of Ireland, and we're confident that our roster of five adventures in Killarney will not disappoint. If anything we've written here has inspired you to travel to Killarney with us, please feel free to get in touch. We're always happy to hear from a new adventurer!
Planning on visiting Ireland soon? Get our free guides! We answer your Ireland Travel FAQs + offer local tips for visiting Dublin.
---