Travel Tips for Your Ireland Adventure Tour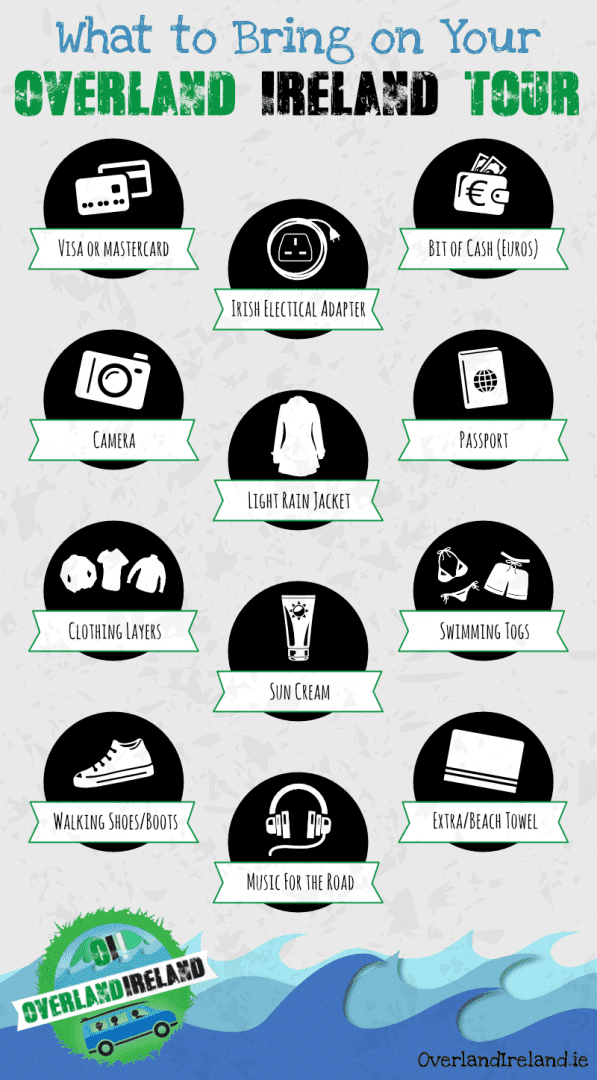 1. Ireland is known to experience all 4 seasons in one day. Bring plenty of layers and don't forget your raincoat.
2. Irish Slang – Beware of Irish slang. You might misinterpret some sayings in Ireland. 'Having the craic' does not mean substance abuse it just means having fun. 'Getting the shift' does not mean being moved from one location to another. It means having a cheeky kiss with a lovely Irish person.
3. Tipping – We do not tip everyone in the service industry. Tips are expected in restaurants between 10-15%.
4. Passports – Send a scanned copy or photo of your passport to yourself just in case you lose it along the way. This is often enough to get you home after your Ireland adventure tour. Leave copies of your insurance details, credit card numbers with someone at home.
5. Adaptors – You will need an adaptor for your phone, camera, laptop etc. You might also like to bring a car adaptor so you can charge your phone along the way.
6. Don't forget to take out travel insurance.
7. Pack an extra set of clothes in your carry on luggage. If your baggage is misplaced you may not get it back for 24 hours.
8. Bring a small back pack with you for all activities. Some adventures are challenging and you will appreciate having a bottle of water and a packet of sweets to hand.
9. If you don't want to stick out as a tourist DO NOT wear an Aran Jumper!
10. Have an open mind wherever you go in Ireland. Talk to locals. You never know where the wind will take you on your adventure!
We fully understand that planning your Ireland Adventure tour can be difficult and we hope that the above answers some of your questions. However, if you still queries, just give our team a shout as we are there to help you.
Planning on visiting Ireland soon? Get our free guides! We answer your Ireland Travel FAQs + offer local tips for visiting Dublin.
---