With its ruggedly beautiful landscapes, outdoor activities are easy to find here in Ireland — and Croagh Patrick is among the most unique of all.
This famous mountain in County Mayo combines breathtaking views, Irish history, and connections to spirituality.
In fact, it's fair to say that Croagh Patrick is Ireland's holiest mountain.
Both our Great Atlantic Adventure in Ireland and Wild Atlantic Wanderer Self-Driving Tour of Ireland include visits to this revered peak.
As such, we're perfectly placed to provide this guide to hiking Ireland's Croagh Patrick!
So, put on your hiking boots and let's prepare for a truly authentic Irish experience.
And if you have any questions for our team in the meantime, please don't hesitate to contact us.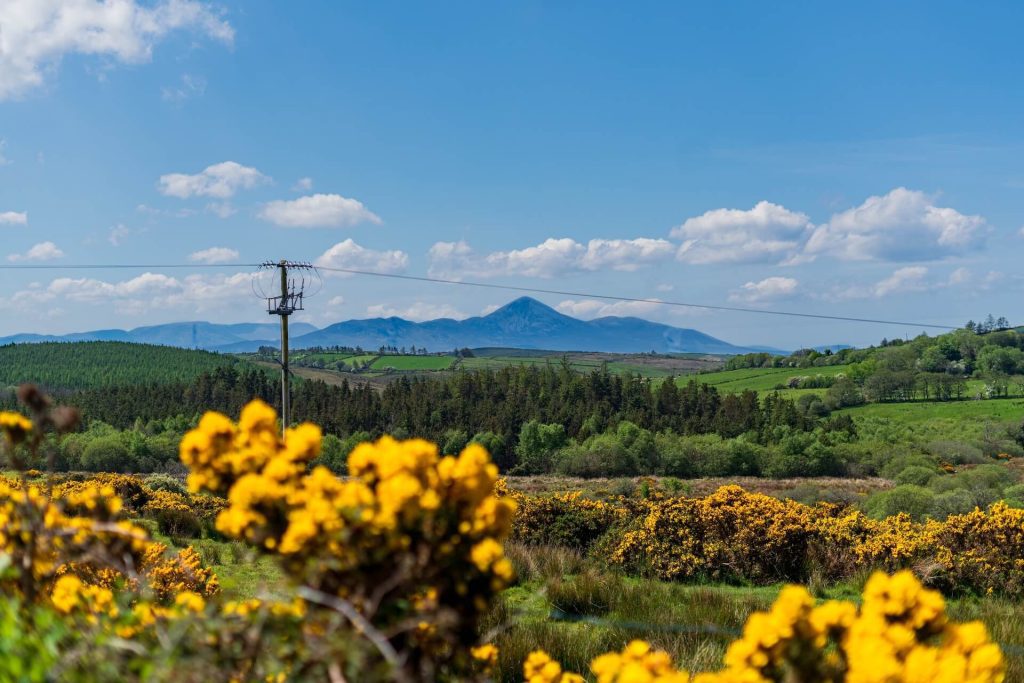 What is Croagh Patrick and Where is It?
Croagh Patrick, fondly known as "The Reek" in local lingo, is a striking pilgrimage mountain located in County Mayo on the west coast of Ireland.
Standing at 764 meters (2,507 feet), this sacred peak is an integral part of Irish culture and history.
It holds immense spiritual significance as it is believed that St Patrick, the patron saint of Ireland, fasted for 40 days and nights atop this mountain in the fifth century.
Following St Patrick's footsteps through Ireland is a popular way to explore the Emerald Isle, especially if spirituality is important to you.
The mountain itself is a visually stunning sight, with its conical shape rising dramatically from the surrounding landscape.
On a clear day, the panoramic views from the summit stretch across the wild Atlantic coastline, offering hikers an awe-inspiring experience.
Hiking on Reek Sunday is the Ultimate Croagh Patrick Experience
Every year on the last Sunday in July, thousands of pilgrims from Ireland and beyond embark on a spiritual climb of Croagh Patrick to honour St Patrick.
This age-old tradition dates back over 1,500 years, making it one of the oldest Christian pilgrimages in the world.
On Reek Sunday, also known as Garland Sunday, you'll find the trail buzzing with pilgrims, some of whom climb the mountain barefoot as an act of penance.
The festive atmosphere, shared stories, and sense of community make this a truly unique and enriching experience.
If you prefer a quieter hike, you might want to plan your visit on a different day. But joining the Reek Sunday pilgrimage at least once is something you'll never forget.
Are you planning to visit Ireland for St Patrick's Day rather than Reek Sunday?
Read our previous guide St Patrick's Day in Ireland: All You Need to Know to make sure you don't miss any essential information.
Can You Hike Croagh Patrick at Any Time of Year?
Yes, you can hike Croagh Patrick year-round. But keep in mind that weather conditions in Ireland are unpredictable.
Spring and summer (April to September) are generally the most popular months for hiking due to warmer temperatures and longer daylight hours.
These months offer better chances of clear skies and stunning views from the summit.
During autumn and winter (October to March), the weather can be harsher, with rain, wind, and occasionally snow.
While some seasoned hikers might enjoy the challenge, we recommend that those with less experience and first-time visitors opt for a summer hike.
Not only is it safer, but it's also a more pleasant and memorable experience.
Are you drawn to the sense of independence that comes with our Ireland self-drive tours?
Check out our tips for the must-sees on a road trip in Ireland and start planning your journey on the open road.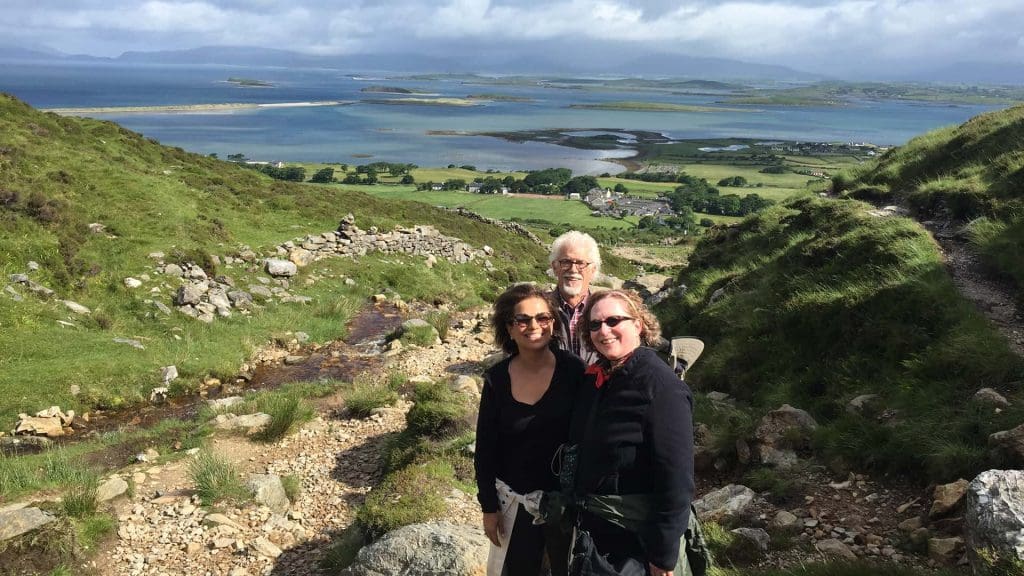 How Difficult is the Croagh Patrick Hike? How Long Does it Take?
Hiking Croagh Patrick is a moderate to challenging endeavour, so a reasonable level of fitness and hiking experience is recommended.
The main trail, known as the "Pilgrim Path," is the most popular route to the summit. It begins at the Croagh Patrick Visitor Centre in Murrisk, which is about 8 kilometres (5 miles) west of Westport.
The round-trip hike typically takes around 4 to 5 hours for experienced hikers, but it can vary depending on your pace, weather conditions, and the crowds on the trail.
The path itself is well-marked but can be rocky and steep in places, so we always advise wearing sturdy hiking boots. Some may also feel more comfortable with trekking poles.
For those seeking an even greater challenge, there are alternative routes up and down the mountain, each with its own unique charms and difficulties.
If you like to travel on the wild side, we think you'll love our recommendations for the five best wild places in Ireland.
What Should You Take to Hike Croagh Patrick?
Proper preparation is essential for a successful and enjoyable hike up Croagh Patrick. Here's a list of items you should consider bringing:
Sturdy Footwear: Invest in good-quality, ankle-supporting hiking boots to navigate the rocky terrain safely.
Clothing: Dress in layers and wear moisture-wicking materials to stay comfortable throughout the hike. Don't forget a waterproof jacket, as the weather can change unexpectedly.
Food and Water: Pack enough snacks and water to keep you energized and hydrated during the hike.
Backpack: A comfortable backpack to carry your essentials is a must. Consider bringing a first-aid kit for emergencies.
Sun Protection: Even on cloudy days, UV rays can be strong. Wear sunscreen, a hat, and sunglasses to protect yourself.
Cash: There's a tradition of making a small donation at the chapel on the summit. Cash will come in handy if you'd like to participate.
It's almost certainly a given, but bring your phone on the hike too!
As for facilities, the visitor centre at the base of the mountain is a great place to learn more about Croagh Patrick's history and significance.
You'll also find public restrooms and a café for refreshments before or after your hike.
Remember, safety is paramount, so always check the weather forecast before heading out and inform someone about your hiking plans.
Met Éireann (the Irish Meteorological Service) is a reliable source of information
If the weather takes a turn for the worse during your hike, it's better to turn back and try again another day.
Are you planning numerous hikes during your time in Ireland? Our previous guide What to Look for in a Hiking and Trekking Tour in Ireland is filled with useful information.
Find Your Perfect Irish Experience with Our Tours of Ireland
We hope this guide to hiking Ireland's Croagh Patrick has inspired you to make your own pilgrimage!
To continue planning your holiday in the Emerald Isle, check out our full range of small-group Ireland tours.
Or for a more independent road trip, browse our Ireland self-drive tours.
And if you need more information about anything you see, we're here to help! Just get in touch with any questions you have.