Are you looking to get off the beaten path in Ireland? Heading to lesser-known attractions often leads to more memorable and unique experiences.
Of course, there's always a time and a place for iconic sights. They're incredibly popular for a reason!
But balancing them out with non-touristy experiences helps to create a trip with a more authentic Irish feel.
Our own tours in Ireland venture to every corner of the Emerald Isle. Below, we've listed some of our favourite hidden gems in Ireland that typically draw in fewer tourist crowds.
For more information about any of our Ireland tours, please feel free to get in touch.
See the Dinosaur Footprints on Valentia Island
Beautiful County Kerry offers visitors some of the most unique experiences in Ireland. You can find many of these on the famous Ring of Kerry driving route.
Valentia Island sits off the coast of the Iveragh Peninsula, on the western edge of the Ring of Kerry.
One of the main attractions of the island itself is the tetrapod tracks fossilised in rock on the northern shore.
These dinosaur footprints are an incredible 350 million to 370 million years old!
What's more, they represent a pivotal moment in the history of the world — when an ocean-dwelling animal emerged from the water and crawled onto the land.
There are only three other known locations in the world with water-to-land tracks like this.
Ireland is rich in wild and rugged locations like this. If you'd like to discover more of them, check out our tips for the 5 best wild places in Ireland.
Stop at Sneem or Kenmare when Driving the Ring of Kerry
If you decide to tackle the Ring of Kerry, you will need to make several stops, be it for sightseeing, experiences, or to have a meal.
Both Kenmare and Sneem are excellent options for stops on a Ring of Kerry road trip.
Neither is a big enough pull for a full-day excursion, but they're perfect for getting an insight into the relaxed way of life in this part of Ireland.
There aren't many better places to pull up a chair and take your time over a delicious lunch and much-needed coffee.
If you're travelling between June and September, you can also find a farmers' market in Sneem every Tuesday.
Experiencing locals' favourite activities in Ireland like this is the perfect way to create a deeper, more meaningful connection with the places you visit.
Read our Ultimate Guide to the Ring Kerry to learn more about this renowned drive.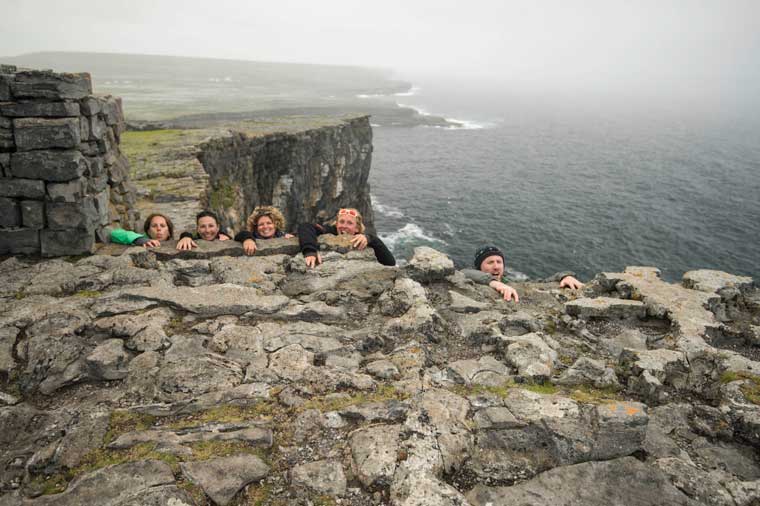 Take the Ferry to the Aran Islands
Isolated, picturesque, rugged, and steeped in history, the Aran Islands are one of the most underrated destinations in Ireland.
Located at the mouth of Galway Bay, and exposed to the open expanse of the North Atlantic Ocean, the Aran Islands have their own unique atmosphere.
Indeed, the Gaelic language is alive and well here. And some of the best ways to get around are on foot, by bike or by traditional jaunting cars (horse and buggy).
On the largest of the Aran Islands, Inis Mór, you can visit the spectacular ruins of Dún Aonghasa, another of Ireland's lesser-known attractions.
This Iron Age fortress radiates history. But its location is equally as impressive. It stands atop a cliff directly above a 300-foot drop down into the open sea.
Explore the Beautiful Scenery in Connemara National Park
One of Ireland's six national parks, the majority of the land in Connemara National Park was previously part of the Kylemore Abbey estate.
At over 3,000 hectares in size, and comprised of grasslands, heaths, bogs, woods, and mountains, Connemara is a must for nature lovers.
You can also find many beautiful native species here, such as peacock butterflies, wild ponies, and red deer.
And if you're a history buff too, there are signs of human settlements scattered across the park, including a 19th-century graveyard and a 4,000-year-old megalithic court.
The Twelve Bens mountain range provides the distinctive character that defines the striking landscape here.
There are ample challenges for dedicated walkers in the Twelve Bens, but you can also find easier trails on nearby Diamond Hill.
Are you planning to take your Irish adventure along the north coast? Our Guide to Ireland's Northern Coast is packed with inspiration and useful information!
Admire the Slieve League (Sliabh Liag) Cliffs
While this isn't exactly one of Ireland's secret spots, the Slieve League cliffs are often compared to their more famous counterpart in County Clare — the Cliffs of Moher.
Not only are the Slieve League cliffs the older and more rugged of the two locations, but they also have the distinction of being the highest accessible cliffs in Europe!
They stand at an incredible 601 metres high, making them three times as tall as the Cliffs of Moher.
There's no visitor centre here, nor are there fences or tour guides. The Slieve League cliffs truly are a worthy addition to any non-touristy Ireland itinerary.
A short trip from Donegal, the awe-inspiring views of the wild cliffs meeting the power of the Atlantic Ocean are well worth the effort.
Remember to include some famous attractions and locations in your holiday too!
Read our previous guide What are the Top 5 Places to Visit in Ireland? for our recommendations.
Explore Ireland Beyond the Tourist Hotspots with Our Tours!
The above only scratches the surface of the many unique, off-the-beaten-path, and unusual things to do in Ireland.
With our pre-planned Ireland tours and tailor-made tours of Ireland, we can help bring your dreams of the Emerald Isle to life.
To take the first step toward an adventure with Overland Ireland, please don't hesitate to contact us.