So you think you are Irish? Then why not visit Ireland and walk the path of your ancestors? Small group tours Ireland can help you on your journey.
'Almost 5 million people live in Ireland but 70 million call it home.'
#IrelandInspires
Since the beginning of time Irish men and women have been adventuring and settling in foreign lands. We have made roots the world over, but we have never forgotten where we came from…. The beautiful Emerald Isle!
Have you Irish blood? Have you ever dreamed of taking a trip to the land of green fields, leprechauns, Celtic fairies and folklore, St Patrick, Guinness and The Blarney Stone?
Whether you are from a long line of O' Brien's from County Clare or Murphy's from County Kerry you should put a trip to your ancestral motherland on the top of your bucket list. Small group tours Ireland will make sure this happens.
Overland Ireland's guides get really excited about taking you on tours around Ireland to find the birthplace of your great great grandparents. They delight in telling you some of the history of your ancestor's fatherland. If you have done your research beforehand they may be able to point out the family home on your small group tour of Ireland! You wouldn't be the first person on tour and definitely wont be the last.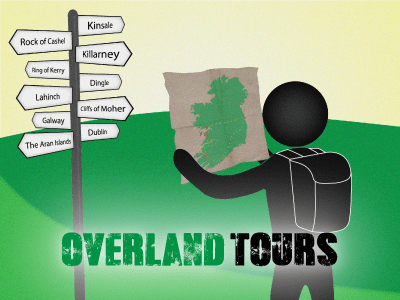 Before booking a trip with us why not do your homework and find out as much as possible about your ancestors. We have listed a couple of sites that might make your search easier. If you have any questions please give us a call on +353 91 376482 or send us an email [email protected].
http://www.nationalarchives.ie
https://www.irishgenealogy.ie/en/
We would love to help. If you are in Dublin before your adventure tour of Ireland starts you can go into the National Archives and have a look through the records yourself.
Planning on visiting Ireland soon? Get our free guides! We answer your Ireland Travel FAQs + offer local tips for visiting Dublin.
---