If you're reading this guide, it's very likely that you're planning a trip to Ireland — so congratulations are very much in order.
Here at Overland Ireland, we want lots of people to come with us on our small group tours of Ireland, but we also know that there are many different ways to enjoy our ancient island and we want to do justice to that variety here. All of our guests benefit from our expert knowledge, and we decided it might be helpful to extend this knowledge further by offering advice to anyone planning an Ireland vacation.
We will discuss a range of different topics in this guide, with the intention to write further follow-up guides and blogs that focus on more specific Ireland tourism questions. If one of the in-depth blogs isn't written when you read this guide, come back next week or next month and it probably will be!
Ireland vacation topics included in this blog:
Combination Ireland vacation – City and bus tour
Unmissable attractions in Ireland
Quickfire tips for visiting Ireland
Small group tours of Ireland
Pros:
No planning or logistics, saving a lot of time
Fit a comprehensive Irish experience into a shorter time frame
See hidden Irish gems you can't find on your own
Benefit from local Irish guides and their extensive knowledge (and personality)
No need to drive yourself
Enjoy a dynamic mixture of cultural, historical, and adventure activities (optional)
Cons:
Less freedom as there's a set itinerary for each tour
A little more expensive than doing it yourself
First off, we'd like to cover one of the Ireland vacation types we offer: the fully guided and curated small group tours of Ireland. These kinds of tours are perfect for anyone planning a trip to Ireland who hates planning and logistics, as they take almost all of the responsibility out of your hands.
Small group tours are the perfect way to visit Ireland as they are a closer, more intimate way to negotiate Ireland's roads and attractions, and only sharing your guide with a smaller number of guests means that you have more opportunities to ask questions.
And you can take this intimate side of travel further by opting for one of our Ireland private guided tours which are exclusive to your group and can be tweaked to suit your needs and interests.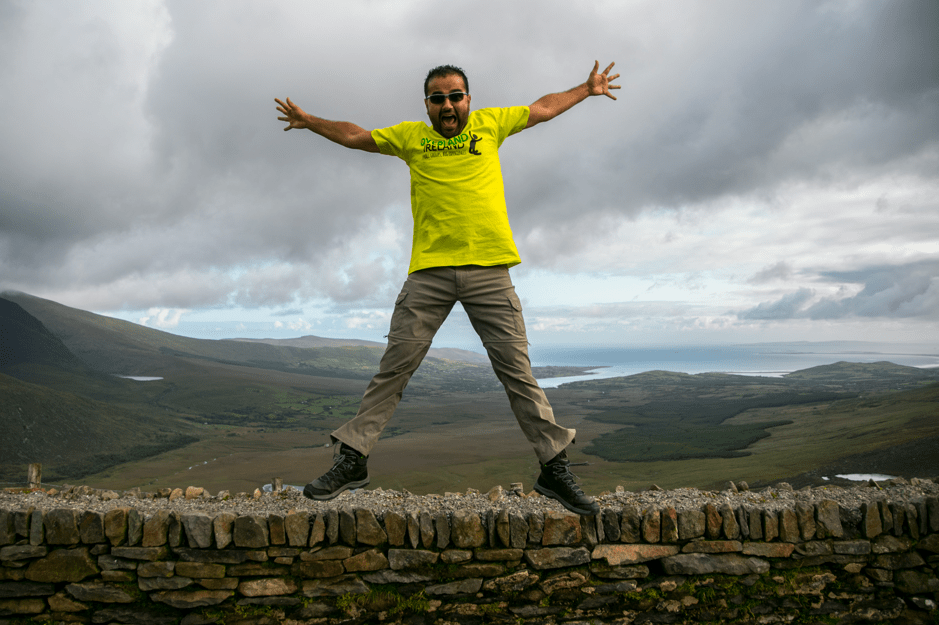 If you look through our range of tours (linked above), you'll see a mixture of relaxed tours and more energetic adventure tours.
There is obviously nuance between all of our small group tours, as no two itineraries are the same, but we felt that all our guests seemed to be looking for culture and history when they come to Ireland — the only difference was that some people also wanted to surf, climb, cycle, etc.
We could write dozens of blogs talking about our different small group tours, trying to do justice to them, but you might as well read about some of them directly:
Self-drive Ireland road trip
Pros:
Complete freedom to go where you want
Opportunity to change your plan on the fly
You can boast that you created your own Irish road trip
Possible to travel to Ireland on a small(ish) budget, but you have to know what you're doing
Take advantage of local tour guide knowledge but travel at your own pace
Cons:
Driving on the left side of the road, on Ireland's much smaller roads, is quite tough for some people
If you plan it yourself (as opposed to paying for a self-drive tour) the time it takes to research the trip is extensive
For many, our small group tours of Ireland are the perfect way to see as much of Ireland as possible and to ensure their trip goes off without a hitch. But some people love the idea and the freedom and privacy of their own self-drive Ireland road trip that has been planned by us (or another tour company).
Overland Ireland developed our Self-drive Tours of Ireland to meet a new need from travellers after the COVID-19 pandemic who wanted all of the benefits of touring Ireland with our local experts, only without having to spend days travelling in a mini-van with other travellers. We created detailed itineraries with all of our guests' tickets and necessary documents, as well as step-by-step guides delivered on our Paddy The Pocket Pilot app.
Self-drive tours through Ireland are popular with a lot of people confident enough to drive on Ireland's roads. This is the best option for those who want to explore our beautiful ancient land at their own pace.
One advantage North American visitors have over Europeans is that they are often used to driving huge distances each day, so they can cover quite a lot of our charming little island over the course of a week or two. To put it into perspective: the entirety of Ireland is about the size of the State of Indiana! Visitors from the UK are also usually very comfortable driving on the left side of the road.
It is highly recommended that anyone planning to self-drive through Ireland travels with a driving companion. This way, you can share the driving, giving each other a chance to look out of the window at the stunning Irish countryside. So much of Ireland's beauty can be found while on the road, so it's a shame if one person does all of the driving and doesn't have as much time to gaze out the window.
It's a good idea to look through our itineraries ahead of time so that you're sure where you're going at each step of the journey. That said, if you're confused about anything, we are always ready and waiting on the other end of the phone line.
For people planning a self-drive Ireland trip themselves, the additional research will involve working out some of the less-travelled paths so that you're not just visiting all top sights. If a self-drive trip to Ireland is more interesting to you than one of Overland Ireland's tours, you may like to read our How to tour Ireland on a budget blog.
Combination Ireland vacation – City and bus tour
Pros:
Perfect for anyone only visiting Ireland for a few days
You don't need a car!
Can be cheaper if you shop around for the best tours and excursions
Better for people who like to relax and not prioritise tours and attractions
Cons:
Worries and complications relating to COVID-19
Less freedom than a self-drive tour of Ireland
See far less of Ireland than on a dedicated small-group tour
This kind of Ireland vacation sits somewhere between our small group tours and a self-drive Ireland tour. Rather than driving around Ireland yourself, you spend some time in our big cities — Dublin, Belfast, Galway, Derry, etc. — and some time on larger bus tours with other tourists. Usually, these large bus tours are single-day excursions, so you can expect to travel out from Dublin in a coach in the morning and to get back to Dublin by early evening. This option lacks the freedom of driving yourself, but it also takes away the stresses of organising and researching the journey yourself, making it perfect for people who are only staying in Ireland for a few days. This option is also a great alternative way to travel around Ireland if you don't have a car or don't want to drive.
What time of year should you visit Ireland?
This is a common question. The obvious answer is the summertime as Ireland usually has lovely summers. However, due to the Gulf Stream, Ireland's weather is fairly mild, so a winter trip is probably significantly less cold than other countries on the same northern latitude.
Overland tip: Even though it's the same every year, it always surprises us how calm June is in Ireland. The weather is lovely and it should be incredibly busy, but it rarely is. If you're looking for the optimal month to visit Ireland, it has to be June.
The Irish summer is a beautiful thing. With an average temperature between 16 – 20°C (60 – 68°F), it's still relatively cool in comparison to much of mainland Europe, but you're probably not coming to Ireland for a sun tan… One thing many visitors do enjoy in the Irish summer, however, is the long days and short nights. In the height of summer, it only really starts to get dark at around 11 p.m.
Irish winter temperatures range between 4-6 °C (39 – 42°F), and while it occasionally drops below freezing, snow is uncommon.
You can't visit the likes of Skellig Michael in winter and you'll probably be a little too cold to enjoy the stunning views at the Cliffs of Moher or the Ring of Kerry, but the winter is the perfect time to sample Ireland's culture, to hide away in Dublin's cosy pubs and enjoy some of the finest live music in the world.
It's also a great time to visit the world-famous Guinness Storehouse (pictured above)
Spring and autumn temperatures are more than mild enough to visit most of Ireland's biggest attractions. The only big exception is Skellig Michael, as the waters are only calm enough to cross in summertime. For a more in-depth look, check out our dedicated blog about the best time of year to visit Ireland.
Unmissable attractions in Ireland
Lastly, we'd just like to list some of the biggest, most unmissable attractions you can look forward to on your Ireland tour. It's perhaps impossible to see everything in just one trip, but our Ultimate Ireland Tour comes pretty close! We hope this section of the guide can give some readers a checklist of incredible sights and attractions to see when they visit Ireland!
The Giant's Causeway
The Cliffs of Moher
The Ring of Kerry
Blarney Castle (and the Blarney Stone)
The Dark Hedges
Killarney National Park
Glendalough
The Guinness Storehouse Tour, Dublin
The Rock of Cashel
The Dingle Peninsula
Newgrange
A mural tour of Belfast
The Skellig Islands
Visit Bushmills Distillery, the oldest distillery in the world
The Arran Islands
Quickfire tips for visiting Ireland
The Irish currency is the Euro, while in Northern Ireland it's Pound Sterling
You can find ATMs in the towns and villages we visit, and it's always good to have some cash on you
Most eateries and pubs will accept credit cards, but if you have any doubts, always check!
Tipping is welcome! If you enjoy a meal with great service, it's typical to tip 10% of the bill
Ireland uses the three-pin plug, so you will need to buy an adapter to charge your devices
If you're driving yourself, remember we drive on the left-hand side of the road!
That's all we have time for today. We will continue to write more helpful Ireland travel guides and add in links to this resource as and when they're ready. If you have any Ireland tour questions for us, or if you'd specifically like to ask us about our small group tours, please don't hesitate to get in touch.
Planning on visiting Ireland soon? Get our free guides! We answer your Ireland Travel FAQs + offer local tips for visiting Dublin.
---