Ireland is home to thousands of castles and castle ruins. It can be difficult to know where to start. Castles range from fully operational hotels to crumbling ruins, but all have a story to tell, and you sometimes have to be in the right place at the right time to hear it.
At Overland Ireland, we specialise in small-group experiences tailored to your interests and fuelled by our passion and sense of adventure. In that spirit, we have shared our top ten castles here, with the aim to include something for everyone.
Make sure you check opening times, especially during winter months, and please feel free to get in touch if you have any questions about our small group tours of Ireland, Castle trivia or just for a chat.
1. Blarney Castle
This 600-year-old castle near Cork is most famous for the Blarney Stone — a large block of limestone built into the castle battlements. The stone has mysterious origins but has gained a reputation for magically endowing the "gift of blarney" to anyone who kisses it.
"Blarney" is a language that charms, influences, or persuades. The ritual of kissing the stone is not an easy one: participants must ascend to the top of the castle and then lean over backwards from the parapet. Famous people who have risked it include Winston Churchill, Stan Laurel, Mick Jagger, Katherine Jenkins, and James Nesbitt.
There may be some trickery afoot, however, as historians have suggested that the real Blarney stone is actually hidden elsewhere in the castle. Or is this, as the castle's owner Charles Colthurst says, "a load of blarney"?
Apart from the stone, there are lots to see at the castle. You can climb its winding staircases, stroll through the beautiful gardens and visit the ancient stone formations of Rock Close, said to be the dwelling of a witch. 
Blarney Castle is such a must-see that we have included it on our most popular tours, including our Ultimate Ireland Tour and our Magical Southern Ireland Tour. Join one of these tours to understand the histories and mysteries of this castle in its fascinating wider context.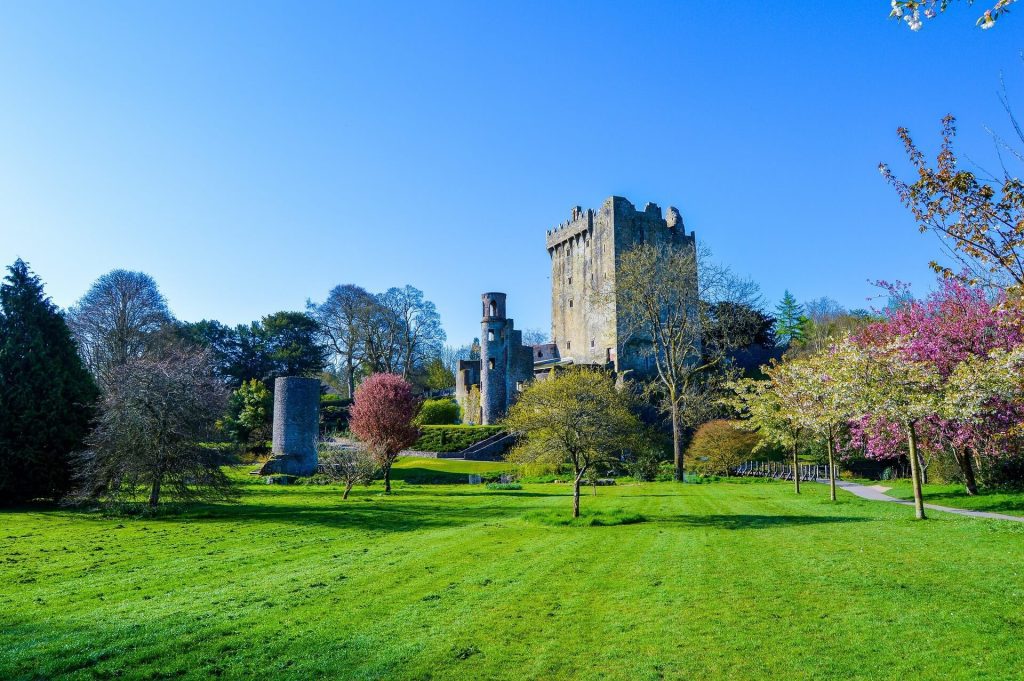 2. Bunratty Castle
County Clare's Bunratty Castle not only offers the most complete castle experience, with excellent tours, medieval banquets, and Céilís in the castle kitchen, but it is also the site of an absolutely magical folk park.
Featuring traditionally furnished houses, a Viking-themed playpark, and a magical fairy trail, the folk park is an immersive cultural experience for all ages. For this reason, we included it on our carefully curated 8-Day Ireland Tour, which creates the perfect balance of culture, magic and fun.
3. Dunguaire Castle
Further up the west coast in Kinvarra, Dunguaire was an important venue for the revival of Celtic storytelling traditions and was the meeting place of W.B. Yeats and George Bernard Shaw.
Only the grounds of Dunguaire Castle are open to the public, but, for a unique insider's perspective, you can book yourself into a magnificent medieval banquet. Our 7-Day Ireland Tour includes a stop at Dunguaire, and there is an excellent guided tour available.
4. Ashford Castle
Continuing up the west coast, you will find Ashford Castle, which is converted into a hotel so opulent it was reportedly chosen by Harry and Meghan for their honeymoon. The castle is only accessible for hotel guests but we had to mention it here, and we include a stay here on our Luxury 8-Day Ireland Tour.
Activities at Ashford include falconry, boat trips, archery, an award-winning spa and even a Lego butler for younger guests!
5. Ballynahinch Castle
Another of our hand-picked Castle stays is Ballynahinch Castle, set in the ruggedly beautiful Connemara landscape. This is our choice of accommodation for our 10-day self-drive Ireland tour.
Even if you choose not to stay, the restaurants offer food fit for royalty, perfect after a day exploring the surrounding Connemara National Park.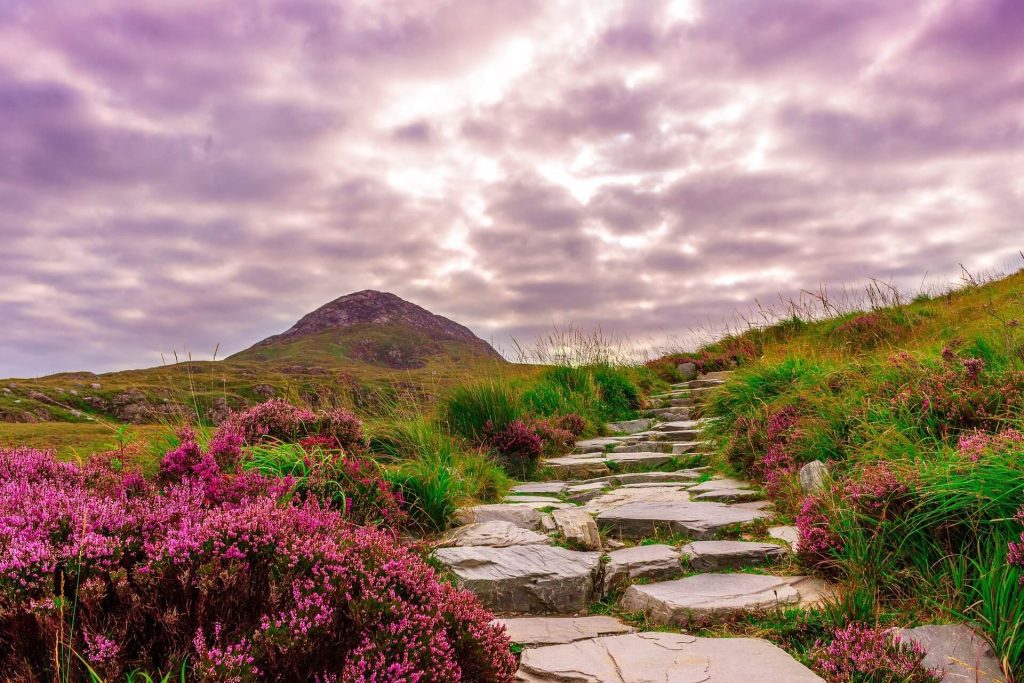 6. Kilkenny Castle
Kilkenny is a magnificent example of a medieval fortress with Norman and Gothic styles incorporated into the architecture. The rose gardens here are particularly special, offering a scented oasis in the heart of the city.
Kilkenny's Butler Gallery is a free art gallery and museum with an extensive permanent collection and vibrant exhibitions.
7. Ross Castle
County Kerry's Ross Castle has pride of place in several of our tours, and for good reason. The guided tours here provide a real glimpse into medieval life. Ross Castle is located on the shores of the breathtakingly beautiful Lough Leane and is surrounded by mountains.
Explore the lake by boat and learn about the area's flora, fauna, and folklore. But beware! Legend has it that the castle's founder keeps watch over his castle from the bottom of the lough and rises every seven years, accompanied by a group of ghostly musicians.
The date set for his return is 1st May. You have been warned.
8. Dunluce Castle
The ruins of Dunluce Castle are a not-to-be-missed feature of the Causeway Coastal Route. Abandoned since the 17th century, this 13th-century ruin is steeped in legend and mystique.
On a bright day, enjoy the stunning coastal scenery, but in the mists or at sunset, keep your ears peeled for the Banshee of Dunluce Castle, who is said to be responsible for the agonising cries emanating from the ruins.
While on the Causeway Coastal Route, Game of Thrones fans should ensure they pass between the beech trees on Bregagh Road — an atmospheric tunnel which was just waiting for its film opportunity.
9. Trim Castle
County Meath's 12th-century Trim Castle ruins are an astounding example of an Anglo-Norman fortification. Modern walkways allow visitors to get a sense of the size and thickness of the walls, made to imprison Kings and host parliaments.
Beyond the castle, the town of Trim also boasts many other medieval buildings, making it one of the best spots in Ireland for history enthusiasts.
10. Dublin Castle
To end on a contemporary note, Dublin Castle started life as a medieval fortress and now inaugurates Ireland's presidents. Visitors can tour the castle and its beautifully manicured gardens or attend one of the many vibrant cultural events held within its walls.
Dublin Castle is also home to the Chester Beatty Library, which houses a remarkable collection of rare books and manuscripts. Highlights include ancient Egyptian papyrus manuscripts, Japanese woodblocks, and several illuminated manuscripts, including the Qur'an, Bible, and Buddhist texts. 
As this guide shows, Ireland's castles provide a fantastically rich picture of culture and folklore. It must be said, this is just a small glimpse of Ireland's over three thousand castles, which means we've only covered 0.33% of our country's castles. Ireland really is amazing!