Traveling to Ireland in fall/autumn and trying to figure out what to pack for a trip to Ireland in September or October? This is the age-old big holiday dilemma: figuring out everything you need to pack. Don't worry, however, as Overland Ireland has you covered.  
Everyone that has ever gone on a holiday has had to put time and effort into planning what to pack, how much to bring, and how much room to leave for shopping – whether its gifts for loved ones or holiday gifts for yourself. You also need to think about varying luggage restrictions for all transport on your trip. What does your airline allow? Do you have connecting flights? Will you have to pay excess luggage fees along your travels? Will you dump clothes at the airport or board a flight wearing 9 sweaters?
And at the end of your holiday, you will inevitably discover clothing in your suitcase that did not see the light of day throughout the entire trip! This guide has been written to help you figure out what to pack for a trip to Ireland in September!
Ireland's Fickle Weather
Ireland is a small country; it is 84,421 km2, which is roughly the same size as the state of Indiana. Even though it is a small country, it can have varying climates and weather patterns. Ireland has been known to have "all seasons in the one day". But, as they say in Scandinavia, "there is no such thing as bad weather, just bad clothes". So, what should you pack for a September trip to Ireland?
Ireland's Weather in September
September can be a nice weather month in Ireland. The school year starts at the beginning of September and because the universe has a sense of humour, the sun comes out to play as soon as the kids are stuck in the classroom.
If you plan on hiking during your September trip to Ireland, waterproof hiking shoes/boots are a must. A lot of hiking trails in Ireland might just be a dirt track. If it has been raining, that track might be covered in mud. Even if you're going on a short 1-hour hike, it would not be an enjoyable if you have wet feet for 55 minutes. Ireland has some amazing views, but no amazing view can distract from that level of discomfort…
For non-hiking footwear, bring something comfortable. You want to be able to dance (or jump along) to some great music when you visit Ireland's famous pubs. The music is so infectious that even the most uncoordinated of visitors have been known to try and dance along. Be prepared to join in with some comfortable shoes.
Always Bring Waterproof Jackets
For the hikers (and everyone else, actually), you will need a waterproof jacket for your trip to Ireland, irrelevant of the time of year that you are visiting. December and January are the wettest months in Ireland but that doesn't stop the rain falling during the other 10 months. Every single Overland Ireland small group Ireland tour has some kind of hiking or outdoor exploration — so much of Ireland's treasures are outdoors and we don't want our guests to miss out!
Ireland is known as the land of "forty shades of green" but to get the lush green fields, we need plenty of rain to make that happen.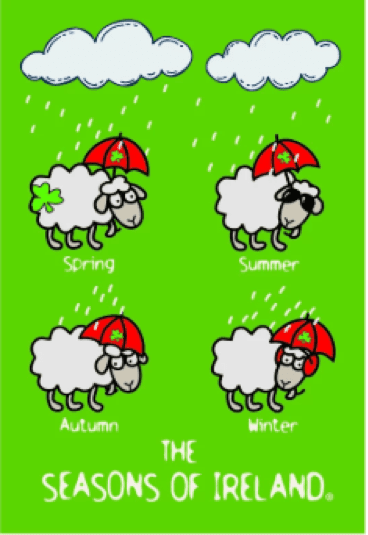 There is a reason you will find this image on many t-shirts in Ireland. To local people, it seems like the rain is never too far away. But for our neighbours across the Atlantic it might be worth noting that it rains more in Seattle and New York than it does in Ireland.
It would be sensible to bring a warm jacket/fleece that could be worn under a rainproof jacket. This will keep the chill at bay when wandering around the small towns of Ireland in September. A light sweater would be a great addition to the packing list. If the evenings are really mild, you won't need a jacket. A beanie (knitted hat) and scarf is another year-round necessity in Ireland. A beanie has more warmth than a baseball cap and is much easier to pack into your luggage.
Layers are your friend. If you bring a mixture of short and long sleeve tops, you can mix and match the layers and remove as necessary on a warm day. A couple of pairs of jeans will last you for a tour of Ireland. Warm and comfortable — they are the perfect wardrobe option for September. For most restaurants and bars, there is no requirement for formal attire. So you can remove the ballgown and/or tuxedo from the suitcase.
Swimming in Ireland
A swimsuit should definitely make it into your suitcase. Ireland is a small Island and no matter where you go, you won't be too far from the water. If you get to the Wild Atlantic Way, you might just feel the lure of the Atlantic Ocean. On most Overland Ireland tours, there will be the option to kayak. You will need a swimsuit to wear underneath your wetsuit.
Ireland Can be Very Sunny
A pair of sunglasses is also a must for a trip to Ireland at any time of the year. Did you know that light eyes such as blue, green or grey are more sensitive to sunlight. When you are standing on a mountain, sitting by the beach, or gazing at a waterfall, it's always a more pleasant experience if you aren't squinting. Also, bringing sunglasses won't affect your suitcase. Go celeb-mode and wear them through the airport and on the plane…
It's not really clothing but you should wear sunscreen on sunny days in Ireland. Just because you might not see the locals applying sunscreen, doesn't mean that the sun doesn't affect them. They are the people that resemble tomatoes the day after a sunny day. Protect your skin and you will have a much more enjoyable holiday.
In summary: keep the packing to a minimum. There will always be places to do laundry as you travel around Ireland. If you forget anything on the list above, there will be many opportunities to shop for your desired item of clothing along the way. So don't worry too much about what to pack for a trip to Ireland in September.
If you have any follow-up questions for us, please don't hesitate to get in touch. September is a great time to visit Ireland and we can't wait to show you our incredible country!
Planning on visiting Ireland soon? Get our free guides! We answer your Ireland Travel FAQs + offer local tips for visiting Dublin.
---