When going on holiday, one of the first few questions you ask yourself is: WHERE will I go and WHO will I travel with?
Sometimes the first question can be answered a lot easier than the second question.
I believe that it is imperative to always know the type of holiday you decide on and which friend or travel partner you will travel well with. Sometimes it is not a great idea to travel with your hiking fanatic friend when you want a relaxing holiday. Neither is a great idea to travel with your city-loving friend, when you want to see small local towns or explore the natural world. Compromise is always good but knowing your ideal travel partner is just as important.
But what if you can't bring a friend on holiday because of time off work, budget ,or lack of interest in your bucket list? Should that stop you going on the holiday of your dreams? NO – definitely not.
As a seasoned solo traveller, I embrace the 'solo factor' for so many reasons. I have put together a list of highlights for a solo traveller on one of Overland's small group tours of Ireland. Having experienced these tours first hand I thought I would share my observations over the last couple of years. If anything in this blog inspires you to come on one of our tours and you'd like to ask a few questions, please feel free to get in touch.
1) Small Group Tours are the Best
If this is your first solo tour, you should definitely make it a small group tour. Overland Ireland tours never exceed sixteen people. It's a lovely group size because its not too daunting to try and engage with others in your group and you get more time and attention from your guide. If you were in a large group tour, you could be in a group of up to fifty-two people. For me, I would have struggled to be outgoing in that type of group. Even if you are not a very outgoing person, it's much easier in a small group to strike up friendly conversations.
2) Make Lifelong Friendships on our Tours
I have seen and experienced the great friendships you will make on a small group tour. I have also been delighted by new travel friends visiting me in my home country and welcoming them into my home after the tour. It is so easy in this social media age to keep connected with new friends.
These close bonds with your fellow travellers could only happen on a small group tour and they mean that solo travelling isn't really solo travelling at all.
3) Solo Exploring in Ireland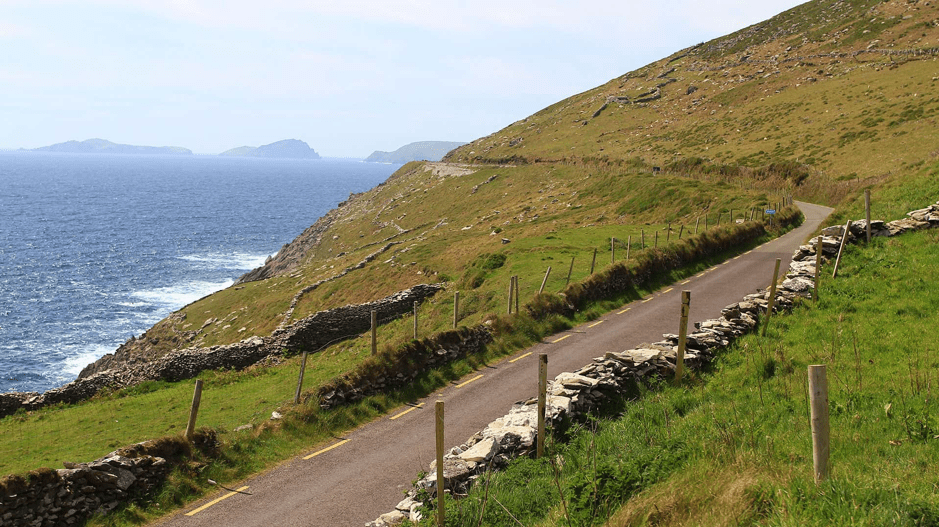 Another joy of being a solo traveller is the freedom to holiday your way, in a small group. With an Overland Ireland tour, we aim to have you checked into your accommodation by 5.30pm, which leaves you with a stretched-out evening to do as you please. In Ireland, during the summer, it is still bright at 9.30pm. This gives you so much time to explore the town you are staying in and maybe meet a few more pals.
4) Dining Options
Our guides arm you with the best eating and evening recommendations every day. When travelling on your own, you can pick and choose who you want to eat with. Many nights the group will decide to have dinner together but there are plenty of options to dine alone or with one or two others. You will have great options to eat in smaller groups in quirky restaurants, famous pubs and gorgeous cafes along the route. Small groups mean that you can dine wherever you want and get reservations quite easily. If the weather is nice on the Wild Atlantic Way, why not grab a takeaway meal and sit by the ocean. One of our favourite spots is the Spanish Arch in Galway: grab a bag of fish and chips and take in the views!
5) Your own Personal Guide
Having travelled alone, I sometimes got tired of taking notes of things, or trying to google the significance of certain places. But with your Overland Ireland guide, you can bombard him/her with your questions about Ireland's history, geography, culture, sports and so on. But please remember, our guides are only human, they know a lot, but they don't know everything. Our guides will happily research things when they don't know the answer to questions. So, you can relax and enjoy your holiday and enjoy the wealth of knowledge that comes with having a tour guide at hand.
6) Sit Back…. And Relax on Board
Another perk of having your guide is the knowledge that you don't have to drive in Ireland. This is especially appealing for guests who are daunted by Ireland's small, winding country roads — or just trying to drive on the left side of the road! Or maybe you love driving but you don't want to drive on your holidays. Maybe you want to party in the pubs of small towns of Ireland and not worry about your ability to drive. Either way, your Overland guide will bring you safely to all your destinations. No need to worry about city busses or trains, we have you covered.
7) Avoid Disappointment
Unfortunately, I have been disappointed on solo holidays when I get to a place I have been excited to visit and because of school holidays or pre-booking requirements I have had to make tough decisions. Do I delay my plans for the day or night ahead to visit this place or experience this activity or do I go on as planned and know I might never again have the option to return here? I have always delayed my plans for "bucket list" activities but otherwise I just keep going and hope the FOMO (Fear Of Missing Out) doesn't kill me ?
With an Overland Ireland tour, what you book, is exactly what you get (and a bit extra too). When you book your tour with Overland Ireland, you will receive your tour itinerary that will have your main activities and experiences all laid out. These experiences are all booked well in advance of your trip to Ireland so you will never be disappointed or miss out.
8) The Road Less Travelled
Because you are on a small group tour with Overland it's much easier go off the beaten track for your experiences and secret locations. Overland Ireland's tour guides know all the best spots that you simply wouldn't be possible with a large group of 40+ people. The spontaneity of this enhances the tour experience for everyone and makes you feel like you're on a road trip, instead of a military timed tour.
9) Local Knowledge
In many towns around Ireland you will find buzzing bars, seven nights a week with many options of different styles of entertainment. Instead of wandering in and out of bars, trying to find what your looking for, your Overland Ireland guide will send you into the evening armed with all the recommendations you need to visit the best bars, pubs and restaurants.
10) Less Stress
Regardless of your time-keeping skills, your Overland Ireland guide will tell you your meeting times and departing times after every stop. This way, you can truly switch off, relax and let our team take care of you. As a person who has travelled with friends and family, I can say that trying to get everyone out the door at the same time every morning, was a nightmare. So, that is another thing you don't need to worry about with you small group tour. You only need to watch your time keeping – no one else's.
11) Meet the Locals
Another major highlight advantage of travelling in a small group is that along the way, your Overland guide will introduce you to lots of friends, guides and colourful locals, giving you an authentic Irish experience. The Overland Ireland team stretches the length and breadth of the country and all our partners will be there to welcome you with friendly Irish charm and always a good story.
I hope I have given first-time solo travellers an insight into the benefits of small group tours. Happy travels ?
Planning on visiting Ireland soon? Get our free guides! We answer your Ireland Travel FAQs + offer local tips for visiting Dublin.
---