Ireland is one of the most popular destinations in the world for tourists of all ages, but today we'd like to focus specifically on older travelers. We'd like to write a brief but informative guide for seniors visiting Ireland. If anything we write inspires you to travel with Overland Ireland, please browse our Jewel Small Group Tours of Ireland.
If you'd like an even more personalized experience, consider our Ireland private guided tours instead. Please get in touch if you have any questions; we always like hearing from people interested in visiting Ireland.
Is Ireland a Good Tourist Destination for Seniors?
Yes. Ireland is a great tourist destination for older people. That's the simplest answer to the question…
The longer answer looks at the kinds of activities available in Ireland, how close Ireland's attractions are together, and other myriad factors, including the type of vacation you choose (but more on this later).
Ireland's best and most beautiful attractions are relatively close together — at least in comparison to the US, Canada, and other larger countries. When you consider that Ireland is eight times smaller than Texas, you begin to get a sense of the size.
But what we lack in geography we more than make up for with our extensive history, stretching back through our castles, stately homes, and neolithic structures — many of which are significantly older than the Egyptian pyramids.
Lower Travel Times in Ireland
Having such a dense array of historical and cultural treasures means that travel times in Ireland are smaller than many other tours. You can journey for twenty minutes in Ireland and arrive somewhere completely new, with its own unique history, and people who speak with a different accent.
While some 70-year-old travellers are in better condition than most 30-year-olds, they're the exception. Most seniors have one or two health or movement issues that can be exacerbated by long stretches of time spent driving around the country. This is why Ireland's smaller size and densely packed attractions are ideal for seniors.
Lower travel times aren't just good for older people; they're better for everyone. However, less time spent in a tour vehicle (even our extremely comfortable Overland Ireland mini-coach) is better for anyone with sore joints, injuries, aches, and pains. To put a number on it, the travel time per day averages at slightly less than 3 hours her day, excluding stops.
What are the Best Irish Tours for Seniors?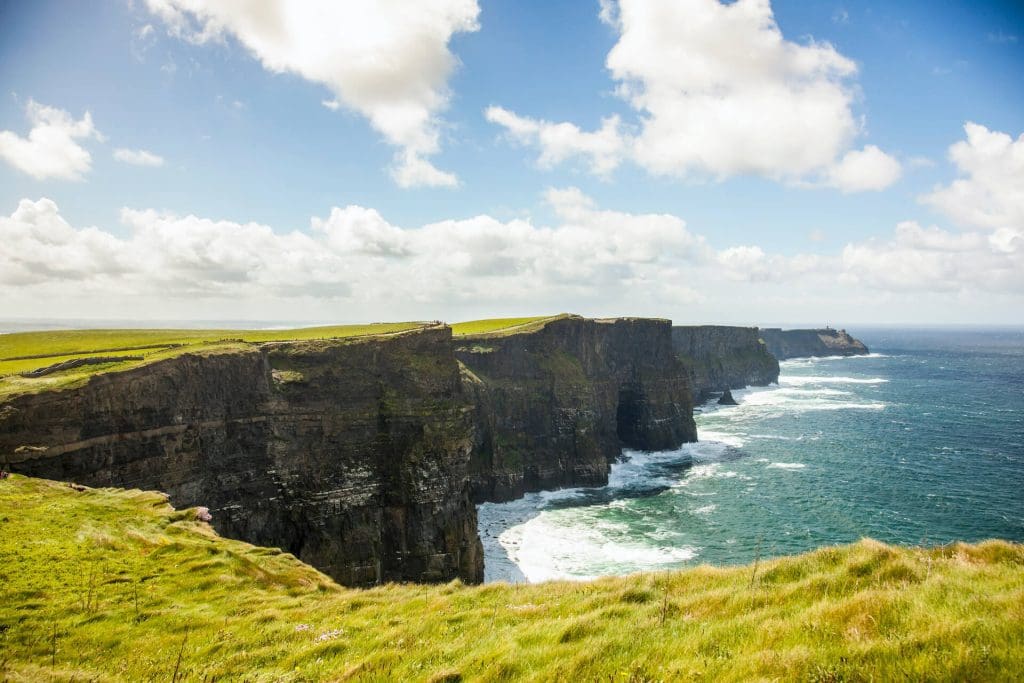 It's really hard to define exactly what constitutes the best tour of Ireland for seniors. This is because we don't know you (whoever is reading this). We also have serious doubts about any company that thinks all people over 60 are alike and would therefore enjoy exactly the same experience…
Instead, it's much easier to describe the kind of Ireland tour that is more likely to suit seniors. All of our Jewel Tours are designed for a more relaxed kind of traveller, making them ideal for seniors.
We designed our Jewel Tours to offer a laidback travel experience with as much personalization as possible. How do we make it personal? We keep our small group tours of Ireland especially small, meaning that guests have plenty of time with their own dedicated tour guides.
While some tours might have too many people to allow everyone to ask questions, we actively encourage everyone on our tours to ask as many questions as possible. 
After all, what is travel or tourism but curiosity in its most pure, most joyful form?
To help you make some decisions about your next Irish adventure, we have put together a short summary of three of our most popular Irish tours below:
The Ultimate Ireland 10-day Package — This is exactly what it sounds like: our best attempt to make the best Ireland tour possible over 10 days. Highlights include a trip to the Aran Islands, the Cliffs of Moher, the stunning Dingle Peninsula, and the Giant's Causeway up in Northern Ireland.
The Ireland to Island 7-day Tour — This tour package takes you to many of the most sought-after places in Ireland, such as Killarney National Park, Galway Bay, and the Aran Islands. But what makes it stand out is that the tour also takes you to Skellig Michael, an enigmatic mountainous island off the coast of Kerry that has an ancient monastery built atop its peak.
The Magical Southern 5-day Ireland Tour — This tour is shorter than the other two, which may suit travellers who can't commit to a week or longer. While only five days, Ireland is packed with wonderful sights, and we fit as many as possible into the itinerary without ever making it feel rushed. Visit the Ring of Kerry, Killarney National Park, Dingle, and the Cliffs of Moher!
Learn About Your Irish Ancestors on Vacation
While people young and old can show an interest in their ancestors, we tend to find that as people get older they reflect more on where they've come from.
And, given the extensive size of the Irish diaspora (especially in North America, Australia, and New Zealand), we find that a lot of our guests have one or two places they're interested in visiting specifically because it's where their grandparents are from, or because they can trace back a distant ancestor to a specific little village. 
If your place of interest is along the route of your Overland Ireland Tour, please tell your tour guide as there's a good chance they'll be able to stop off for a while.
And if they can't, they will be happy to give you the information needed to visit this spot on your own, after the tour is over. It's this kind of personalized service that gets us so many 5-star reviews.
There is much more we could say about Ireland, but we hope we've at least convinced a few readers that Ireland is an excellent place to visit as an older traveller.
If you have any questions, please get in touch. Your grand Irish adventure might be only a few clicks away!
Planning on visiting Ireland soon? Get our free guides! We answer your Ireland Travel FAQs + offer local tips for visiting Dublin.
---