There is so much to do today! Here are a few tips to make sure you celebrate our Patron Saint's day properly! With Tours of Ireland
Breakfast of Champions: Get out of bed and throw as many rashers(bacon) sausages, eggs, black and white pudding as you can on a frying pan – The full Irish breakfast. This will kick start your day and make sure you don't need anything else to eat until at least 7pm tonight. Wash down with a strong cup of tea (Barrys tea if you have it). That`s a great start to your Tours of Ireland.
Ok I lied about the eating thing. This is a day of treats. After sticking to your Lenten promise (40 days of abstaining from something – chocolate, sweets, alcohol etc) you are allowed a day off on St Patrick's Day. So go on pick up a bar or seven of chocolate and make a pig of yourself. It's back to Lent tomorrow so make it count!
Find the theme tune to Riverdance and throw some shapes around your kitchen. We recommend doing it in your socks so that you get a good slide on the kitchen tiles! Be careful not to break yourself or anything else! Tours of Ireland would be happy to book you in and to make sure you have the trip of your lifetime.
After your exercise/dancing is finished it's time to root out any items of green clothing in your wardrobe. The greener you can get the better. Put it all on and be proud!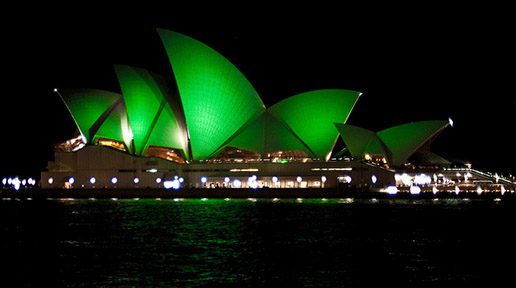 All around the world buildings are being painted green, rivers are being dyed green with people spreading the Irish love. Instead of doing this yourself maybe just hang some Shamrock in your house or on your front door!
Make a sign saying Kiss me I am Irish. You will be surprised how many free smooches you will get during the day – Tried and tested by the Overland Ireland Team.
Take this day off and go on an Irish adventure. A few favorites of ours are climbing Croagh Patrick (Ireland's holiest mountain), going for our first swim of the year in the Atlantic (no wetsuits!) or a cycle in the Burren, County Clare. It`s all possible during your tour of Ireland.
Find a St Patrick's Day Parade. There is one in every nook and cranny of our beautiful country and in all major cities around the world. If you are abroad find the nearest Irish pub and we promise it will be the most fun you have had all year. Ex patriots will be singing, dancing and having the craic! They will welcome you with open arms.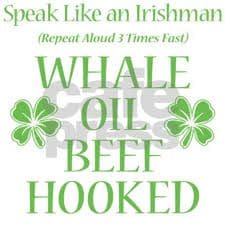 Learn how to talk like an Irish person. A quick way is to drop the G for any words ending in –ing. Walkin' Talkin' Drinkin' etc. Call all women 'Yer one' and all men 'Yer man'. If in doubt start muttering and sporadically shout out 'Gobshite' like you are a character in Father Ted! Throw in an odd 'Like' at the end of a sentence.
Finally after all that get yourself a well deserved drink, a bowl of Irish stew and go book yourself on a trip to Ireland to experience the real deal.
Planning on visiting Ireland soon? Get our free guides! We answer your Ireland Travel FAQs + offer local tips for visiting Dublin.
---