Looking to Go on an Unforgettable Adventure Tour of Ireland?
When we started Overland Ireland, we asked ourselves, "What would make a great adventure tour of Ireland?"
I had plenty of experience overlanding in Africa, with a few tours from London all the way down to Cape Town. These trips always provided the perfect adventure for me!
However, most people aren't looking for tours on such a grand scale. And an adventure tour of Ireland certainly couldn't have the same ingredients as one in Africa.
Of course, we had to look at the competition too. Most operators provided tours on big coaches, all part of an impersonal, inactive experience that stopped at the most famous places for a few minutes before driving off again.
And where activities were offered, the time to enjoy them was all but non-existent.
This was the opposite of what we had in mind for our own small-group tours of Ireland!
We created a range of tours that, in our opinion, offered the best adventure tours in Ireland. These are our Zest Tours. For those who prefer the slower pace, we also designed the more relaxed Jewel Tours to the same high standards.
So, what are the ingredients of a great adventure tour in Ireland? Scroll down to find out! And if you have any questions for us, please feel free to get in touch.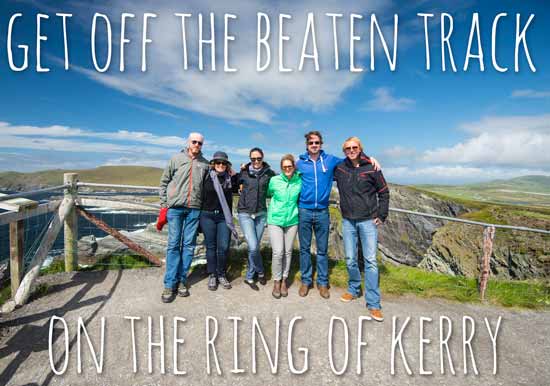 Small Group Tours of Ireland are Personal
Mass tourism is great for some people. But let's be honest, who wants to be herded onto a big tour coach and transported from one place to the next? Do you want to wear a name badge, sit surrounded by 50 other people, and have a program with no flexibility?
At Overland Ireland, we believe a great adventure tour of the Emerald Isle should be personal, have the flexibility to embrace spontaneity, and include meals in some of Ireland's best eateries.
Sure, we could make more money if we added more people to our tours, but we want to give you guys the best possible experience on your tour of Ireland.
Is your upcoming trip your first time visiting Ireland? Our blog 10 Things You Should Know About Ireland Before You Visit is a great resource for all first-time visitors.
Memorable Ireland Tours Start with Great Guides
What makes a great guide? For starters, some qualification comes in handy. You can rest assured that all our guides are National Guides who have their Failte Ireland certificate.
This means they know their stuff, have completed first-aid training, and have a passion for Ireland.
But this is only the start. They love the outdoors and exciting activities, and they cannot wait to share their love for Ireland with you.
It helps that they are excellent drivers too. They can navigate the Irish roads so you don't have to!
Looking for information on this topic? Our Ultimate Guide to Getting Around Ireland is filled with everything you need to know about travelling to and through our country.
The Best Adventure Tours in Ireland Come with Activities Included
People sometimes ask us why we include activities in our tours. Well, we noticed a long time ago that when activities were included, people would be more willing to try them.
And best of all, they always had a big smile on their face afterwards!
If you let people pay for activities separately, they often decide to not try them. This seems to result in a lesser experience overall.
We also noticed that including activities creates a better group experience. It's almost like a team-building event where people help and encourage each other, where you can feel like you've achieved something.
However, we decided to leave some activities out as they were a little extreme, like horseback riding and kitesurfing.
Have you decided when you will visit Ireland yet? If you're still undecided, check out our blog What is the Best Time of Year to Visit Ireland to help in the decision-making process.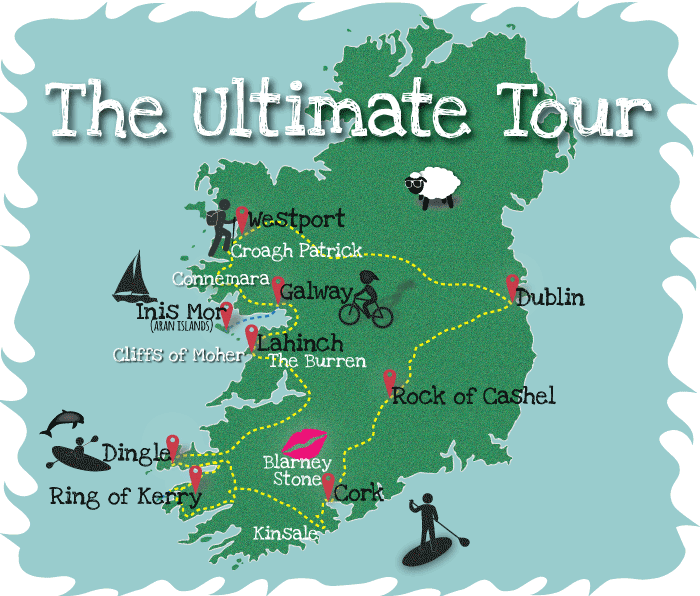 Short Drives Keep Tours of Ireland Fresh and Energetic
Sitting in the car for a full day doesn't sound like a trip of a lifetime, does it? To avoid this, we used our local knowledge to carefully plan our routes.
Most of our guests have a limited number of holidays to enjoy, so many only get to experience Ireland once. This means you need to cover the most amazing spots without spending 12 hours a day in our comfortable minivans.
On the first day, most guests are feeling tired from their flights or from a night out in Dublin, so they don't mind a longer drive.
On the last day, we climb Croagh Patrick and people might feel tired after a week of touring. Again, this means a long drive isn't so bad.
So the first and the last days are a bit of a trek. However, everything in between is a walk in the park during your great adventure tour of Ireland.
If you want to learn more about the Croagh Patrick climb, check out our Guide to Hiking Ireland's Croagh Patrick.
Quality Central Accommodation for a Restful Sleep
We are very proud of our accommodation and have put careful thought into this aspect of our tours. A great night's sleep is a must after a busy day.
The basics should always be clear: comfortable, clean and basic facilities. But these are not good enough. Ireland has the most picturesque towns out there, and you want to stay in them!
So another requirement is the central location. Another important factor is that you want the Irish experience.
If you want to stay in a big chain hotel, this trip is not for you. But if you want a turf fire in the evening and a typical, hearty Irish breakfast in the morning, then we have the perfect places for you!

Ireland Tours with the Perfect Balance
There are countless reasons why you may want to visit Ireland. Our scenery, the numerous castles, the friendly people, and even maybe ancestry!
We fully understand that the activities are a bonus, and that is why we add them — to provide you with the best experience possible.
With us, you get to see the best places on offer. Because our minivans are small, we can get off the beaten track and reach places that the big coaches cannot. Some roads, like the Sleagh Head Drive, are closed off for big coaches.
We truly believe we have created the best adventure tours of Ireland and would love for you to experience them. Browse our range of small-group tours of Ireland to find the perfect one for you!
If you have any further questions, please get in touch. Like us on Facebook, follow us on Twitter, or be amazed by us on Instagram.
Planning on visiting Ireland soon? Get our free guides! We answer your Ireland Travel FAQs + offer local tips for visiting Dublin.
---