The question we get asked most frequently is what people can expect on our tours. Although every Irish tour is different, our reviews tell us that everyone always has an amazing trip.
So what are the key ingredients that make our Tours of Ireland successful?
Incredible experiences:
Hearing a great travel story can inspire and motivate you to go and do something similar. With Overland Ireland tours it will be you inspiring the people around you to get out there and go on an adventure. Instead of the usual sun lounger story, you will boast about your Irish adventures: kayaking with Fungie the Dolphin in Dingle Bay, climbing Ireland's Holiest Mountain or sailing the Wild Atlantic Way coastline on your own private yacht.
Try new things:
Don't settle for same old same old, there's too much out there to try! Our amazing planet is made up of different landscapes, people and cultures, so try and go see as many things as possible. Chat with the locals, hear their stories, learn some Gaelic, taste some mouth-watering Irish dishes like Guinness stew or master your first jump kitesurfing. With our Irish tours, you get a taste for the real Ireland.
Reinvigorate:
Recent research has proven that people who are active on their holidays come back in better form than people who sit the whole day at the beach. You don't have to be an amazing paraglider or regular cliff diver to get out into the world and experience its health benefits. Adventure travel is getting more popular with solo travelers looking to escape on an activity holiday. With Overland Ireland tours we have the perfect combination of relaxation, activities, fine dining and craic.
Challenge yourself:
Another great reason to take on an Irish adventure holiday is to get yourself out of your comfort zone and see how far you can really go. We have all experienced that epic great feeling when you achieved something that you thought nearly impossible beforehand. Standing on top of that mountain, catching that first wave or seeing a dolphin up close for the first time – it's all part of your small group tour of Ireland.
You get what you pay for:
So you booked your plane ticket and you are ready for your long awaited trip of a lifetime to Ireland. You know that the best way to get up and close with a country is to hop on a tour and with an expert guide that will tell you all about your amazing destination.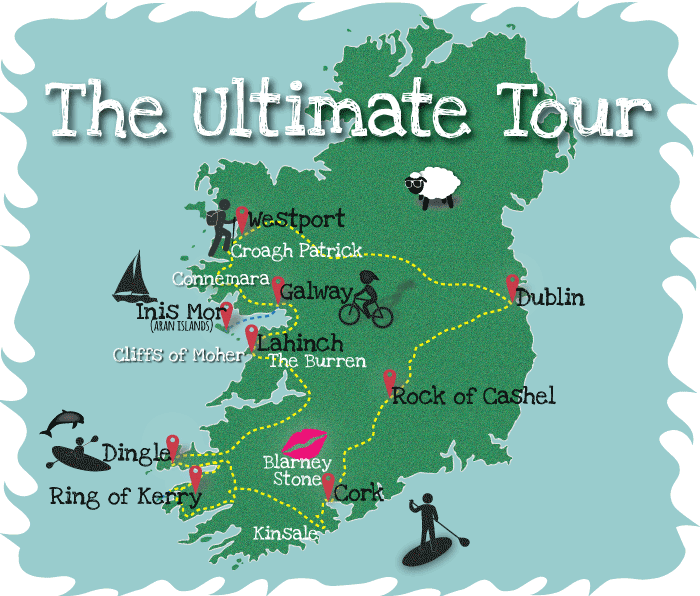 How do you choose your tour of Ireland? There are so many options out there. From big coaches to private cars that will take you along the Wild Atlantic Way. Let's be honest here if you are on the Overland Ireland website the thought of being on a big coach being herded from one place to the next is probably not your thing. Small group tours are always the best way to explore Ireland. They give you the social part that most people are looking for and the flexibility to explore those cool off the beaten track places that most of us visit Ireland for.
This still leaves you with plenty of options as within the small group tour options there are loads to choose from. As you have spent plenty on your flight ticket, getting the cheapest possible tour is the best way to go right?
Don't think so! Because at the end of the day you get what you pay for so you should expect to get exactly that, very little. From a surface point of view, everything seems fine as all your basics are covered. You get to see the must-see locations, you get a place to sleep and you probably can do the odd activity here and there.
But if you go beneath the service, however, you might discover that not everything is as rosy as you thought. Can you really expect quality for those prices? Consider factors like convenience and comfort.
You will spend a good amount of time our vehicles, so we made sure everyone has enough space. We have WiFi on board so you can stay in contact with family and friends. We also provide water so you can hydrate and for the odd day we have great air-conditioning that you can manage on all rows of seats, all this so you have a comfortable time while you get off the beaten track.
How about the accommodation you are booked into, is that up to standard? Most likely not if your tour is cheap. After a full day of sight-seeing, adventure and some a nice pint of Guinness you want an accommodation that is clean, comfortable and in a location that is central to town you visit. That is exactly what we offer our clients and that is exactly what you do not get with cheap tours.
We include as many activities and entrance fees as possible which gives a great stress-free tour experience. You also create a great bond with your fellow tour mates and you get to enjoy the real Ireland. We also choose the activity companies with the best experience, best safety standards and the best guides which makes sure you get a better overall experience.
Overland Ireland may not be the cheapest tour company, but you can rest assured you will get an experience worth every penny you paid. No compromise is made on comfort, safety or the overall goal to give you the best possible Irish experience.
---
If you like the sound of our tours, please feel free to contact us for more details.
Email: [email protected]
Phone: 00353-91-376482
Planning on visiting Ireland soon? Get our free guides! We answer your Ireland Travel FAQs + offer local tips for visiting Dublin.
---