If you're planning a trip to the Emerald Isle and the question "Is Northern Ireland worth visiting?" pops into your head, we've got your answer!
It's a resounding yes!
Northern Ireland is a hidden gem that offers a wealth of experiences for travellers seeking breathtaking landscapes, fascinating cities, and thrilling outdoor adventures.
Join us as we delve into the wonders of Northern Ireland and discover why this enchanting country is a must-visit destination.
When you've finished this guide, check out our range of tours in Ireland and start planning that bucket-list holiday!
If you need any extra information about our Ireland tours, please contact us.
For now, keep scrolling down to find out why you should consider a trip to Northern Ireland!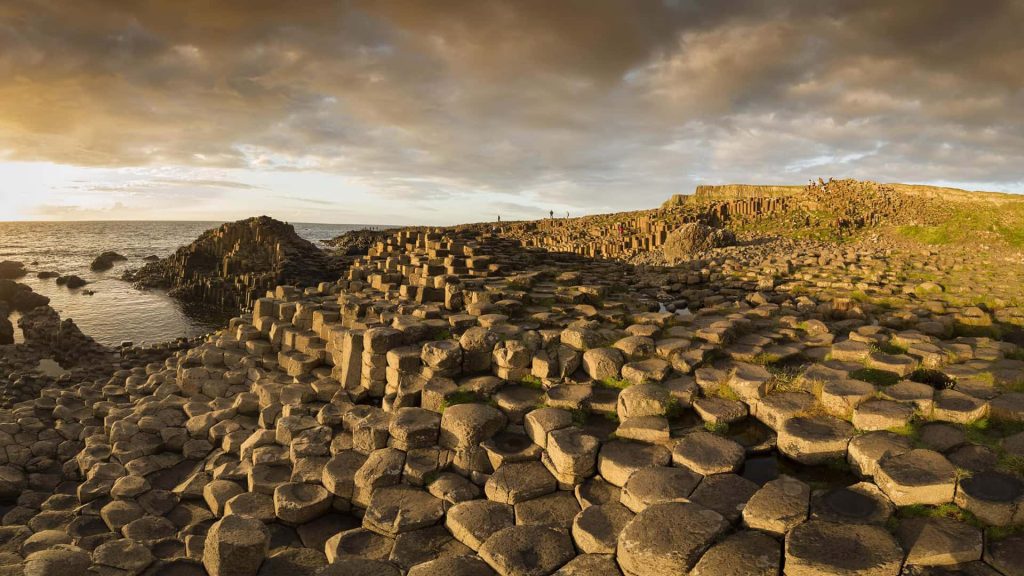 Northern Ireland is Home to Spectacular Landscapes
Northern Ireland is renowned for its stunning landscapes. It's all but impossible to not feel captivated by its natural beauty.
One of the most iconic attractions is Giant's Causeway, a UNESCO World Heritage site. 
This geological marvel is comprised of around 40,000 interlocking basalt columns created by volcanic activity millions of years ago.
Walking along the Causeway feels like stepping into a mythical world, and the views of the rugged coastline are truly awe-inspiring.
Speaking of coastlines, the Causeway Coastal Route is one of the most picturesque drives on the island of Ireland. 
This 120-mile route winds its way along the dramatic coastline, offering spectacular views at every turn.
Along the way, you'll encounter charming villages, scenic harbours, and imposing cliffs.
Don't miss the opportunity to visit Dunluce Castle, perched precariously on a cliff edge, and immerse yourself in its rich history and atmospheric surroundings.
Do you want to spend time at a beautiful beach? Northern Ireland has plenty to offer.
Benone Beach, with its golden sands and clear waters, is a perfect spot for sunbathing, swimming, and long walks — it's seven miles long, after all!
West Strand, located in Portrush, is another popular choice, offering excellent facilities and stunning views of the Atlantic Ocean.
And if you're a fan of the hit TV series Game of Thrones, you'll recognize the rugged but charming Ballintoy Harbour Beach as the setting for the Iron Islands.
You can experience the very best that Northern Ireland has to offer on both our Ultimate Ireland 10-Day Tour and The Wild West and North Ireland 6-Day Tour.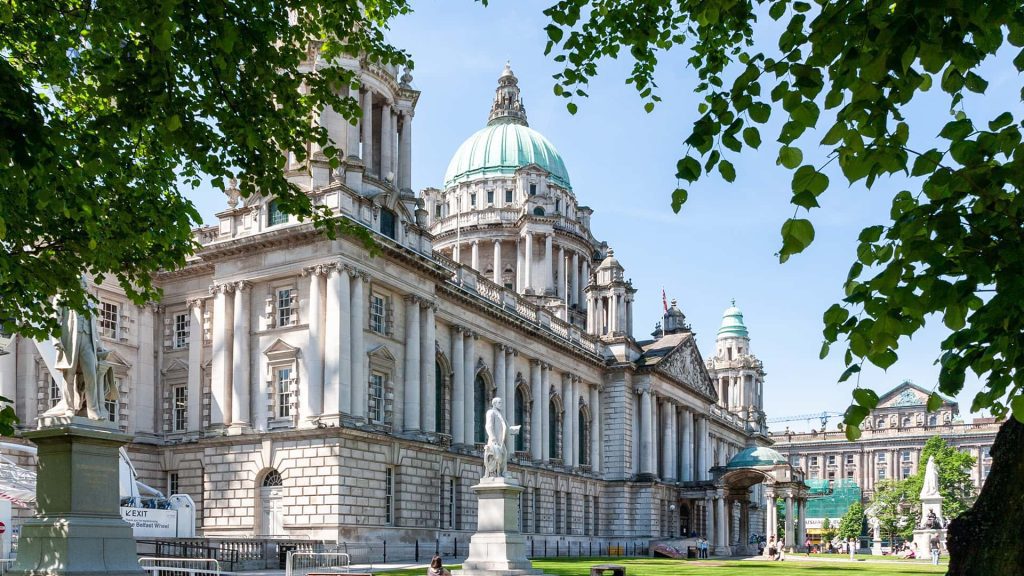 Discover Northern Ireland's Fun and Fascinating Cities
Northern Ireland's welcoming cities are brimming with history, culture, and a vibrant atmosphere.
Explore Belfast, Northern Ireland's Resurgent Capital
Let's start with Belfast, the capital city, which has undergone a remarkable transformation in recent years.
Titanic Belfast is a must-visit attraction, allowing you to delve into the story of the ill-fated Titanic through interactive exhibits and displays.
We also recommend taking a Black Cab Tour to learn about Belfast's troubled past and gain insights into the city's complex political history.
Afterwards, treat yourself to a pint of Guinness at one of the city's traditional pubs, indulge in delicious local cuisine at one of the many restaurants, or explore the unique shops and boutiques.
Do you want another valuable resource to help plan the most amazing trip possible? Check out our Complete Guide to Visting Northern Ireland.
Visit Derry, a City Steeped in Culture and History
Another city worth exploring is Derry. This historic place is surrounded by magnificent walls dating back to the 17th century.
Taking a stroll along the City Walls is like stepping back in time, with stunning views of the city and the River Foyle.
Derry is known for its rich cultural heritage, and you can immerse yourself in its history by visiting the Museum of Free Derry or taking a guided tour to learn about "The Troubles" and their impact on the city.
Don't forget to check out the vibrant arts and music scene, as Derry is renowned for its festivals and events, including the Jazz and Big Band Festival and the International Choir Festival.
For more local insights before your trip, read our previous guide What to Expect When Visiting Northern Ireland.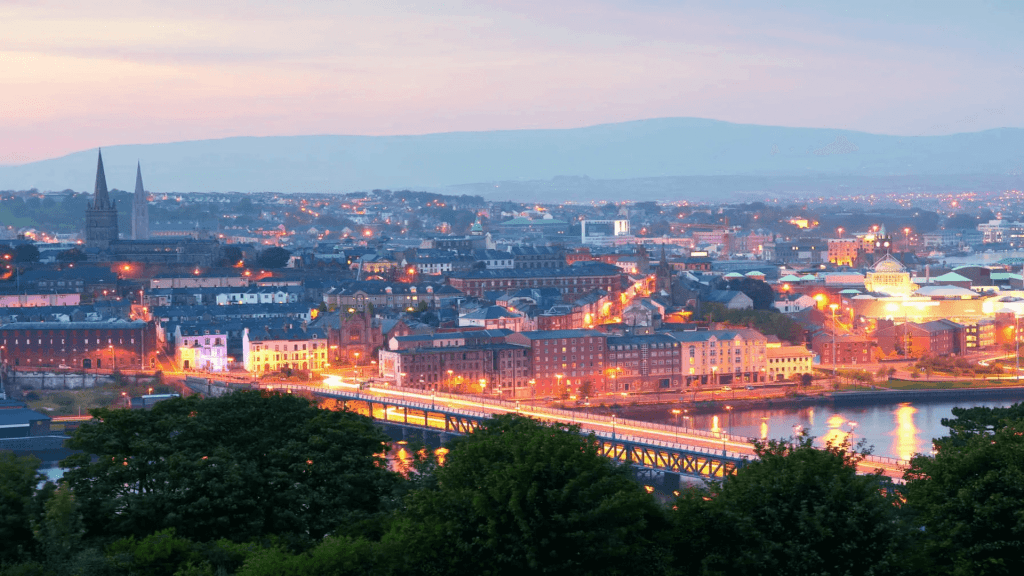 Northern Ireland is Filled with Outdoor Adventures!
Calling all adventurers! Northern Ireland is a treasure trove of thrilling outdoor activities that will get your heart racing and leave you with unforgettable memories.
Surf's Up! Catch the Waves on the North Coast
If you're a keen surfer or looking to try something new, Northern Ireland's North Coast is a paradise for wave riders.
Head to renowned surf spots like Portrush and Portstewart, where the Atlantic Ocean crashes against the shores, providing ideal conditions for surfers of all levels.
Embrace the excitement, ride the waves, and feel the exhilaration of conquering the mighty Atlantic.
Journey Through the Dark Hedges
Prepare to be enchanted by the mystical beauty of the Dark Hedges.
This iconic avenue of beech trees has captured the imagination of travellers for years now, and it's another of Northern Ireland's Game of Thrones filming locations.
Take a leisurely stroll along this otherworldly path, where the intertwined branches create a captivating archway. It's an experience straight out of a fairytale.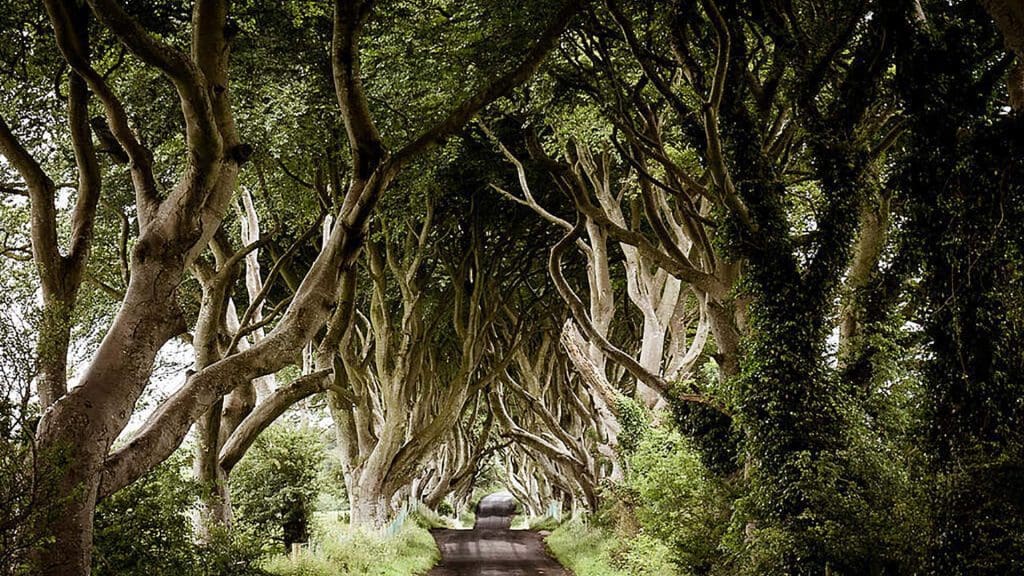 Hike to Mussenden Temple and Beyond
Embark on a breathtaking coastal hike to Mussenden Temple, perched atop a cliff near Castlerock.
The views along the way are simply awe-inspiring, with rugged cliffs and crashing waves below.
Arriving at the temple itself, you'll be rewarded with remarkable panoramic vistas. It's the perfect spot to soak in the natural beauty and snap some envy-inducing photographs.
Be sure to check out our recommendations for the best outdoor activities in Northern Ireland to ensure you visit all the best places!
Cross the Carrick-a-Rede Rope Bridge!
For those seeking a thrilling adventure, the Carrick-a-Rede Rope Bridge is an absolute must-visit.
Suspended over a 30-meter chasm, this rope bridge connects the Irish mainland to the tiny island of Carrick-a-Rede.
Summon up the courage and cross the swaying bridge to experience a rush like no other. The stunning views of the coastline and surrounding islands are an added bonus.
Discover the Real Ireland with Our Multi-Day Tours!
So, is Northern Ireland worth visiting? We hope this blog has provided you with the answer!
If you're ready to start planning your trip to the Emerald Isle, browse our full range of tours in Ireland.
And if you have any questions about anything you see, please feel free to get in touch.