As summer approaches, thoughts turn to basking in glorious sunshine and days outdoors with the family at the seaside. Ireland's best beaches offer something for everyone – swimmers, nature lovers, sunbathers and adventurers are all catered for, and it's a rare heart that avoids being captured by the stunning beauty of the Emerald Isle.
With turquoise waters, rocky outcrops, miles of sand and dunes, great surfing spots and stunning island beaches, you'll be spoiled for choice. Plus many of Ireland's beaches are designated as Blue Flag Beaches – with both a high quality environment and high-level water quality. If you're planning to visit Ireland this summer, this list of the premier Irish beaches is your ultimate guide to its spectacular coastal landscape and what do on your visit.
Portmarnock, Co. Dublin
Portmarnock Beach is an astounding five-mile stretch of coast just north of Dublin, framed by dunes with a pretty view of the Dublin Mountains and the Howth Peninsula. Nicknamed the 'velvet strand' due to its smooth and silky sand, Portmarnock is a popular site for kite and windsurfing. Walkers, cyclists and skaters can enjoy the path from Malahide to Baldoyle, and golfers can relish in the championship golf course just behind the dunes.
For those of a historical bent, Velvet Strand was the starting point for two important moments in aviation history: the second westbound transatlantic flight (which turned into a circumnavigation) and the first solo transatlantic flight. A commemorative sculpture called Eccentric Orbit was constructed on the seafront in 2002 and has a needle that points to the North Star, used by navigators throughout the ages.
Inch Beach, Inch, Dingle, Co. Kerry
Another stunning Blue Flag Beach, Inch Beach on the Dingle Peninsula consistently rates as Ireland's best beach in many online lists and ratings. Around three miles long, it's perfect for watersports – including kayaking and surfing all year round – with a gentle gradient meaning that beginners can be confident to try out new sports safely.
Archaeologically speaking, there's much to see here with the Dingle Peninsula boasting thousands of preserved monuments, and the beach itself being framed by the dramatic backdrop of Kerry's mountains MacGillicuddy Reeks and Slieve Mish. Walkers and explorers will be in their element, as those who have taken Overland Ireland's Dingle tours will attest. Inch Beach also provides opportunities for shore angling, with competitions taking place throughout the year.
Rosslare Strand, Co. Wexford
If you're looking to sunbathe on your trip to Ireland, then this beach is for you. Famed for its sunny weather – up to 300 hours more sunshine per year than the Irish average – Rosslare Strand is a seaside resort in the southeast of Ireland with a long sandy stretch of beach. It's a popular spot with locals and tourists alike, drawing in those who love to swim and take part in watersports. Rosslare is a Blue Flag beach with close by amenities including golf, cafes, and award-winning restaurants, such as the seafood specialist 'Wild and Native' on Strand Road.
Dunmore East, Co. Waterford
The pretty village of Dunmore East boasts beaches and secluded picturesque coves which are perfect for swimming and snorkelling. At the heart of the village is Lawlors Beach with 'Peg's Finger', a natural rock line that extends out into the bay, and Councillors Strand, a south-facing beach with red sandstone cliffs to the north. Together they form the two most popular beaches in the area, with gorgeous sands and transparent waters that are perfect for snorkelling. More secluded coves in Dunmore East include Stony Cove, Badgers Cove and Ladies and Mens Coves.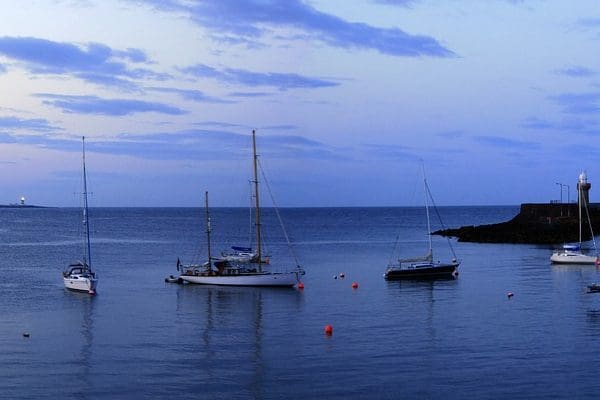 Glanleam Beach, Valentia Island
If you're an island lover, then Valentia Island has much to offer. Southwest of County Kerry off the Iveragh Peninsula, its lively and popular waterfront village, fishing, and heritage are a great draw. Fossilised tetrapod trackways – footprints of four-limbed amphibians, reptiles, and mammals – were located off the north coast of the island at Dohilla and are a fascinating sight for those interested in natural history.
But it's not just the island itself; the beach at Glanleam is a wonderful secluded part of the island. Families will enjoy clambering about the rocks or jumping off the pier into the sea. Sporty types can enjoy kayaking, snorkelling and other watersports here. Best of all, there is unusual and stunning subtropical scenery with Glanleam Gardens surrounding the beach. These gardens were planted with exotic, non-native plants and trees – particularly those from the southern hemisphere and Asia, which thrive in the frost-free conditions of the Gulf Stream air.
Banna Strand, Co. Kerry
Another jewel of County Kerry is Blue Flag beach Banna Strand (or Banna Beach) in Tralee Bay. With dunes running the entire length of the six-mile beach – some rising to 40-foot height – this striking sandy beach is a delight to behold, and a joy for walkers and nature lovers in particular.
The dunes are a designated site of conservation, with abundant animals and plant-life to be found. There are spectacular views of the mountains of the Dingle Peninsula to the south west, Kerry Head to the north, and directly out to sea is Mucklaghmore Rock. Wildlife fans can also keep a watch out for dolphins swimming nearby, while explorations of the rock pools are a must for children and adults alike.
Visitors remark on the beauty and unspoiled nature of this coastal spot. This is an excellent and safe beach for swimming, and surfing is also popular with a surf school on the beach. Banna Strand also features in the Irish history books, as rebel Roger Casement landed on the beach from a German U-Boat and was captured on 21 April 1916, having attempted to land arms for Irish Republicans. A monument near the dunes at Banna describes him as a 'Humanitarian & Irish revolutionary leader […] furthering the cause of Irish freedom.'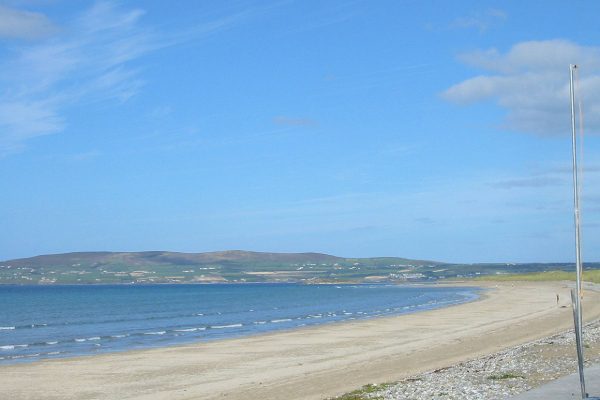 Rosses Point, Co. Sligo
Rosses Point is a popular seaside resort in County Sligo ideal for swimming, windsurfing and general watersports, as well as long leisurely walks to enjoy the sight of this magnificent coastline. Visitors are treated to exquisite views of Knocknarea to the south and Benbulben to the north.
There are coastal attractions aplenty in the area, with three lighthouses including the Metal Man Lighthouse, a 12 ft. high guardian statue built in 1821 and the 'Waiting on Shore' monument, near the lifeboat station, depicting a woman with arms outstretched to sea and a poetic inscription below. Rosses Point is both a Blue Flag and Green Coast beach and the swimming is good, with lifeguard patrol in the summer season.
WB Yeats spent his childhood summers in the village, which is framed by the Dartry Mountain range and Sligo Bay. In June, you can enjoy the Rosses Point Shanty Festival held annually in aid of the RNLI. The festival is full of music, poetry and shanty songs, plus swim races, boat races and the highlight of a 'cake dance' – a freestyle dance competition dating back to the 1800s where the winner gets cake as a prize! Overland Ireland's Wild West and North Tour takes a route through Sligo if you're interested in this stunning part of the country.
Portstewart Strand, Co. Derry
National Trust beach Portstewart Strand – or 'The Strand' as it's locally known – is a beautiful golden sand beach, perfect for family days out with sandcastle building, swimming and bodyboarding. The beach is a mile west of the town at Portstewart and is a nature lover's paradise.
Behind the beach are the 6,000-year-old-dunes with a delightful walking trail through the Bann estuary. Guided tours through the dunes will help you to spot animals, butterflies and rare wildflowers. For bird lovers, the National Trust Barmouth Bird Hide is close by, and here you can expect to see redshank and curlew amongst other birds. Retire to Harry's Shack at the end of a sunny day for well-deserved fish and chips. For those with more energy and a love of walking, Portstewart Strand is also the starting point of the Causeway Coast Way, which is a 33-mile-long trail to Ballycastle.
Tramore, Co. Waterford
With three miles of sandy beach in the sunny south east of Ireland, Tramore is a popular beach location for those of all ages and interests. The adjacent cliffs are a rock and reef fishing dream, whilst the beach itself is a popular spot for beach angling with specimen flounder and bass being produced. For old-fashioned family fun at the seaside there's an amusement park with free face painting and balloon animals on Sundays, and a mini golf course. Tramore's long, rolling waves are a boon to surfers and kite surfers, and watersports here are de rigueur. Sailing, surfing and sea kayaking lessons are all available during the season.
A statue called the 'Metal Man' keeps watch on the seaside fun and frolics. Erected in 1823 by Lloyd's of London, it warns seafarers of shallow waters after a tragic loss of 360 lives on HMS Seahorse, which sank 1816 in bad weather. With his British sailor's uniform of blue jacket, red top and white trousers, he's quite the sight. According to local folklore, if you hop barefoot around the Metal Man three times, you'll be married within the year.
Barleycove, Co. Cork
West Cork's Barleycove Beach is sited between two hills on the Mizen Peninsula and boasts Blue Flag status. There are gorgeous and extensive sand dunes, which were thrown up 1755 in a tidal wave that swept Europe after an earthquake in Lisbon. Due to its abundant wildlife and habitat, the beach has been designated as a Special Area of Conservation by the European Union, so there's much to see for those inspired by Ireland's natural beauty.
At Barleycove there is a delightful floating bridge, or pontoon, which helps with both access and preserving the natural ecosystem, and is particularly loved by children visiting the beach.
Main Beach, Bundoran, Co. Donegal
A surfer's dream, Bundoran hosts surfers from across the world, with its international reputation for waves. One of Ireland's best-known waves, 'The Peak', breaks over an offshore reef, which provides great conditions for intermediate and advanced surfing. In 2012 National Geographic even named the beach in their 'Top 20 surf towns' feature. The beach also has sections for beginners, so everyone at any level can enjoy the surf.
Each June, people flock to Sea Sessions Festival – a surf music festival – which features music from acts small and large, previously including Paul Weller, Dizzee Rascal, Tinie Tempah and Seasick Steve. The festival's 'best move contest' sees some of the best surfers in Europe competing for a cash prize. The gorgeous beach at Bundoran inspired the song 'Beautiful Bundoran', a fitting tribute to this attractive coastal resort.
Lahinch Beach, Co. Clare
Gorgeous Lahinch is a mile-long crescent-shaped sandy beach on the north west coast of County Clare, close to the jawdropping beauty of the Cliffs of Moher. A hugely popular surfing beach, it directly faces the Atlantic Ocean getting the full force of the swells, and there are several surfing schools in the locale. Sea kayaking and kite surfing are also popular here. Currents can be strong for swimming, but there is both safety zoning and a lifeguard service during the summer season.
Nearby is 'The Burren' – a naturally formed vast limestone pavement, with abundant wildlife and plants. The long-distance trail 'The Burren Way' begins in Lahinch and ends in Corofin, 70 miles way. Lahinch is also a popular destination for golf, so there's really something for everyone in this stunning environment. Many of Overland Ireland's tours include a day or half day in Lahinch, combined with exploring this gorgeous local scenery or heading further afield such as the Aran Isles.
If this guide to the ultimate beaches of Ireland has whet your appetite for a trip to the Emerald Isle, contact Overland Ireland to find out more about our superb range of tours, which offer unforgettable experiences across the length and breadth of real Ireland. Choose which style of tour appeals the most –a more leisurely approach to uncovering Ireland's beauty, hidden gems and stunning landmarks, or adding in some more adventurous activities such as kayaking, surfing and biking. Covering destinations including Dublin, Cork, Dingle, Galway and more, your small tour experience will be the real Irish experience, full of heart, history, scenery and adventure.
Planning on visiting Ireland soon? Get our free guides! We answer your Ireland Travel FAQs + offer local tips for visiting Dublin.
---